A simple fresh tomato salad made with red onion, arugula/rocket, olives and red wine vinegar. This salad is perfect for lunch or as a side with grilled fish or meat.
Sometimes a salad can be overthought, loaded with unnecessary ingredients and drenched in overpowering dressings that mask any fresh flavours that are in there. This fresh tomato salad is incredibly basic, yet not boring in the slightest. It has only 4 main ingredients, tomatoes, red onion, olives and arugula/rocket. The fresh flavours and simple easy dressing make this salad what it is, incredibly delicious and fuss free.
I've been craving a lot of fish and seafood recently, it's something I don't eat that often although I wish I could. I live in the countryside of Siena and I'm so far away from the sea meaning fish is often not widely available and it can be quite expensive.
This weekend I decided to 'splash out' and I bought some sole and octopus. For the octopus I wanted to recreate the best octopus and potato salad I've ever eaten while on holiday at the Cinque Terre in Liguria a few years ago. I was a bit weary of it turning tough and chewy but I watched it like a hawk and it turned out great, not perfect but still delicious, I'm determined to perfect it.
For the sole I made the classic buttery, lemony sole piccata…it was insanely delicious and to go with the sole I made this quick fresh tomato salad.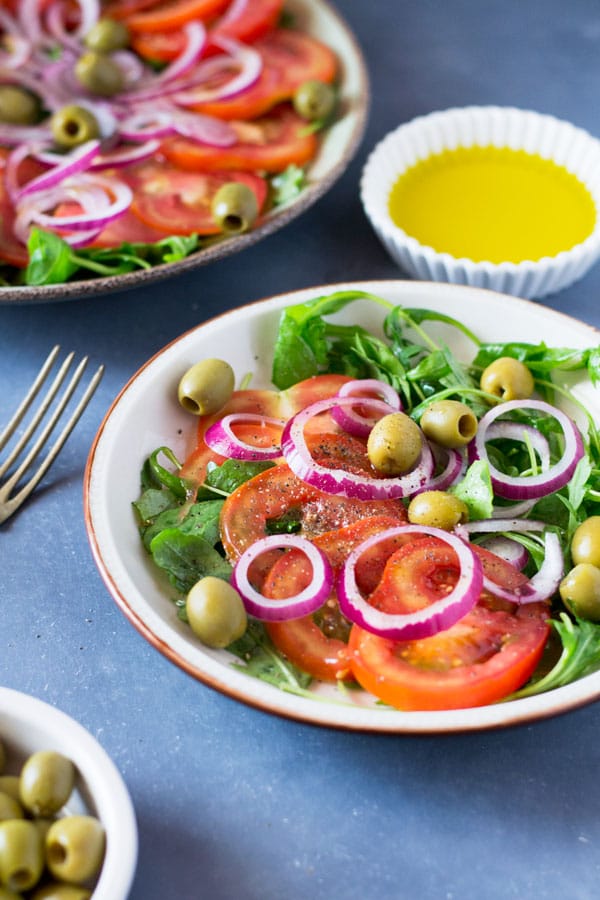 This fresh salad went perfectly with the lemony, buttery fish. It would also be just as delicious with grilled meats such as chicken or steak, great with barbecues or even just on its own for a light lunch. I quite happily munch on this at lunch time just as it is.
How to make Italian tomato salad
To make the salad, toss some arugula in a drizzle of olive oil, squeeze of lemon and a pinch of salt and pepper. Arrange the arugula on a serving plate. Add slices of tomato and thin slices of red onion (try to slice the red onion as thin as possible) over the arugula. Add the olives and sprinkle with a tablespoon of red wine vinegar.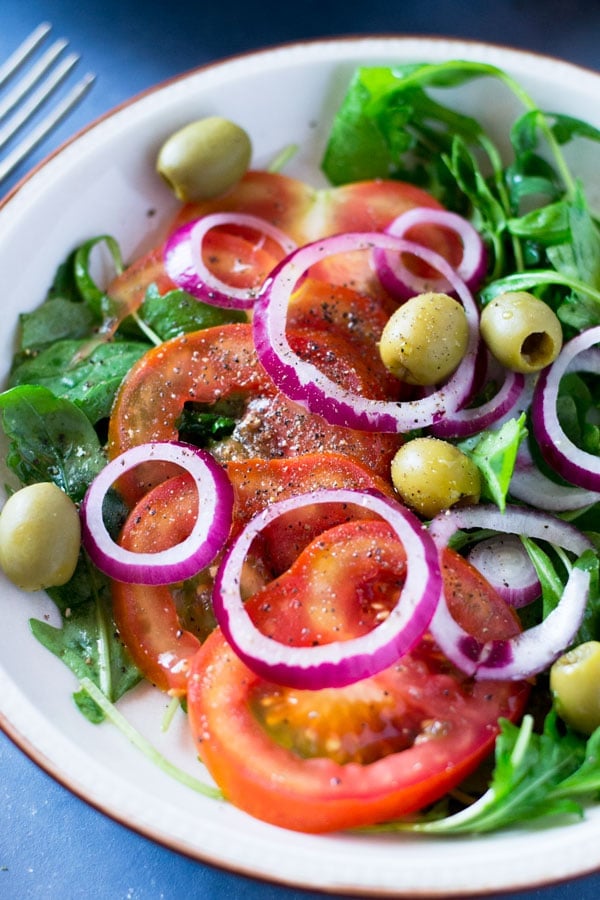 Finally add an extra pinch of salt and pepper, especially over the tomatoes and drizzle with more olive oil. That's it, so simple and effortless yet its full of flavour. Salads in Italy are always very simple, focusing on the freshness and quality of the ingredients rather than being overloaded with countless fruit and veg. The dressing has to be light and not overpowering and I think this fresh tomato salad ticks all the boxes.
For more summer salads try;
What's your favourite Italian salad? Let me know in the comments below.
If you've tried this or any other recipe on the blog please let me know how you got on in the comments below, I love hearing from you! You can also FOLLOW ME on FACEBOOK, TWITTER, INSTAGRAM and PINTEREST to see more delicious food and what I'm getting up to.
Step By Step Photos Above
Most of our recipes come with step by step photos, helpful tips and tricks to make it perfectly first time and even video!
Fresh Tomato Salad with Onion and Olives
A simple fresh tomato salad made with red onion, arugula/rocket, olives and red wine vinegar. This salad is perfect for lunch or as a side with grilled fish or meat.
Ingredients
3

tomatoes

1

red onion

1

large handful of arugula/rocket

2.8

oz (80g)

green pitted olives

squeeze of lemon juice

1

tbsp

red wine vinegar

1

tbsp

olive oil

salt and pepper
Instructions
Slice the tomatoes and red onion into fine slices (slice the red onion as thin as possible). Add the arugula to a bowl, drizzle with a little olive oil (around a tsp) and add the squeeze of lemon along with a small pinch of salt and pepper. Toss so the arugula is coated in the dressing and arrange on a serving plate.

Top with slices of tomato, red onion, and olives. Drizzle over 1 tbsp of red wine vinegar and sprinkle with a pinch of salt of pepper (make sure the tomatoes are seasoned well). Finally drizzle over the remaining olive oil and serve.
Notes
Please note this recipe was tested and developed using metric measurements all imperial measurements are approximate.
Nutrition
Helpful Info for All Recipes
I always use extra virgin olive oil in all of my recipes unless stated otherwise
When I use canned or jarred tomatoes of any kind I always use this brand for the best results and flavour
All vegetables are medium sized unless stated otherwise
All recipes are tested and developed using a fan oven
Find out more about how nutrition is calculated here
Check out our must have Italian Pantry Staples here
You can also find all our Essential Kitchen Tools for Italian Cooking here