This Hummus Dip with Pomegranate and Feta is so delicious that it'll convince you to NEVER buy shop bought hummus ever again!
Heyyy 🙂
So we're half way though the week which puts a smile on my face all on it's own but I'm extra smiley today because it's mine and Nathan's 9th anniversary! D'awww 🙂 🙂 🙂
Time has flown by although a lot has happened let me tell you! We've gone from 17 year old care free teenagers to a couple in our mid twenties living in a whole other country, speaking a different language, perusing our dreams! It's definitely not been easy or care free but we're loving it and if I've learned anything in the last 9 years it's that no matter where in the world we are or what we are doing we'll always have each other and we'll always be happy.
So today we are celebrating the best way with a romantic home cooked meal and some vino.
Now onto today's post – Hummus Dip with Pomegranate and Feta.
I LOVE hummus, I mean when I make a batch of it it's so hard for me to not eat it all to myself. I often have it for lunch with some veggies to dunk into it or for dinner when I make flatbreads. Ahh it's so good smothered over a homemade flatbread topped with spicy chicken or grilled veg! I'm practically drooling just thinking about it.
I decided to make this hummus a little special and different and came up with this hummus dip with pomegranate and feta – ooosht!
Instead of using olive oil to make my hummus I opted for sour cream which I basically live on. Seriously, IDK how can you live without sour cream?
Chickpeas, garlic, lemon, tahini and sour cream are blitzed together with some salt and pepper until completely smooth. Sometimes I add a splash of water to help it along.
I then mix in some powdered cumin which tastes and smells incredible. Then it's transferred to a bowl and topped with pomegranate and feta.
Hummus heaven!!!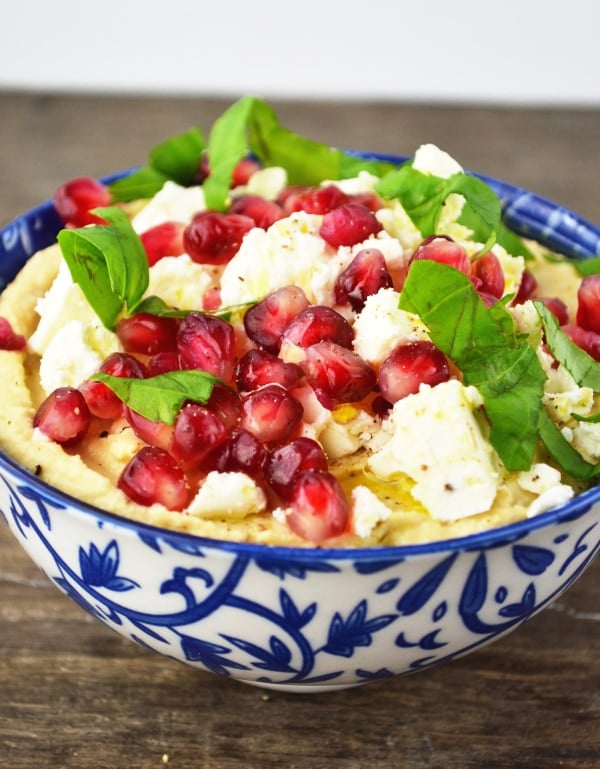 See, it's so simple, ready in 2 minutes and utterly delicious. Enjoy with flatbreads, pitas, crackers or veggies and it's great for parties or entertaining.
If you've tried this or any other recipe on the blog please let me know how you got on in the comments below, I love hearing from you! You can also FOLLOW ME on FACEBOOK, TWITTER, INSTAGRAM and PINTEREST to see more delicious food and what I'm getting up to.
P.S Guys this is the first time I'm also providing imperial measurements for my recipes. Please note that since the recipe was not developed with these measurements it's simply an approximate conversion. I want to make my recipes easy for everyone and I hope this helps.
Step By Step Photos Above
Most of our recipes come with step by step photos, helpful tips and tricks to make it perfectly first time and even video!
Hummus Dip with Pomegranate and Feta
This Hummus Dip with Pomegranate and Feta is so delicious that it'll convince you to NEVER buy shop bought hummus ever again!
Ingredients
400

g ~2 cups

chickpeas,

drained

70

g ~2.3 oz

sour cream

1

clove

garlic

1/4

juice of a lemon

1/2

tsp

cumin

powder

1

tsp

tahini

1

pinch

salt and pepper

to season

40

g ~1/2 cup

feta cheese

1/4

pomegranate

large (or half small)

2-3

leaves

basil

finely chopped
Instructions
Put the chickpeas, garlic, lemon, cumin, tahini, salt and pepper in a food processor and blitz until completely smooth. Add a splash of water if too thick.

Transfer the hummus to a serving bowl. Crumble over the feta cheese or cut it into cubes and scatter over. Place the cut side of the pomegranate in your hand facing your palm. Using a spoon bash the outside of the pomegranate so the seeds/arils fall out into your hand or a plate. Scatter the pomegranate over the hummus.

Finish with a drizzle of olive oil (if desired) , a sprinkle of pepper and scattering of basil. Serve with crackers or veggies.
Nutrition
Helpful Info for All Recipes
I always use extra virgin olive oil in all of my recipes unless stated otherwise
When I use canned or jarred tomatoes of any kind I always use this brand for the best results and flavour
All vegetables are medium sized unless stated otherwise
All recipes are tested and developed using a fan oven
Read more about how the nutritional information is calculated here