A rich and flavour packed Tuscan sausage ragu made with the most delicious Italian sausages, fennel seeds, red wine and plum tomatoes, cooked to perfection and served with Pici pasta.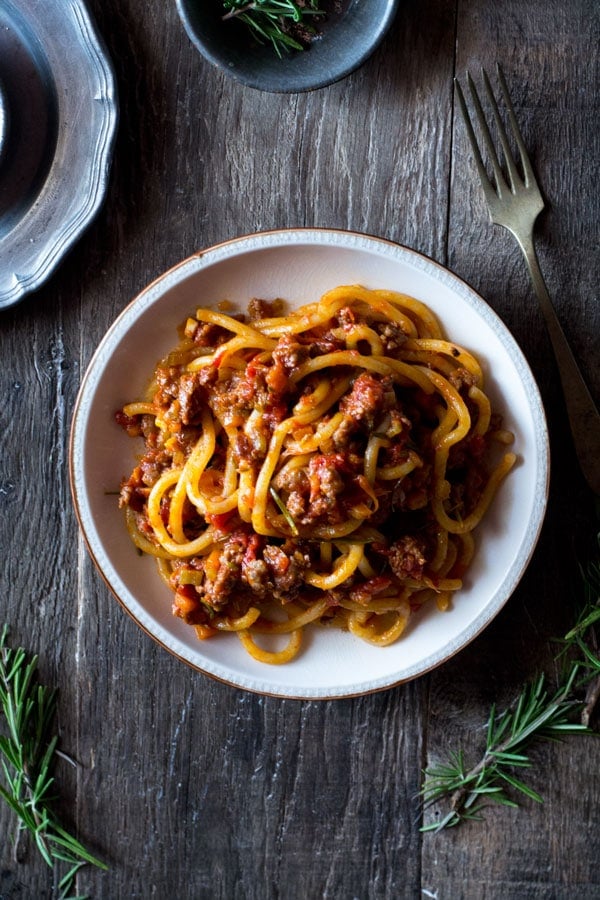 This Tuscan sausage ragu is one of my favourite recipes that I've been making for years way before I lived here and used to visit Bella Italia on holiday.
Yes, I'm that person that goes on holiday to cook for hours and I love it.
The ragu is very simple and extremely easy to make. Ok, it takes a little time but not hours, just enough time for the beautiful flavours to develop and the sauce to become, rich and deep in flavour.
Tuscan Sausages
The sausages are the main ingredient and the star of the whole dish so it's extremely important to use high-quality sausages, the best you can get your hands on.
No matter what supermarket or butcher I go to in Italy the sausages like all food are high-quality and bursting with flavour.
One thing I have noticed about their sausages is that they are very well seasoned. Because of this whatever dish I'm making with sausages requires hardly if not any added salt, these babies add all the seasoning that's needed.
The sausages (unless they're salsicce piccante) don't have any chili or hot pepper flakes in them instead they are packed full of fennel seeds, rosemary, red wine and garlic.
I love reading the ingredients list on the packages, there are no preservatives or nasties just honest, natural food and herbs, no wonder they taste so damn delicious.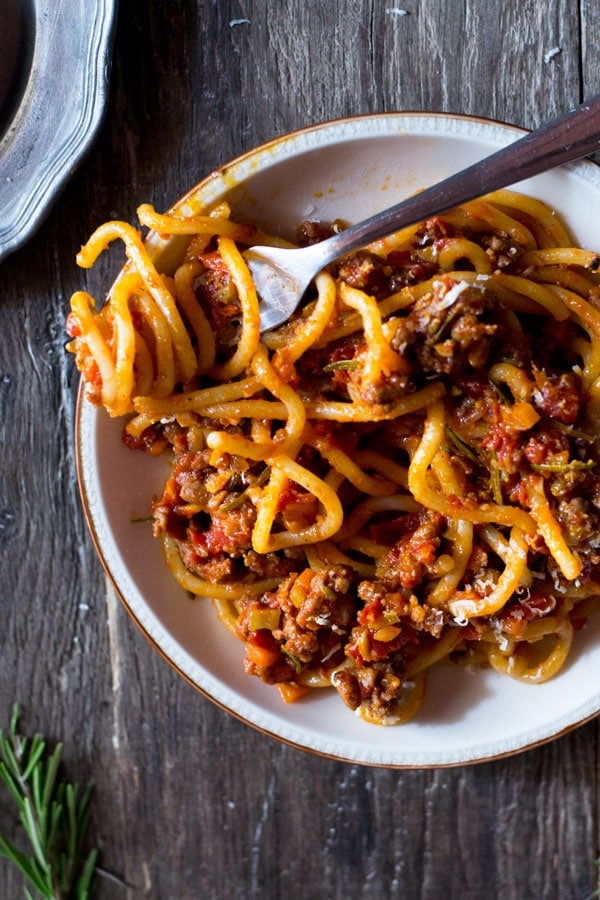 Il Soffritto
The ragu starts like a lot of Italian sauces, stews and soups, with Il Soffritto.
Il Soffritto is very simply, finely chopped carrot, celery and white onion sauteed slowly with a little olive oil for about 10 minutes until soft but not brown.
This adds incredible depth of flavour to many dishes and can even be made in advance to add into weeknight meals for an extra flavour punch.
How to make il soffritto
Finely chop equal amounts of carrot, white onion and celery.
They don't have to be exactly equal amounts, just roughly around about the same. For this Tuscan sausage ragu, I use 1 medium sized carrot, 1 celery stick and 1 small white onion.
Saute the chopped veggies in a large pan with a little olive oil.
The key is to saute the veg slowly on a low/medium heat so they soften and release all the delicious flavours without browning or burning.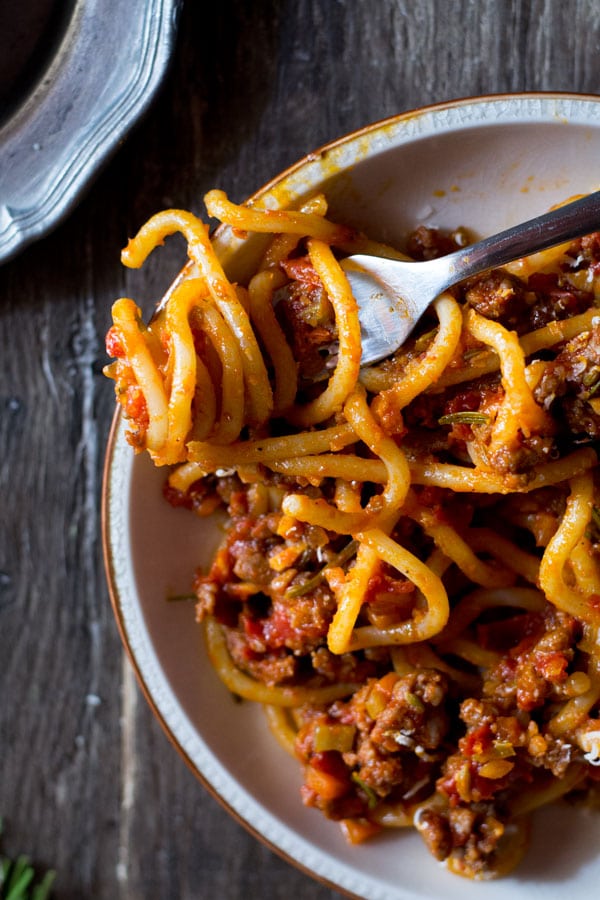 Ok let's talk about that Pici pasta though, how amazing is it?
Pici pasta is famously used for Cacio e Pepe, a cheesy peppery dish that's also frequently called Pici e Pepe which I just love to say so much more.
It's super thick spaghetti shaped fresh pasta that is so delicious with many sauces and goes perfectly with this Tuscan sausage ragu.
This sausage ragu is so perfect for weeknights, you can make it in advance the day before or freeze it for a speedy supper.
It's also as equally special to have at the weekend. It's that type of dish that could be served up for date night or eaten on the sofa in your pyjamas with a large glass of vino rosso.
For more easy pasta recipes try;
If you've tried this Pici with Tuscan sausage ragu or any other recipe on the blog please let me know how you got on in the comments below, I love hearing from you! You can also FOLLOW ME on FACEBOOK, TWITTER, INSTAGRAM and PINTEREST to see more delicious food and what I'm getting up to.
📖 Full Recipe
Step By Step Photos Above
Most of our recipes come with step by step photos, helpful tips and tricks to make it perfectly first time and even video!
Pici with Tuscan Sausage Pasta
A rich and flavour packed Tuscan sausage ragu made with the most delicious Italian sausages, fennel seeds, red wine and plum tomatoes, cooked to perfection and served with Pici pasta.
Ingredients
1

lb

Tuscan or Italian sausages

(490g)

1

medium carrot

1

celery stalk

1

small white onion

2

cloves

garlic

1

teaspoon

fennel seeds

1

large sprig rosemary

1

tablespoon

olive oil

½

cup

red wine

(120ml)

28

oz

canned plum tomatoes

(800g)

¾

cup

water

(200ml)

salt and pepper

1

lbs

pici pasta

(500g)
Instructions
Very finely chop the carrot, onion, celery and garlic, set aside. remove the sausages from their casings and add to a large pan under a medium heat. Break the sausages up as they brown using the side of a wooden spoon. Once browned, remove the sausages to a plate and drain any excess fat that's in that pan.

Add 1 tablespoon of olive oil to the pan and adjust the heat to medium/low. Add the carrot, celery and onion and stir occasionally with a wooden spoon for around 10 minutes until the veg is soft and the onions are translucent but not brown.

Add the sausage meat back to the pan and add the garlic for 1 minute then add the wine. Stir the mixture for 1 minute then add the canned tomatoes and water. Add a good pinch of pepper, the fennel seeds and the sprig of rosemary.

Let the ragu simmer for 45-50 minutes, stirring occasionally. You may need to add another splash of water half way through if it starts to reduce too much.

Once the ragu is ready turn it down to the lowest heat possible and bring a pot of salty water to a boil. Add the pici pasta and cook according to packet instructions, once cooked remove the pasta from the water using a spaghetti spoon into the ragu. Toss the pasta through the ragu then serve in large bowls. Serve with grated parmesan.
Notes
Serves 4-6
Please note this recipe was tested and developed using metric measurements, all imperial measurements are approximate.
Nutrition
Helpful Info for All Recipes
I always use extra virgin olive oil in all of my recipes unless stated otherwise
When I use canned or jarred tomatoes of any kind I always use Cirio or Mutti brands for the best results and flavour.
All vegetables are medium sized unless stated otherwise
All recipes are tested and developed using a fan (convection) oven
Find out more about how nutrition is calculated.
Check out our must have Italian Pantry Staples.
You can also find all our Essential Kitchen Tools for Italian Cooking.