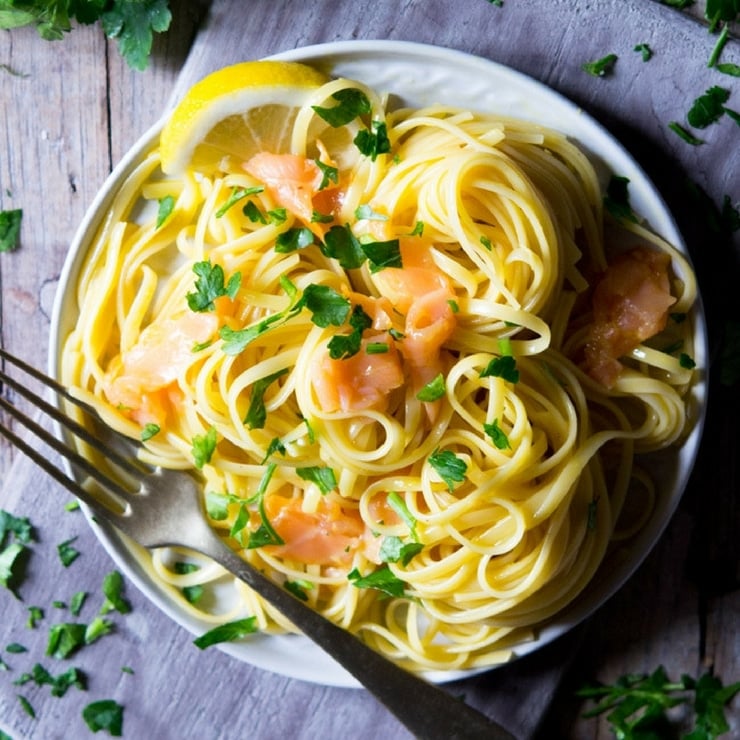 Print Recipe
Smoked Salmon Pasta Carbonara
A healthy and simple smoked salmon pasta carbonara recipe. Made with just five simple ingredients and ready in 10 minutes. It's a super quick and delicious weeknight meal that's creamy (without any cream), luxurious and packed full of flavour!
14.1

oz (400g)

linguine pasta, or similar

3

eggs

2

tbsp

grated parmesan cheese

5.2

oz (150g)

smoked salmon

, Scottish if possible

1

small bunch fresh parsley

Salt and pepper
Bring a large pot of salted water to a boil and add the linguine or long pasta shape of your choice. Cook the pasta according to packet instructions until al dente.

Meanwhile, cut the smoked salmon into thin strips and finely chop some fresh parsley (this is optional but I think it adds a nice freshness to the pasta).

Next, add the eggs to a bowl and whisk together, add the grated parmesan and a good pinch of salt and pepper, stir to combine.

Once the pasta is cooked, drain it and add it back into the pot you cooked it in. Sprinkle over the strips of salmon then add the whisked eggs and parmesan mixture, immediately stir the pasta to coat it evenly in egg and to distribute the salmon throughout the pasta evenly.

Tip: wait exactly 1 minute before pouring over the egg mixture. If the pasta is too hot the eggs will scramble but if it's too cool the eggs will remain raw.

The pasta should be creamy and evenly coated in sauce. Divide the smoked salmon pasta between bowls and top with a scattering of chopped parsley and an extra grinding of pepper, serve.
Eggs To Pasta Ratio
I've seen and made many pasta carbonara recipes in my time and I find that using 1 egg less as many servings works best. Does that make sense? For four servings I use 400g/14oz of pasta (100g per portion) and 3 eggs.
I've seen recipes that use as many as 6 eggs for 4 servings and that is just wayyyy too much egg for my liking, I just don't like the taste. For me, the ratio I've used in this recipe works perfectly. The egg just coats the pasta and no more, it's creamy, silky and exactly how it should be.
To Make Traditional Pasta Carbonara
Substitute the smoked salmon for guanciale (Italian cured pig cheek) or pancetta around 150g/5.2 oz for four servings.
Fry the pancetta while the pasta is cooking until slightly crispy. Turn off the heat and add the pasta to the pan with the pancetta. Toss to coat then add the eggs and follow instructions as above (omit the chopped parsley and top with more parmesan and pepper).
Calories:
284
kcal
|
Carbohydrates:
27.8
g
|
Protein:
19.2
g
|
Fat:
10
g
|
Saturated Fat:
2.7
g
|
Polyunsaturated Fat:
0.75
g
|
Monounsaturated Fat:
1.65
g
|
Trans Fat:
0.1
g
|
Cholesterol:
161
mg
|
Sodium:
545
mg
|
Potassium:
76.2
mg
|
Fiber:
1.8
g
|
Sugar:
0.5
g
|
Vitamin A:
10.65
%
|
Vitamin C:
11.3
%
|
Calcium:
6.07
%
|
Iron:
6.6
%