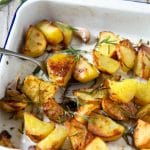 Print Recipe
Italian Roast Potatoes
Crispy on the outside with a soft and fluffy centre these Italian roast potatoes are the ultimate side to any roast dinner or main course. Made with garlic cloves and fresh rosemary they're packed with flavour and pretty hard to resist.
Preheat the oven to 220°C (428°F). Once the oven is at temperature pour the oil into the baking tray and place in the oven to get nice and hot.

Peel the potatoes and cut them into rough medium sized chunks. When you've finished chopping the peeled potatoes the tray and oil should be nice and hot.

Do the next step quickly but carefully *hot oil warning*. Bring the tray out of the oven and add the potatoes to the tray followed by the rosemary and garlic cloves. Sprinkle with salt and pepper and using a spatula or fish slice toss the potatoes to coat everything in oil and place back in the oven.

Let them roast in the oven for around 25 minutes then toss so the majority of the crispy brown and golden sides are facing up. Roast again for another 20 minutes or until all the potatoes are crispy, golden brown and cooked through.
Tips For Making The Perfect Italian Roast Potatoes;
Make sure your oven as pre-heated fully before tossing the potatoes in roasting tray
Don't overcrowd the potatoes, choose a tray big enough to spread them out in an even layer
Always remember to add the olive oil to the baking tray and heat it in the oven so the oil is extra hot before add your potatoes. This helps create crisp potatoes straight away.
Don't use expensive extra virgin olive oil for roasting, a lesser expensive olive oil will do.
Add as much garlic as you want...the more the better I say
If you're not serving the potatoes straight away then transfer them to a plate lined with baking parchment to drain slightly and keep warm in a low oven.
Don't cover the potatoes or they'll lose their crispiness
Nutrition Facts
Italian Roast Potatoes
Amount Per Serving
Calories 285
Calories from Fat 153
% Daily Value*
Total Fat 17g 26%
Sodium 22mg 1%
Potassium 904mg 26%
Total Carbohydrates 28g 9%
Protein 5g 10%
* Percent Daily Values are based on a 2000 calorie diet.
Calories:
285
kcal
|
Carbohydrates:
28
g
|
Protein:
5
g
|
Fat:
17
g
|
Saturated Fat:
2
g
|
Sodium:
22
mg
|
Potassium:
904
mg
|
Fiber:
5
g
|
Vitamin C:
31.2
%
|
Calcium:
7.1
%
|
Iron:
39.7
%