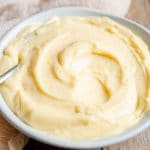 Print Recipe
Italian Pastry Cream - Crema Pasticcera
How to make Italian Pastry Cream (Crema Pasticcera) from scratch in only 10 minutes. This smooth and creamy vanilla pastry cream can be used for so many delicious desserts from Italian doughnuts, pastries, cakes or tarts, the list is endless!
Servings:
15
servings (around 700g)
Warm the milk and vanilla in a saucepan then set aside (make sure it's just warm and not hot).

Mix the egg yolks and sugar together until combined then add the cornstarch and mix it thoroughly.

Slowly pour the warm milk into the egg mixture whilst whisking constantly to avoid any lumps.

Once incorporated, pour the egg and milk mixture back into the saucepan and heat it on a low heat.

Stir the mixture constantly with a wooden spoon until the mixture is very thick in consistency (about 10 minutes).

Once thickened, pour the pastry cream into a clean bowl and place plastic wrap directly on top to stop a skin forming.

Let the mixture cool then place in the fridge until ready to use.
Instead of vanilla paste, you can use 1 whole vanilla pod with the inside scraped out and added to the milk (remove the pod when adding the milk to the egg) or 1 tsp of vanilla extract.
Make sure the milk is not too hot when you mix it with the eggs it should be just warm to avoid scrambling the eggs.
Keep the saucepan on a low heat to thicken the mixture if you turn the heat up the eggs will scramble.
If you notice any unwanted lumps in your mixture whisk it using a hand whisk to smoothen it out.
Use full-fat milk for best results. If you do use semi-skimmed milk it will still work but will take longer to thicken (around 15 minutes).
Make sure to cover the Crema Pasticcera with plastic wrap as it cools to avoid a skin forming.
Once cooled completely place it in the fridge until ready to use.
The pastry cream will keep well for around 4-5 days in the fridge.
I do not recommend freezing as pastry cream can split when frozen.
Calories:
70
kcal
|
Carbohydrates:
9
g
|
Protein:
2
g
|
Fat:
3
g
|
Saturated Fat:
1
g
|
Cholesterol:
69
mg
|
Sodium:
21
mg
|
Potassium:
60
mg
|
Fiber:
1
g
|
Sugar:
7
g
|
Vitamin A:
152
IU
|
Calcium:
54
mg
|
Iron:
1
mg