This post may contain affiliate links. Please read my disclosure.
This cinnamon pumpkin soup is the perfect way to cozy up this Autumn. It's sweet and comforting topped with crunchy spicy pumpkin seeds and a dollop of Greek yogurt.
 With the weather quickly turning colder I've started to crave comfort food big time! But comfort food doesn't have to be "bad" for you or unhealthy. This cinnamon pumpkin soup is beautifully comforting, smooth and delicious and so good for you! What's more it's topped with crunchy, spicy pumpkin seeds so there is no waste just extra taste, yum 🙂
Pumpkin is everywhere just now and soup is one of my favourite ways to use it. Nathan's family came down to stay with us for the last few days after spending the summer in Lucca, Tuscany. All summer they grew their own fruit and vegetables in their big beautiful garden from courgettes, beautiful smelling herbs and aubergines to melons, heirloom tomatoes  and PUMPKIN!
They brought a lovely little pumpkin down with them and we decided to make a big warm pot of pumpkin soup with crunchy pumpkin seeds to sprinkle on top. It was a dark, cold and rainy day outside so it was the perfect way to use up the last pumpkin from the garden and cosy up for the day.
I absolutely love cinnamon it's the signature spice of Autumn/Winter and whenever I cook with it the house smells amazing. I decided to add a little pinch into this soup and it totally transformed the whole pot from yummy roasted pumpkin soup into a pot of utterly delicious Autumn scented gold.
This pumpkin soup recipe is so easy to make, I just roasted the pumpkin and carrots in large baking trays sprinkled with spices and seasoning and a little oil until it was all soft and delicious. I then softened some red onion and added the roasted veg to the pot after scooping the pumpkin from it's skin. I then added the chicken stock and let it bubble away for 10 minutes before being blitzed into a beautiful smooth pot of deliciousness. YUM!
As for the crunch pumpkin seeds, they couldn't be easier. I washed them then boiled them in salted water for 10 minutes before patting them dry and scattering them on a baking tray with a little oil and a pinch of paprika. I baked them in the oven for only 5-10 minutes until they were crunchy and delicious.They add a great spicy kick and texture to the whole dish plus they are a great for snacking on throughout the day.
What's your favourite way of using pumpkin? I'd love to hear about your favourite Fall recipes and please let me know what you think of this recipe I hope you love it just as much as I do.
Don't forget you can save the recipe below on Pinterest.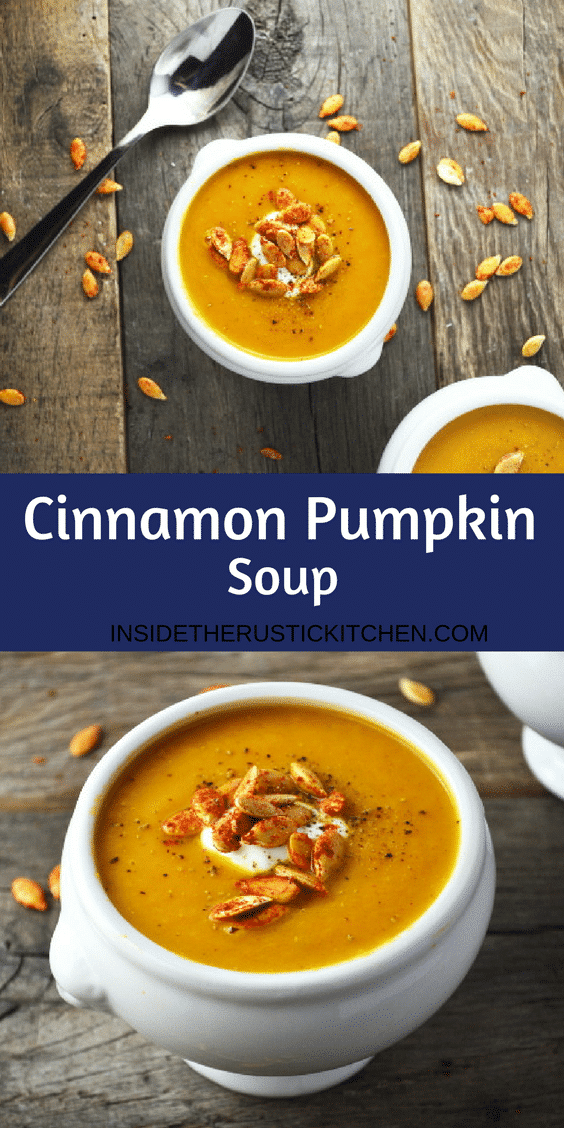 For more easy recipes this Fall check out my pumpkin spiced french toast and banana milk coffee.
Step By Step Photos Above
Most of our recipes come with step by step photos, helpful tips and tricks to make it perfectly first time and even video!
Cinnamon Pumpkin Soup
This cinnamon pumpkin soup is the perfect way to cozy up this Autumn. It's sweet and comforting topped with crunchy spicy pumpkin seeds and a dollop of Greek yogurt
Ingredients
Instructions
Preheat the oven to 180°C/350F/Gas Mark 4. Cut the pumpkin into rough medium sized chunks, removing the white flesh and seeds. Save the seeds in a bowl and set aside. Place the pumpkin in a baking tray skin side down. Cut the carrots into rough chunks and add that to the baking tray.

Sprinkle all the spices over the pumpkin and carrots with a pinch of salt and pepper. Sprinkle over 1 tbsp of olive oil and rub everything together so everything is evenly coated with spices. Make sure the pumpkin is skin side down and place in the oven for 25 minutes or until soft.

Remove the veg from the oven and allow to cool slightly. Put a large pot on a medium/low heat with 1 tbsp of olive oil. Dice the red onion and add to the pot, stirring occasionally until softened. Meanwhile remove the pumpkin from it's skin using a spoon, it should be very easy to scoop out. Add the carrot and pumpkin to the pot.

Add one litre of chicken stock, cover bring to a boil then let it simmer for 10 minutes. Meanwhile add 400ml of water and salt to a small saucepan. Wash the pumpkin seeds and add them to the water. Bring the pot to the boil then let it simmer for 10 minutes. Pat them dry then scatter them over a parchment lined baking tray. Sprinkle with a little olive oil and a pinch of paprika then bake in the oven until starting to brown. Set aside.

Blitz the soup until completely smooth. Serve with some crunchy pumpkin seeds on top and a dollop of Greek yogurt if desired.
Notes
Please note this recipe was tested and developed in metric measurements all imperial measurements are shown as an approximate.
Nutrition
Helpful Info for All Recipes
I always use extra virgin olive oil in all of my recipes unless stated otherwise
When I use canned or jarred tomatoes of any kind I always use this brand for the best results and flavour
All vegetables are medium sized unless stated otherwise
All recipes are tested and developed using a fan (convection) oven
Find out more about how nutrition is calculated here
Check out our must have Italian Pantry Staples here
You can also find all our Essential Kitchen Tools for Italian Cooking here