Let this Baileys Hot Chocolate with Maple Whipped Cream bring you comfort and joy this holiday season - Indulgent, delicious and simple!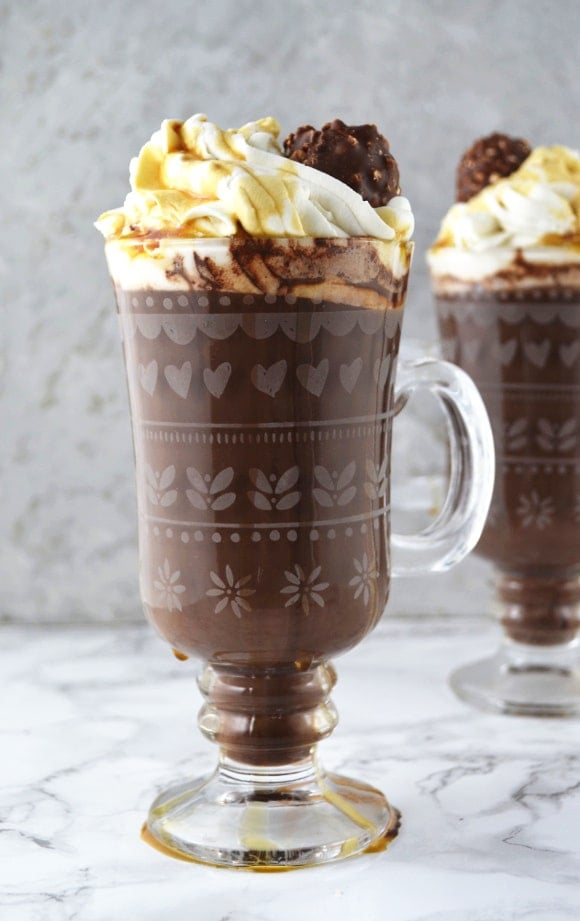 When I think about Winter and the run up to Christmas I think about those early dark and cold evenings and how nice it is to be wrapped up all cozy inside with the fire roaring and a big hot steaming mug of hot chocolate 🙂
Baileys Hot Chocolate with Whipped Maple Cream that is.
Yep this right here is what Christmas is all about and why I love this time of year so much. If you've never made your own hot chocolate before then now is the time to start and I promise you'll never look back.
I mean just look at it.....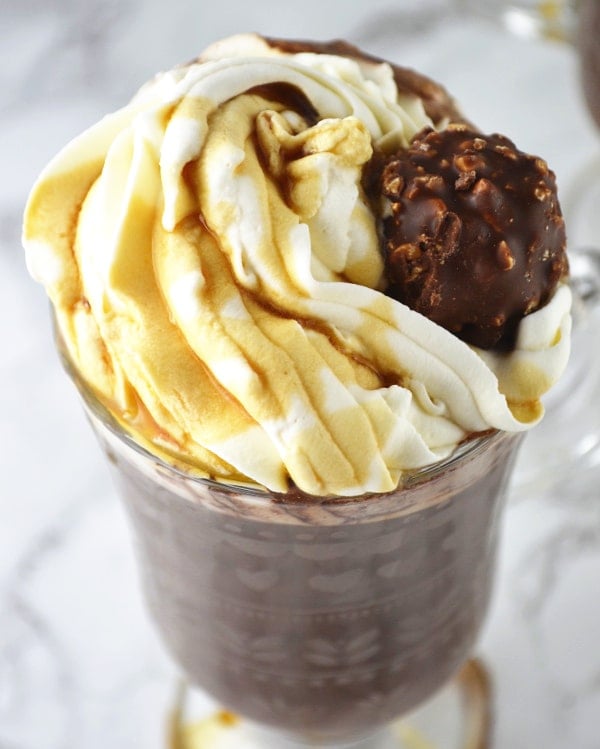 and yes that is a Ferrero Rocher plonked on the top for extra deliciousness.
You'll notice that this is a dark hot chocolate drink which I love because it makes it not too sweet but feel free to make yours with milk chocolate if you prefer.
To make the Baileys Hot Chocolate it's very simple. I heat up some milk until it just starts to simmer then turn off the heat. I then mix in some dark cocoa powder, brown caster sugar, instant espresso powder and dark chocolate chips. It's all stirred together until everything has melted and it's mixed together perfectly.
Now it's time to add the Baileys. I add one shot of Baileys Chocolat Luxe which give the drink and extra intense chocolate hit however if you have Baileys Original in your cupboard don't worry about rushing off to buy the chocolate version because it'll do just fine. This recipe serves 2 large mugs and I used 1 shot of Baileys (feel free to add more to taste, there's no judging here).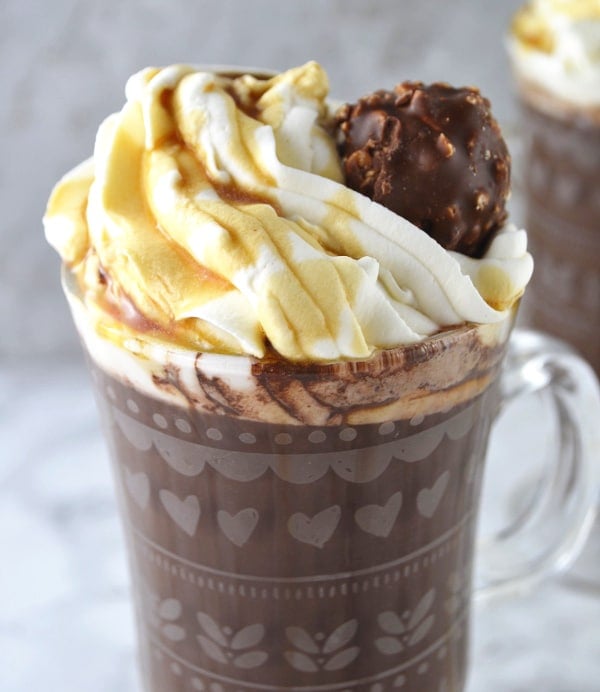 To make the Maple Whipped Cream I simply whipped some double cream or whipping cream and 1 tablespoon of maple syrup until stiff. Then I filled a piping bag with the cream and piped it on top of the Baileys Hot Chocolate (I didn't manage to be so elegant at this stage but hey, that's part of the fun!) and of course the whole thing is topped with a Ferrero Rocher - YUM.
If you tried this or any other recipes on my blog please be sure to leave me a comment below to let me know how you got on, I love hearing from you. You can also FOLLOW ME on FACEBOOK, TWITTER, INSTAGRAM and PINTEREST to see more delicious food and what I'm getting up to.
PIN FOR LATER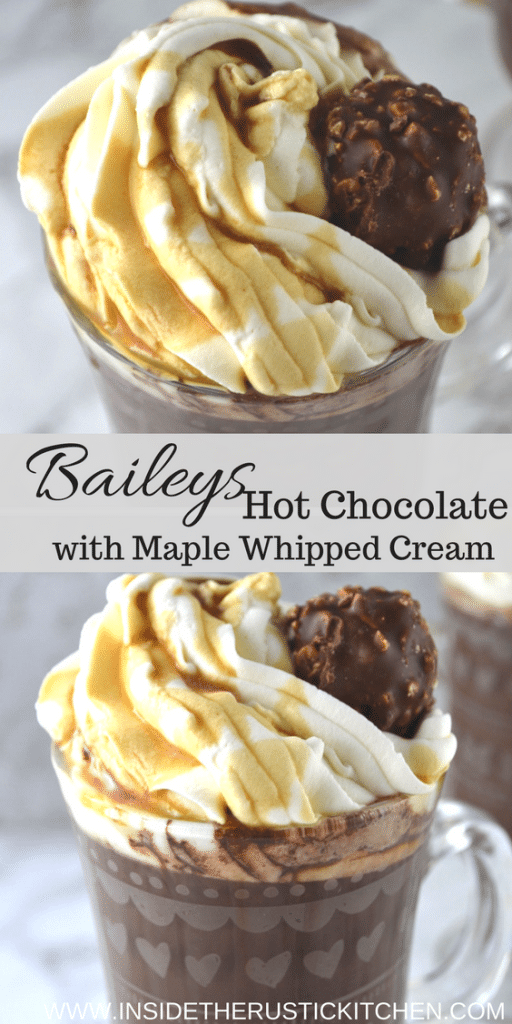 📖 Full Recipe
Step By Step Photos Above
Most of our recipes come with step by step photos, helpful tips and tricks to make it perfectly first time and even video!
Baileys Hot Chocolate with Maple Whipped Cream
Let this Baileys Hot Chocolate with Maple Whipped Cream bring you comfort and joy this holiday season - Indulgent, delicious and simple!
Ingredients
500

ml

milk

whole or semi skimmed

30

g

dark cocoa powder

normal cocoa powder can also be used

20

g

brown caster sugar

1

tablespoon

instant espresso powder

45

g

dark chocolate chips

milk chocolate can also be used

150

ml

double (whipping) cream

1

tablespoon

maple syrup

plus extra for drizzling

1

shot

Baileys Chocolat Luxe

2

Ferrero Rocher chocolates
Instructions
Add the milk to a saucepan and bring to a simmer then turn off the heat. Mix the cocoa powder, espresso powder, sugar and chocolate chips together in a bowl then add to the milk.

Stir until everything has melted together ( you might need to put the mixture back on the heat for a minute but do not boil ). Once everything has melted and still hot add the shot of Baileys, stir and pour into two large mugs.

Add the cream to a mixing bowl with 1 tablespoon maple syrup and whisk with an electric mixer until stiff. Add the cream to a sandwich bag with the corner cut off or a piping bag and pipe the cream on top of the hot chocolate. Top each hot chocolate with a Ferrero Rocher and an extra drizzle of maple syrup. Enjoy.
Notes
Makes 2 large mugs or 3 small
Nutrition
Helpful Info for All Recipes
I always use extra virgin olive oil in all of my recipes unless stated otherwise
When I use canned or jarred tomatoes of any kind I always use Cirio or Mutti brands for the best results and flavour.
All vegetables are medium sized unless stated otherwise
All recipes are tested and developed using a fan (convection) oven
Find out more about how nutrition is calculated.
Check out our must have Italian Pantry Staples.
You can also find all our Essential Kitchen Tools for Italian Cooking.