Try these Chicken and Mushroom Pies for a deliciously comforting weekday meal this winter. They are so simple and taste incredible along side some creamy mashed potatoes.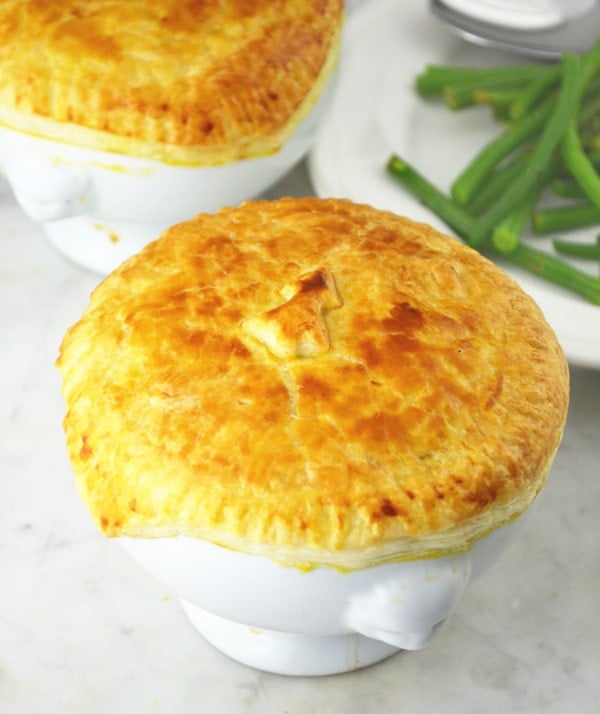 Hello fellow foodies, did you all have a nice relaxing weekend? I hope so because I had so much fun!
We had a pretend "Christmas Day" for my friend that will be celebrating in Australia this year where her family are from. Since she'll be staying in a hotel and it will be Summer over there she was a little concerned she might not feel "Christmassy" enough so we were sure to celebrate before she leaves.
We started with a wonder around beautiful Siena and stopped for a ginseng coffee which is so popular here in Italy. It's very sweet and so delicious, much more festive than a regular espresso or cappuccino.
Then we headed home where of course I have all the decorations up already, well everything but the tree (they're not even on sale here until the first weekend in December, Bah Humbug). We got the Christmas songs on the go and started our first craft of making Christmas crackers which was so much fun. We made sure not to peek at the jokes before hand and stuffed them with little chocolates and party hats.
Then we continued the festive fun with making the cutest gingerbread house which you can see on my Instagram page. It was so much fun and might I say still standing today unlike last years that had caved in by the morning.
The night continued with a delicious meal of salmon wellingtons (I'll try post this asap because it was SO good), more food and lots mulled wine. It has definitely kick started the holiday celebrations in the best way possible which brings me to this lovely recipe, Chicken and Mushroom Pies.
Yesterday was spent watching the Grinch and making these comforting pies. I absolutely love them, the flavour is incredible and they are so easy to make. Chicken and mushroom together is always a winner and with a creamy sauce, topped with crispy puff pastry you definitely can't go wrong
Look how creamy and delicious it is....
I love making little individual pies but it works just as good in one big dish covered in pastry. The easy thing about this recipe is that everything is cooked in one pan then transferred into little pie dishes before being topped with pastry and brushed with egg.
Because everything is pretty much cooked in the pan you only need to wait for the puff pastry top to get all puffed, golden and delicious and they're ready! So perfect and so comforting.
I love to serve these with fluffy and creamy mashed potatoes and green beans, just cooked through then drizzled with lemon juice, salt and pepper.
Also since I was full of Christmas cheer I used a small tree cookie cutter to place on top of the pies. Why not have a little fun with hearts, stars, snowmen....whatever you can think of to make it a little more festive.
More Chicken Recipes You Might Like;
If you tried these Chicken and Mushroom Pies please be sure to let me know how you got on in the comments below, I love hearing from you 🙂
You can also FOLLOW ME on FACEBOOK, TWITTER, INSTAGRAM and PINTEREST to see more delicious food and what I'm getting up to.
PIN FOR LATER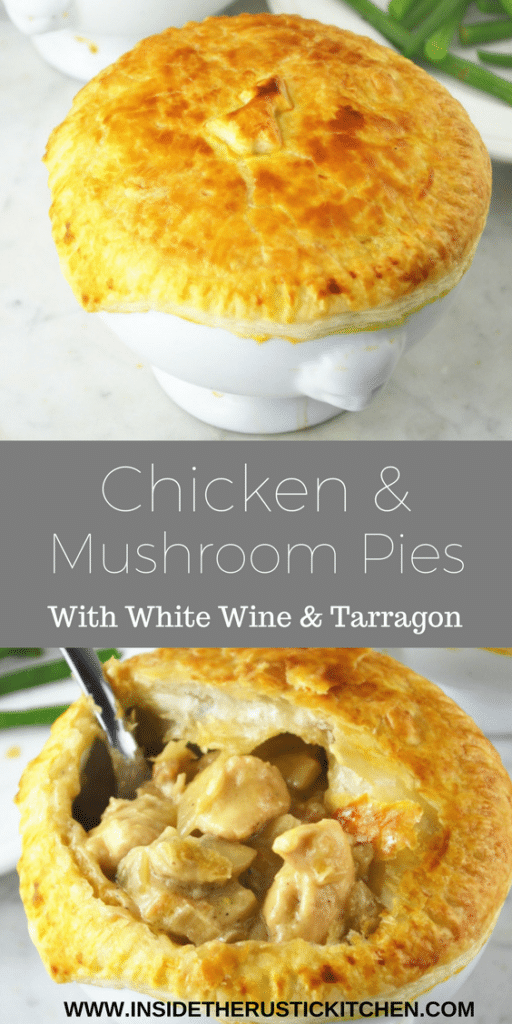 📖 Full Recipe
Step By Step Photos Above
Most of our recipes come with step by step photos, helpful tips and tricks to make it perfectly first time and even video!
Chicken and Mushroom Pies
Try these Chicken and Mushroom Pies for a deliciously comforting weekday meal this winter. They are so simple and taste incredible along side some creamy mashed potatoes.
Ingredients
400

g

Chicken breasts

300

g

Mushrooms

large handful

Tarragon

95

g

Mascarpone

120

ml

White wine

2

tablespoon

plain flour

1

white onion

230

g

Puff pastry

1

egg

beaten

4

tablespoon

olive oil

250

ml

boiling water

1

chicken stock cube

1

clove

garlic

finley chopped

Salt and pepper

to season
Instructions
Pre-heat the oven to 180°C.

Add around 3 tablespoon of olive to a large frying pan under a medium heat.Cut the chicken breasts up into rough medium sized chunks and add to a bowl with 2 tablespoon of flour, salt and pepper. Toss the chicken so it's coated in the flour then add to the pan (dusting off any excess flour). Brown the chicken on all sides for a couple minutes then remove onto a plate, set aside.

Add another tablespoon of olive oil to the same pan. Finley chop the onion and add to the pan. Finely slice the mushrooms and add those to the pan after a minute. Lightly fry the mushrooms and onions for 2 minutes then add the chopped garlic. Stir everything together for another minute.

Add the white wine to the pan and let reduce by half then add the stock cube and water. Add the chicken back to the pan and stir occasionally until the sauce is starting to thicken.

Once the sauce had started to thicken add the mascarpone and tarragon with a sprinkling of pepper. Stir together for 1-2 minutes.

If using individual pie dished use these as a guide to cut out the pastry tops. Make sure to leave 1cm extra around the rim. Alternatively just use a normal baking dish and trim the pastry form the eges. Cut out any decorative shapes at this point too.

Divide the chicken and mushroom mixture between the pie dishes on into a baking dish. Brush the edges of the pastry with a little beating egg then top the dishes with the pastry. Use a fork to seal the pastry. Add the pastry trees/shapes then brush the tops with more beaten egg. Make a few small pricks in the pastry for steam to escape with a shape knife.

Bake in the oven until the pastry is puffed and golden (around 25 minuteServe with mashed potatoes and green beans.
Nutrition
Helpful Info for All Recipes
I always use extra virgin olive oil in all of my recipes unless stated otherwise
When I use canned or jarred tomatoes of any kind I always use Cirio or Mutti brands for the best results and flavour.
All vegetables are medium sized unless stated otherwise
All recipes are tested and developed using a fan (convection) oven
Find out more about how nutrition is calculated.
Check out our must have Italian Pantry Staples.
You can also find all our Essential Kitchen Tools for Italian Cooking.