These Fried Gnocchi, Prosciutto and Pecorino Appetizers are simple and elegant, perfect for parties and entertaining!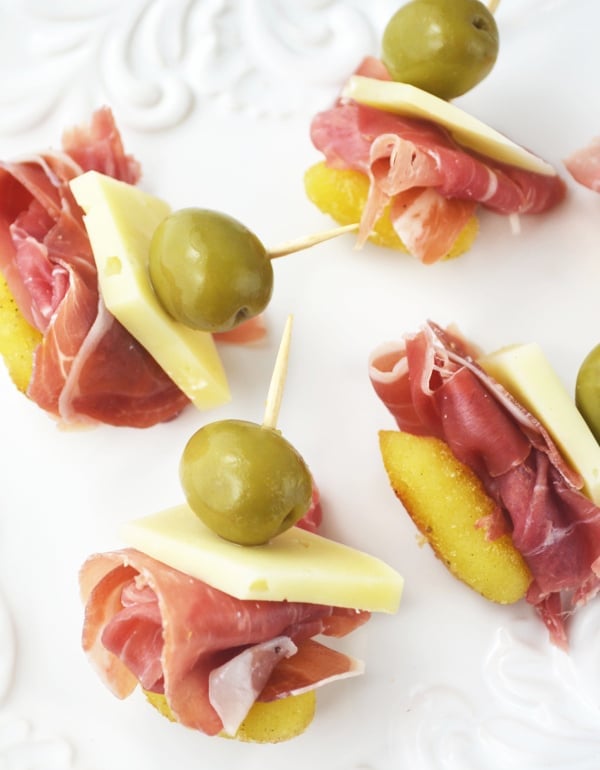 With only six days to go I'm sure you've all planned what you're eating on Christmas Day? I don't know about you but I cannot wait for those pigs in blankets (my all time favourite thing) and those sausage stuffing balls (AMAZING).
That's why today's post is focused on New Year's party food because there's still some food planning to be done in between last minute Christmas shopping! This appetizer is so simple and is absolutely delicious, it can be made ahead of schedule which gives you plenty time to get ready for the bells with a glass of bubbly.
A GREAT WAY TO USE UP LEFTOVERS  TURKEY STUFFING PIZZA WITH CARAMELISED ONIONS AND BRIE
If you've never tried fried gnocchi then you need to make it a thing, like your new favourite thing! Instead of boiling the gnocchi they are fried with a little olive oil, rosemary and salt until golden and crispy. Honestly they are SO delicious this way, like little crispy roast potatoes only BETTER!
To make these little appetizers I simply add one fried gnocchi to cocktail sticks then continue to make a stack with good quality prosciutto crudo, small slices of pecorino cheese (soft rather than hard) and an olive.
You can make as many or as little as you want of these fried gnocchi appetizers and also change it up with leftover meats and cheeses you have in your fridge from over Christmas.
If you tried this or any other recipes on my blog please be sure to leave me a comment below to let me know how you got on, I love hearing from you. You can also FOLLOW ME on FACEBOOK, TWITTER, INSTAGRAM and PINTEREST to see more delicious food and what I'm getting up to.
PIN FOR LATER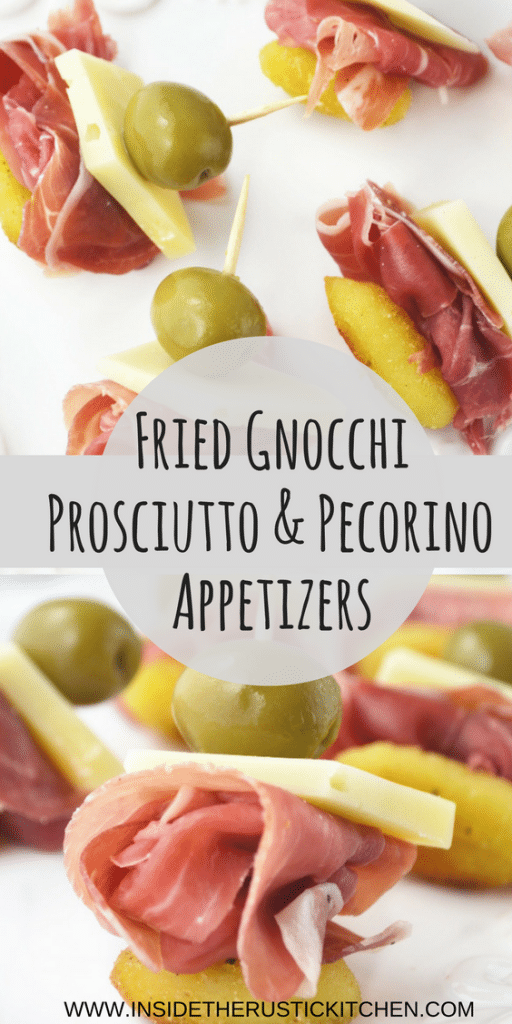 📖 Full Recipe
Step By Step Photos Above
Most of our recipes come with step by step photos, helpful tips and tricks to make it perfectly first time and even video!
Fried Gnocchi, Prosciutto and Pecorino Appetizers
These Fried Gnocchi, Prosciutto and Pecorino Appetizers are simple and elegant, perfect for parties and entertaining!
Ingredients
Instructions
To make the fried gnocchi add the olive oil to a large frying pan under a medium heat. Fry the gnocchi with the rosemary and a little salt until golden and crispy all over (around 10-15 minutes).

Finley slice the pecorino cheese and cut each slice of prosciutto into 3. Once the gnocchi are cool enough to touch add one to the end of 20 cocktail sticks. Continue to make a stack by adding a slice of prosciutto and a slice of pecorino cheese followed by an olive.

Serve on a serving plate.
Notes
Recipe makes around 20 appetizers.
Nutrition
Helpful Info for All Recipes
I always use extra virgin olive oil in all of my recipes unless stated otherwise
When I use canned or jarred tomatoes of any kind I always use Cirio or Mutti brands for the best results and flavour.
All vegetables are medium sized unless stated otherwise
All recipes are tested and developed using a fan (convection) oven
Find out more about how nutrition is calculated.
Check out our must have Italian Pantry Staples.
You can also find all our Essential Kitchen Tools for Italian Cooking.