Orange ricotta doughnuts with honey and thyme are a simple sweet treat that are incredibly delicious and moreish.
These ricotta doughnuts are perfect for a weekend treat and are fantastic to serve to friends and family when you have guests over, I assure you they will go fast.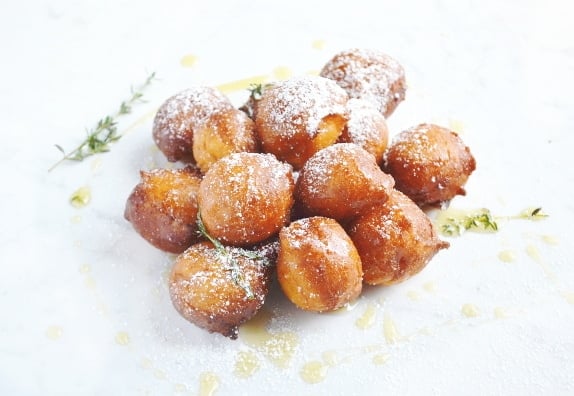 In Italy the traditional breakfast is ALWAYS sweet. Every bar is filled with the most amazing cakes and pastries filled with Nutella, jam or my favourite crema pasticcera. Crema pasticcera a beautiful Italian custard that's lemony and delicious sometimes it also has a dash of Limoncello inside too and it is to die for! They are never shy with their measures either, they pump as much heavenly custard into that croissant that is physically possible so your first bite is one magical moment indeed! Which brings me to these little lovely ricotta doughnuts, I wanted something sweet for breakfast that doesn't take long to make, is easy and of course just as beautiful to eat.
These little ricotta doughnuts are SO easy to make and are so so worth it! They are light, soft and sweet and highly addictive, I have warned you. Whip these up in no time when you have guests over, they look so impressive and the taste is out of this world, sugary goodness. Try experimenting with flavours and fillings the list is endless and they are so fun to make!
For my little ricotta doughnuts I decided on no filling and to keep them simple although there was no compromise on flavour that's for sure. Soft orangey doughnuts drizzled in sticky, sweet, orangey honey with a hint of thyme and a dusting of icing sugar. They truly are so delicious and will put a smile on anyone's face. You can fill them with whatever you want, jam, chocolate or custard. Just fill a piping bag with whatever filling you want and once they are cool enough pipe that filling into each little doughnut hole and you're good to go. They are even delicious the next day if covered in cling film or in a container. You can enjoy them for breakfast the next day too (if there's any left).
There's really nothing to it, I'm talking 5 minutes to whip up the batter then all there is left to do is spoon little balls of batter into the oil, drain them, drizzle with honey and dust with icing sugar. Then it's time for the best part...EAT THEM whilst trying not to devour them all at once.
If you've tried this or any other recipe on the blog please let me know how you got on in the comments below, I love hearing from you! You can also FOLLOW ME on FACEBOOK, TWITTER, INSTAGRAM and PINTEREST to see more delicious food and what I'm getting up to.
For more sweet treats try;
dark chocolate almond butter cups
Step By Step Photos Above
Most of our recipes come with step by step photos, helpful tips and tricks to make it perfectly first time and even video!
Save Recipe
Saved!
Orange ricotta doughnuts with honey and thyme
Orange ricotta doughnuts with honey and thyme are a simple sweet treat that are incredibly delicious and moreish.
Ingredients
1

cup (125g)

plain flour

2

tbsp

caster sugar

2

tsp

baking powder

Zest of 1 orange and a sqeeze of juice

8.8

oz (250g)

whole milk ricotta cheese

2

free range eggs

Pinch of salt

4

tbsp

floral orange honey

(normal runny honey will do)

2-3

sprigs of thyme

icing sugar for dusting

35

fl oz (1 litre)

sunflower oil
Instructions
Add the oil in a medium sized saucepan over a medium heat. Meanwhile using a hand whisk, whisk together the eggs, ricotta and orange zest and juice until combined and smooth.Add the flour, baking powder, and salt and mix together until combined.

Using a tablespoon scoop up a spoon of batter and slowly place it into the oil using a teaspoon to edge it off. Repeat this in batches of around 5 or 6 at a time for around 5-7 minutes each doughnut.They will naturally turn around themselves. Drain on kitchen paper.

In a small saucepan heat the honey and thyme for 1-2 minutes until warmed and very runny. Place the doughnut holes/balls on a serving plate and drizzle with the honey and thyme. Dust over some icing sugar and serve.
Notes
Best served at room temperature. Store in a container for up to 1 day.
Please note this recipe was tested and developed using metric measurements all imperial measurements are approximate.
*calories per doughnut
Nutrition
Helpful Info for All Recipes
I always use extra virgin olive oil in all of my recipes unless stated otherwise
When I use canned or jarred tomatoes of any kind I always use this brand for the best results and flavour
All vegetables are medium sized unless stated otherwise
All recipes are tested and developed using a fan (convection) oven
Find out more about how nutrition is calculated here
Check out our must have Italian Pantry Staples here
You can also find all our Essential Kitchen Tools for Italian Cooking here