This beautiful Pandoro Christmas Cake with Pistachios and White Chocolate is the perfect show stopper that will only take you 10 minutes.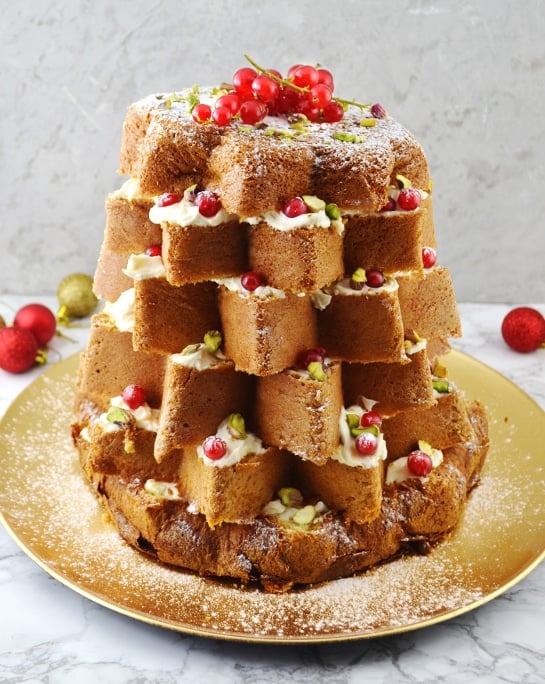 I'm so excited by today's post because it was so incredibly easy to make and it looks amazing!  Yes I'm well and truly in the Christmas spirit after making this beauty 🙂
I adore Pandoro ( Golden Bread ) in fact I much prefer it to Panettone at Christmas time. It's soft, light, delicious and has the most amazing vanilla, sweet smell. Pandoros come in beautifully patterned boxes and are wrapped in a plastic bag with a sachet of icing sugar (powder sugar). When it's time to serve the Pandoro you tip the icing sugar into the plastic bag and give the bag a good shake, covering the big star shaped cake in beautiful sweet snow.
There's nothing better on a cold Winter's night when the candles are on and you're all cozy wrapped up inside with a big slice of pandoro and a cup of steaming hot tea or better yet a little glass of Prosecco.
This year I decided to make this classic Italian Christmas cake a little different, something that would give the wow factor on Christmas Day or at parties without any fuss or much effort involved.
This Pandoro Christmas Cake is absolutely perfect because it literally take 10 minutes to make or less. Firstly I whip together mascarone, icing sugar and Vin Santo which is a sweet Italian dessert wine until it's nice and light.
I then add in chopped white chocolate and pistachios….it's SO good. I didn't add the red currants in to the mixture at this point because they would change the colour of the mixture so instead I simply sprinkled a few over each layer making sure they peek out at the edges to give pops of bright red colour as if Chrsitmas baubles on the tree.
The pandoro is already a festive star shaped cake so all I do is cut it into five slices starting from the bottom and working my way up to the top. Each layer is spread with a unctuous mascarpone cream mixture and sprinkled with red currants (you can also use pomegranate for this).
Each layer is placed on top of each other so the points are not matching to give the Christmas tree effect. I then add extra pistachios and any left over red currents for extra colour and sprinkle over a little icing sugar.
The Pandoro Christmas Cake looks so magical and tastes incredible it's hard to stop at one slice!
OK I'm off to go and cut myself a slice now…. 🙂
If you try this recipe be sure to let me know how you got on in the comments below. You can also FOLLOW ME on FACEBOOK, TWITTER, INSTAGRAM and PINTEREST to see more delicious food and what I'm getting up to.
Step By Step Photos Above
Most of our recipes come with step by step photos, helpful tips and tricks to make it perfectly first time and even video!
Pandoro Christmas Cake with Pistachios and White Chocolate
This beautiful Pandoro Christmas Cake with Pistachios and White Chocolate is the perfect show stopper that will only take you 10 minutes.
Ingredients
1

Pandoro cake

500

g

Mascarpone

1

shot

Vin Santo

70

g

Icing sugar plus 1 tbsp for dusting

25

g

pistachios plus a few extra to decorate

50

g

white chocolate

finely chopped

100

g

Red currants or pomegranate
Instructions
Put the mascarpone in a large mixing bowl with the vin santo and icing sugar and whisk together for 1 minute. Add the chopped white chocolate and pistachios and stir through, set aside.

Cut the pandoro in five slices from bottom to top. Spread each layer evenly with the mascarpone mixture making sure to scatter a few red currents on each layer.

Lay each slice of pandoro on top of each other so the points don't match to resemble a Christmas tree as you are layering the mascarpone mixture.

Top with a dusting of icing sugar and some more red currents and pistachios.
Nutrition
Helpful Info for All Recipes
I always use extra virgin olive oil in all of my recipes unless stated otherwise
When I use canned or jarred tomatoes of any kind I always use this brand for the best results and flavour
All vegetables are medium sized unless stated otherwise
All recipes are tested and developed using a fan oven
Find out more about how nutrition is calculated here
Check out our must have Italian Pantry Staples here
You can also find all our Essential Kitchen Tools for Italian Cooking here