Homemade basil pesto is spread over fresh cannelloni pasta and baked in a luscious cheesy provolone bechamel sauce and topped with mozzarella cheese, comfort food heaven!
This is proper cheesy comfort food heaven and is a fabulous vegetarian meal that will soon be a family favourite. This delicious pasta dish is fairly simple to make and to put together. It's a great weekend meal that can be eaten as a traditional Italian starter or main course.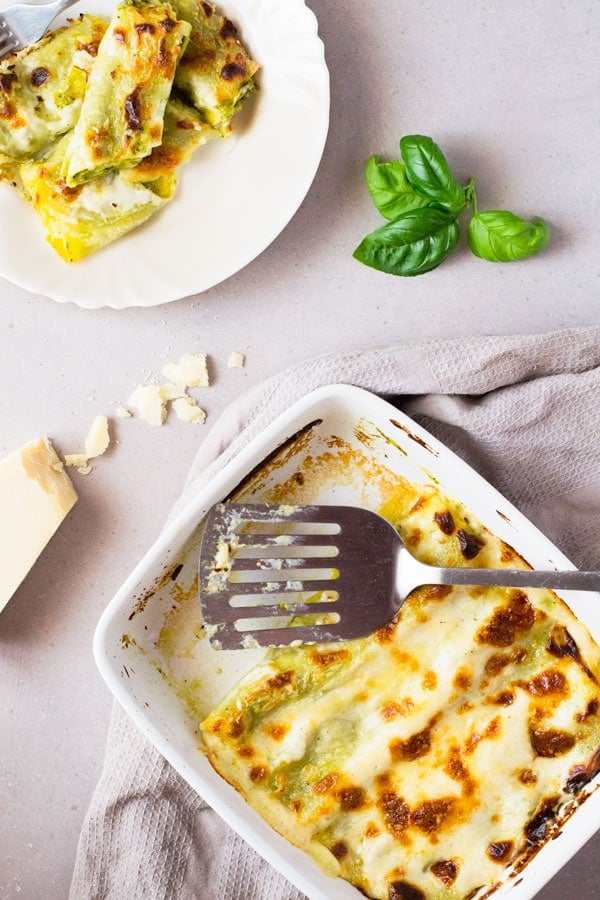 This pesto provolone cannelloni pasta is something I've been making for quite some time now. I decided to combine my love for pesto, cheese, and pasta all in one cheesy baked comfort food dish and it's SO damn delicious!
The cannelloni is fairly easy to make, it requires homemade pesto (this is a must) homemade cheese (bechamel) sauce and fresh lasagne sheets which you can either make yourself or use store bought fresh lasagne sheets which are what I used to make this recipe.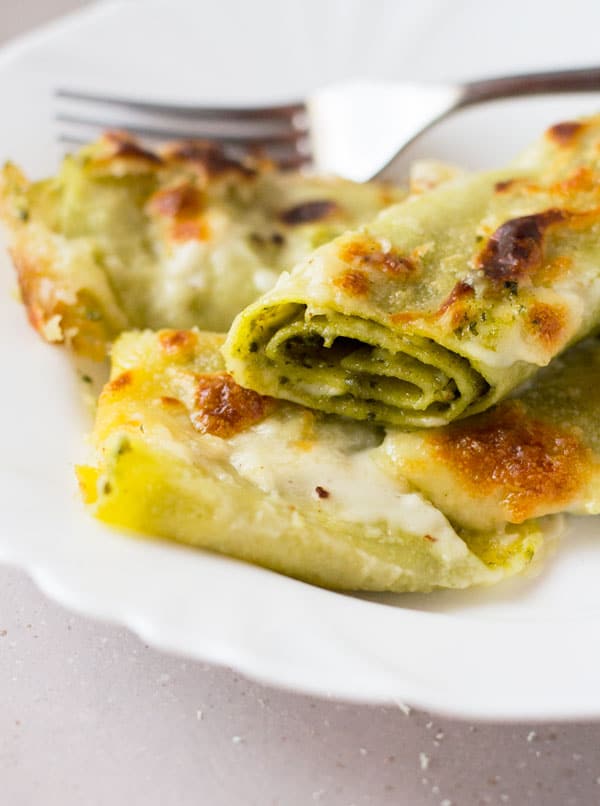 Ok so let's back up and talk about pesto for a second.
I have to say pesto is one of the best sauces in the world (for me anyway). Every time I make it I can't help but lick the bowl clean afterward as if I was a child again baking something chocolatey and delicious (I still do this btw).
I prefer to add a little more parmesan than you normally see in recipes and I do prefer parmesan to pecorino in my pesto because it adds more tang. Also in most pesto recipes, you will see they will tell you to toast the pine nuts. I prefer not to, I like the creaminess that the un-toasted pine nuts give the pesto.
Homemade pesto is a must here, it's the most important part to this recipe and the jarred stuff you get in the supermarket really shouldn't be called pesto. It tastes nothing like the homemade stuff and will not taste anywhere near as gorgeous as this.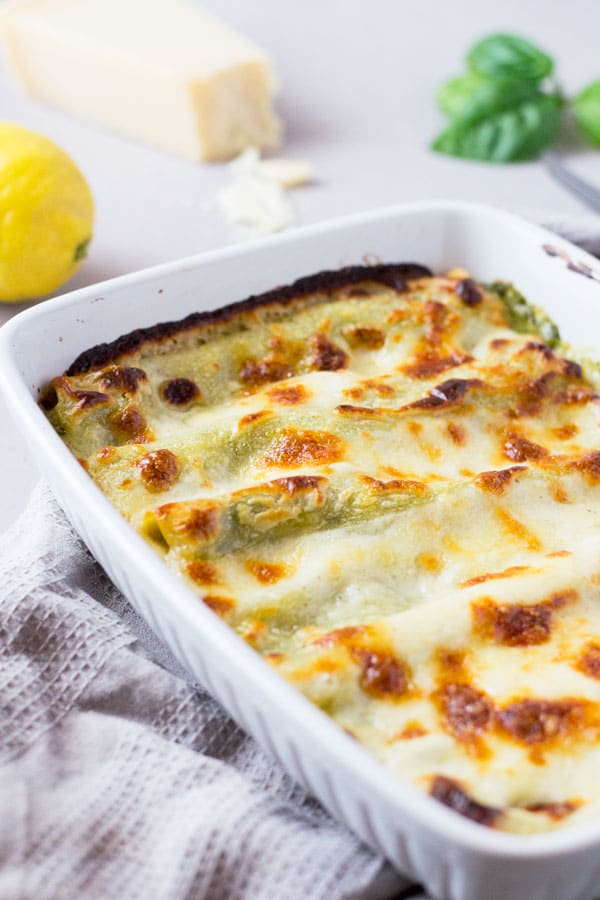 To make this cannelloni pasta, simply make a basic cheese sauce (see recipe below) with lots of provolone cheese then add a couple spoonfuls to the bottom of an oven proof dish.
The luscious pesto is mixed with a little cheese sauce before being spread over the cannelloni pasta (lasagne sheets) with an extra sprinkling of cheese. Then it's rolled up and placed in the baking dish. The provolone cheese sauce is poured over the cannelloni and topped with mozzarella before being baked in the oven until it's bubbling, melted and delicious.
Easy as that, I hope you enjoy this recipe as much as I do, It's truely a comfort food favourite of mine.
Ciao until next time!
If you've tried this or any other recipe on the blog please let me know how you got on in the comments below, I love hearing from you! You can also FOLLOW ME on FACEBOOK, TWITTER, INSTAGRAM and PINTERESTto see more delicious food and what I'm getting up to.
For more pesto recipes try;
gnocchi with walnut and chili pesto
📖 Full Recipe
Step By Step Photos Above
Most of our recipes come with step by step photos, helpful tips and tricks to make it perfectly first time and even video!
Pesto Provolone Cannelloni Pasta
Homemade basil pesto is spread over fresh cannelloni pasta and baked in a luscious cheesy provolone bechamel sauce and topped with mozzarella cheese, comfort food heaven!
Ingredients
For the pesto:
2

cups (50g)

Basil

1

garlic clove

1

tablespoon

pine nuts

1

tablespoon

lemon juice

½

cup (60g)

finely grated parmesan

6

tablespoon

olive oil

Salt and pepper

, to taste
For the white sauce:
2

oz (50g)

butter

2

oz (50g)

plain flour

19

fluid oz (550ml)

milk

1

pinch of nutmeg

7

oz (200g)

provolone picante

, grated

1

tablespoon

parmesan

,freshly grated

3.5

oz (100g)

ball of mozzarella

9

lasagna sheets

,fresh

salt and pepper

, to taste
Instructions
Preheat the oven to 180°C/350F/gas mark 4.

To make the pesto add the basil, garlic, lemon, parmesan, pine nuts, olive oil and a little salt and pepper in a bowl. Blitz until completely smooth with a hand blender. This will make an extra smooth pesto, set aside.

Bring a pot of water to the boil. Meanwhile, make the white sauce. In a pan on a medium heat add butter until melted. Then add the flour and stir until it has formed a thick paste. Cook the flour out for a minute then gradually add the milk, whisking constantly to avoid any lumps. stir slowly until it starts to thicken. Add the nutmeg, salt and pepper and ⅔ of the provolone cheese. Continue to stir until thick and set aside.

Add 5 tablespoon of cheese sauce to the pesto, stir and set aside. Add two small spoonfuls of cheese sauce to the bottom of an oven proof baking dish and spread out evenly, set aside.

Add one lasagna sheet to the boiling water for a couple seconds. Remove with a slotted spoon and place on a clean work surface. Spread 1 tablespoon of pesto over the lasagna sheet then sprinkle with a little provolone cheese. Roll the lasagna sheet up and place in the baking dish. repeat with the rest of the lasagna sheets.

Pour the remaining white sauce over the top of the cannelloni and top with the mozzarella. Put the cannelloni into the oven and bake until bubbling and golden, around 20 minutes. Leave for 5/10 minutes to cool slightly and enjoy!
Notes
*please note this recipe was tested and developed using metric measurements all imperial measurements are approximate
Nutrition
Helpful Info for All Recipes
I always use extra virgin olive oil in all of my recipes unless stated otherwise
When I use canned or jarred tomatoes of any kind I always use Cirio or Mutti brands for the best results and flavour.
All vegetables are medium sized unless stated otherwise
All recipes are tested and developed using a fan (convection) oven
Find out more about how nutrition is calculated.
Check out our must have Italian Pantry Staples.
You can also find all our Essential Kitchen Tools for Italian Cooking.