Red grape focaccia with mozzarella and rosemary. This focaccia is light, fluffy and has a delicious combination of sweet and savoury flavours. It's perfect for sharing as an appetizer or snack and is sure to be a big hit.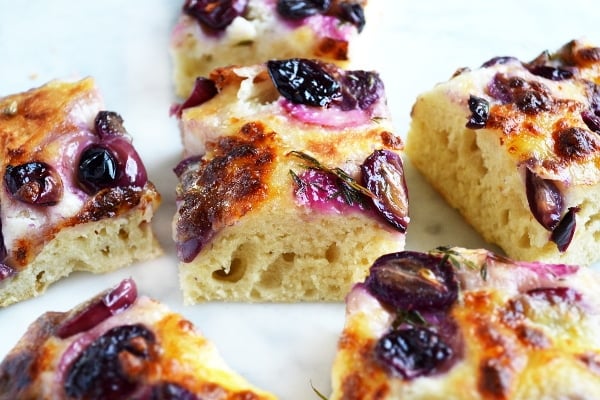 I made this red grape and mozzarella focaccia a few days ago and absolutely loved it, so did my boyfriend Nathan. Bright purple juicy bursting grapes that are so sweet and delicious with bubbling mozzarella on top. Focaccia is really easy to make, you need to wait a few hours to let the doughy goodness rise and then it's just a case of throwing whatever takes your fancy on top and voilà an incredibly impressive and delicious focaccia awaits you. It's great to make when you have some friends over, for a party or barbecue or for snacking on basically any time of the day.
I always get greedy when it comes to focaccia, yes I stuff my mouth with big slices because it's so delicious and then I get SO full afterwards but it really is so worth it. There are so many easy focaccia recipes out there and so many different varieties. Living in Italy you see it everywhere and it varies from each region from extra thin and oily to the thicker, softer kind like my tomato and anchovy focaccia and this red grape one here.
Since moving to Tuscany I'm all about the thick focaccia. Salted with rosemary, sliced in half and filled with beautiful Italian Percorino and prosciutto cotto or sprinkled with cheese and tomatoes and baked to perfection. It was time to try something new and out of the norm and a savoury red grape focaccia with oozy melted mozzarella was the one!
The sweet and savoury combination is perfect here and the roasted red grapes are extra delicious. I chose to lightly fry them first with a little oil, salt and a sprinkling of thyme before scattering them over the focaccia, I could've eaten them on their own they are just amazing just as they are. However once sprinkled over the light pillowy dough and topped with mozzarella I knew this lovely thing that came out the oven was going to be great!
If you give this a go please let me know how you get on I'd love to hear from you all and don't forget to 'like' us on Facebook and follow us on Instagram, Twitter and my favourite of all Pinterest. You can also Pin this recipe here and save it for later.
📖 Full Recipe
Step By Step Photos Above
Most of our recipes come with step by step photos, helpful tips and tricks to make it perfectly first time and even video!
Red grape focaccia with mozzarella cheese
Red grape focaccia with mozzarella. Sweet, savoury and incredibly delicious with a light and fluffy dough.
Ingredients
3 ⅓

cups (500g)

00' flour

15.2

fl oz (450ml)

lukewarm water

2 ¼

tsp (7g)

fast action dried yeast

1

teaspoon

sugar

7

oz (200g)

red grapes

4.4

oz (125g/1 ball)

mozzarella

3-4

sprigs of fresh thyme

3-4

tablespoon

olive oil

Salt and pepper

to season
Instructions
Measure 100ml (around ½ cup) of warm water and add the yeast and sugar to the water, leave for 5 minutes. Put the flour in a large mixing bowl and make a well in the middle. Add a teaspoon of salt at one side of the bowl.

Add the yeast water mixture then gradually add the rest of the lukewarm water, mixing the dough until you have a smooth dough. If the dough is too sticky gradually add more flour.

Knead the dough for 10-15 minutes then placed in a well oiled bowl covered with cling film and leave to rest for 3-4 hours.

Wash and cut the red grapes in half. Heat a small frying pan with a teaspoon of olive oil and add the grapes, thyme and a little salt. Toss the grapes for 2 minutes until softened slightly, set aside.

Preheat the oven to 220 degrees°

Once the dough has risen for a few hours knock it back and place the dough on a large oiled baking tray, it should be around 2.5cm thick.

Using two fingers make dimples all over the dough and sprinkle with a teaspoon of olive oil. Scatter the grapes on top and tear up the mozzarella over the focaccia. Sprinkle with a little extra a salt then bake for 20 minutes. Let it cool for a few minutes then cut into slices and serve.
Notes
Please note this recipe was tested and developed using metric measurements all imperial measurements are approximate
Nutrition
Helpful Info for All Recipes
I always use extra virgin olive oil in all of my recipes unless stated otherwise
When I use canned or jarred tomatoes of any kind I always use Cirio or Mutti brands for the best results and flavour.
All vegetables are medium sized unless stated otherwise
All recipes are tested and developed using a fan (convection) oven
Find out more about how nutrition is calculated.
Check out our must have Italian Pantry Staples.
You can also find all our Essential Kitchen Tools for Italian Cooking.