Incredibly delicious Italian Sausage Stuffed Mushrooms with Gorgonzola and Walnuts. A speedy supper ready in no time!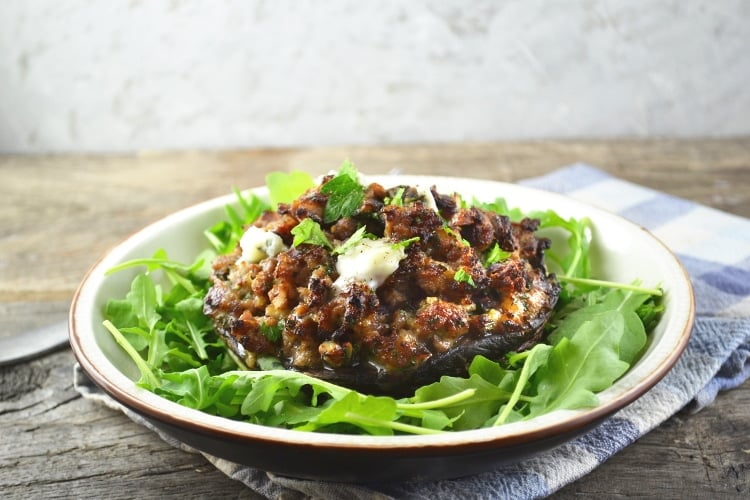 I forgot how much I absolutely love these sausage stuffed mushrooms! They're packed full of oozy Gorgonzola cheese and yummy walnuts making them absolutely perfect for Autumn and trust me they are so addictive.
Mushroom season is in full swing especially here in Italy. Country roads are lined with parked cars of Italian foragers searching the woods on damp, misty mornings for those prized mushrooms and I have to say they seem to know what they're doing. Baskets are filled to the brim with big, earthy, beautiful mushrooms ready to adorn risottos, pasta dishes and steaks, nom nom nom!
I have to say even although the thought of foraging in the misty woods early in the morning and finding all those delectable mushrooms then cooking a beautiful meal with something you've just foraged with your own bare hands sounds incredible. It's also very very dangerous and although I'm confident those Italians filling their baskets know exactly what they're doing it's still a risky business and I don't think I'll be trying it anytime soon.
So instead I stick to the supermarkets when it comes to mushrooms and at this time of year they are filled with all different kinds and varieties! I came across these portobello mushrooms that yeah ok aren't the most exciting variety of mushroom but are absolutely delicious when stuffed!
I stuffed these babies with Italian sausages, Gorgonzola and walnuts (classic combo), onion, garlic, parmesan and parsley.
Oh my days they are amazing and what's more they only take around 5-10 minutes to prepare before being popped in the oven for 15-20 minutes, making them a speedy supper indeed.
I start by browning the sausage in a pan, followed by the onion and garlic. I add it all to a bowl with Parmesan, Gorgonzola, parsley and some pepper.
Almost done…
I then rub the portobello mushrooms in a little oil and stuff them with the sausage mixture. They're then baked for 15-20 minutes and Voliá! Time to eat.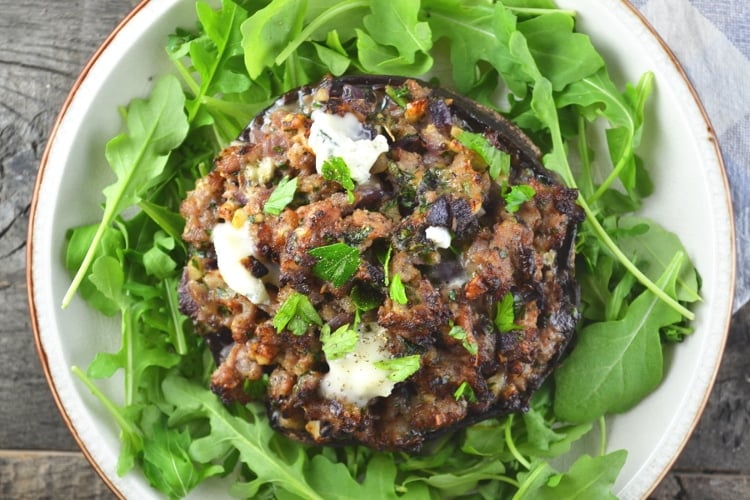 What's your favouite way of stuffing mushrooms? Don't forget if you try this recipe to let me know how you got on in the comments below 🙂
SAVE FOR LATER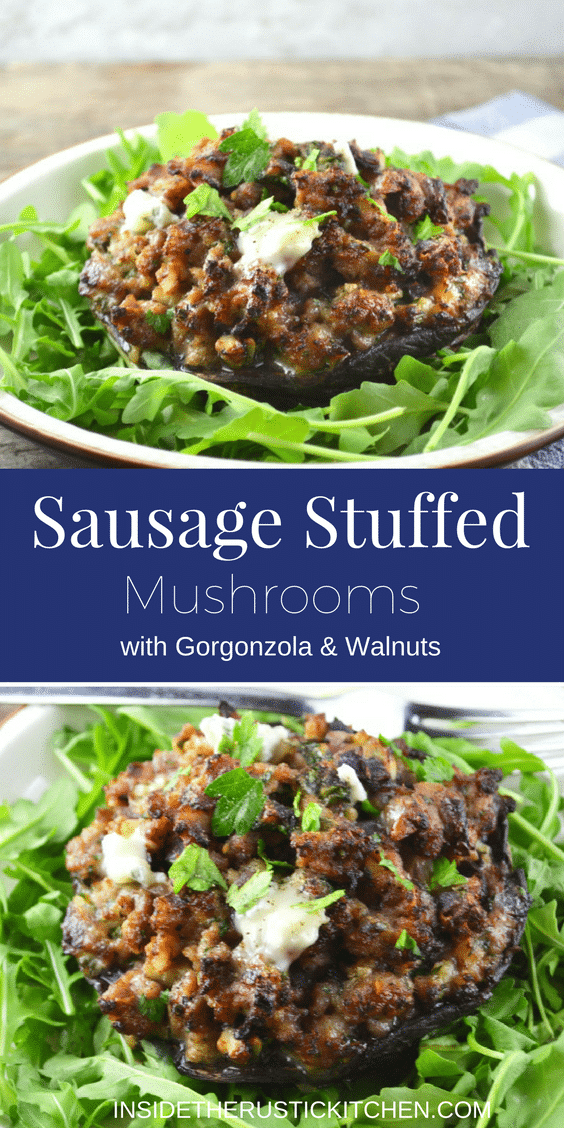 Step By Step Photos Above
Most of our recipes come with step by step photos, helpful tips and tricks to make it perfectly first time and even video!
Sausage Stuffed Mushrooms with Gorgonzola and Walnuts
Incredibly delicious Italian Sausage Stuffed Mushrooms with Gorgonzola and Walnuts. A speedy supper ready in no time!
Ingredients
Instructions
Preheat the oven to 180°Remove the sausages from their casings and brown in a frying pan then add to a large bowl leaving as much oil in the pan as possible.

Finely chop the red onion, garlic and parsley. Add the onion to the frying pan and saute until soft but not brown (add a tbsp of olive oil if needeadd the garlic and fry for another minute. Once cooked add to the bowl with the sausage.

Add the parmesan,parsley, gorgonzola and pepper. Mix everything together until thoroughly combined. Lightly rub the outside of the mushrooms with a little olive oil. Stuff the mushrooms with equal amounts of sausage mixture. Bake in the oven for 15-20 minutes.

Garnish with a little extra parsley and a couple cubes of Gorgonzola if desired.
Notes
Italian sausages are normally quite salty so no additional salt was need in this recipe although you may need to according to what sausages you use.
Nutrition
Helpful Info for All Recipes
I always use extra virgin olive oil in all of my recipes unless stated otherwise
When I use canned or jarred tomatoes of any kind I always use this brand for the best results and flavour
All vegetables are medium sized unless stated otherwise
All recipes are tested and developed using a fan oven
Find out more about how nutrition is calculated here
Check out our must have Italian Pantry Staples here
You can also find all our Essential Kitchen Tools for Italian Cooking here