Tiramisu Ice Cream, all the flavours of one of the most popular Italian desserts of all time made into an ice cream, with a hint of coffee, marsala and savoiardi (lady finger) biscuits.
Love tiramisu? Love Ice cream? then I have the perfect dessert for you. It's creamy, soft and silky gelato with all the classic tiramisu flavours. This has become one of my all time favourite ice creams and I'm sure it'll soon be yours!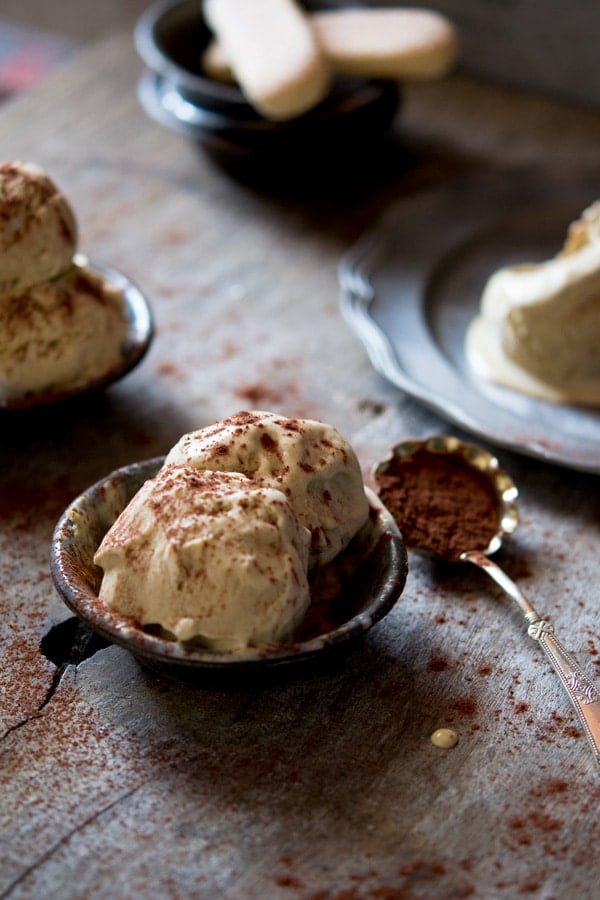 I first tried tiramisu ice cream when I visited San Gimignano a hill top town near Siena. It's an absolutely stunning little village, home to an award winning ice cream shop that is always packed full of people. I mean if you ever visit San Gimignano you ain't gonna miss this ice cream place. It's smack bang in the centre of the main Piazza with a mile long queue...always!
Don't worry though you're not waiting for long, the service is fast and there's just enough time to decide what flavour you want. I opted for a modest small cone with two flavours tiramisu and a classic custard flavour.
Omg...seriously so good! Italian ice cream in general is amazing but this ice cream was the best I've ever eaten and considering it was a sweltering hot day, it was just what I needed.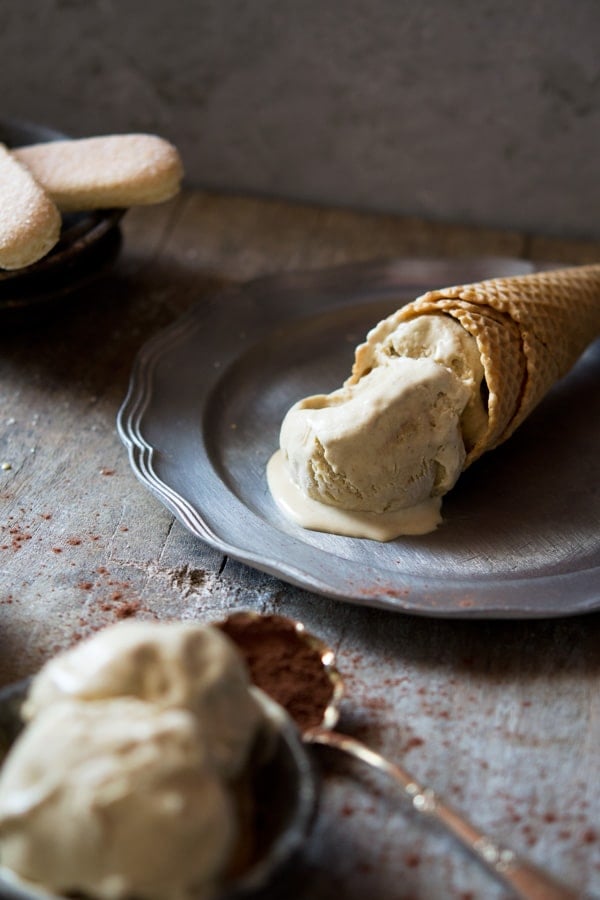 After taking lots of pretty pictures, walking around window shopping we headed home and I could not stop thinking about this ice cream. I had to make that tiramisu ice cream for myself, so I did.
I've tested and developed this recipe four or five times now and I love it! It's not over the top loaded with booze and chocolate, it's just right and exactly how I wanted it to taste.
There's just a hint of marsala wine, coffee and soft and chewy savoiardi biscuits (lady fingers). The trick is not to soak the biscuits too much with coffee, just a quick 2 second dunk is all they need. If there's too much water in the biscuits they will freeze brick hard and you don't want that.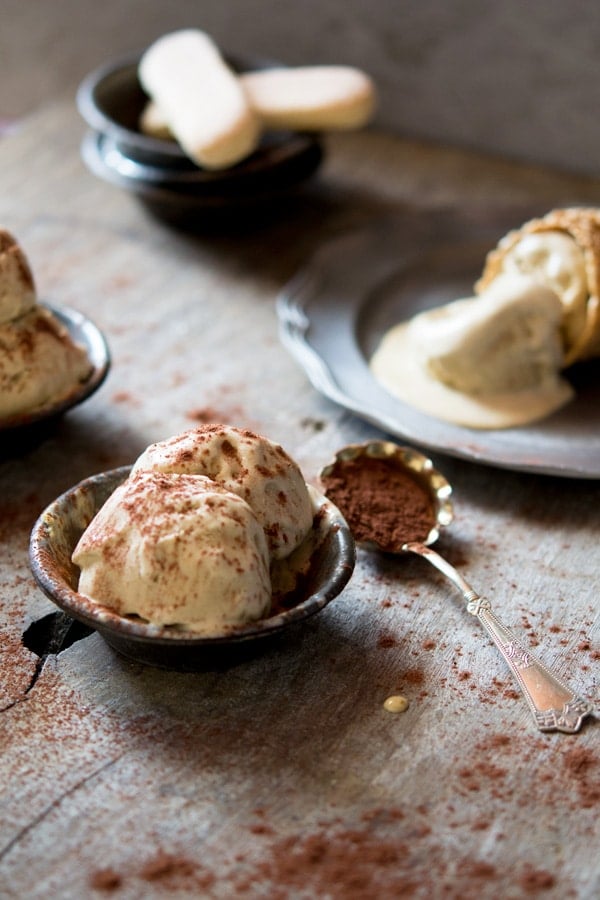 If you've tried this or any other recipe on the blog please let me know how you got on in the comments below, I love hearing from you! You can also FOLLOW ME on FACEBOOK, TWITTER, INSTAGRAM and PINTEREST to see more delicious food and what I'm getting up to.
More delicious desserts
📖 Full Recipe
Step By Step Photos Above
Most of our recipes come with step by step photos, helpful tips and tricks to make it perfectly first time and even video!
Tiramisu Ice Cream
Tiramisu Ice Cream, all the flavours of one of the most popular Italian desserts of all time made into an ice cream, with a hint of coffee, marsala and crunchy savoiardi (lady finger) biscuits.
Ingredients
8.8

oz (250g)

mascarpone

1 ¼

cups (10.1 fl oz/300ml)

full fat milk

2.8

oz (80g)

sugar

½

teaspoon

vanilla extract

1

teaspoon

instant espresso powder

2 ½

tbsp (40ml)

marsala

3

large egg yolks

3

savoiardi biscuits

lady finger

1

stong brewed espresso
Instructions
Whisk the egg yolks and sugar together in a large bowl until pale and thick. Put the mascarpone and milk in a saucepan, heat the milk mixture over a low medium heat until it comes to a boil. Remove from the heat, add the vanilla extract and let it sit for 1 minute.

Very gradually add the milk to the egg mixture whilst continuously whisking. Once it all fully incorporated transfer the custard liquid back into the saucepan on a low heat. Add the espresso powder and whisk until dissolved.

Stir the custard for 5-10 minutes until it has thickened enough to coat the back of a wooden spoon. Remove from the heat, add the marsala, stir then set aside to cool.

Pour the ice cream into your ice cream machine.

Dip each side if the savoiardi biscuits into the espresso for a second and place on a chopping board. Cut into small cubes, set aside.

When the ice cream has thickened and almost ready (usually after around 10 minutes) add the savoiardi biscuits a little at a time. Once ready, transfer to a freezer proof tub and freeze until ready to serve.
Nutrition
Helpful Info for All Recipes
I always use extra virgin olive oil in all of my recipes unless stated otherwise
When I use canned or jarred tomatoes of any kind I always use Cirio or Mutti brands for the best results and flavour.
All vegetables are medium sized unless stated otherwise
All recipes are tested and developed using a fan (convection) oven
Find out more about how nutrition is calculated.
Check out our must have Italian Pantry Staples.
You can also find all our Essential Kitchen Tools for Italian Cooking.