Breaded Veal Cutlets topped with a layer of delicious prosciutto crudo and cheesy parmesan cream. This tastes incredible and is sure to be your new favourite meal!
Veal cutlets are such an easy weeknight dinner to prepare, you can even crumb the veal the night before so all that's left to do is fry it for a couple minutes on each side then pop it in the oven. That being said these veal cutlets are perfect for weekends when you want something just that wee bit more special.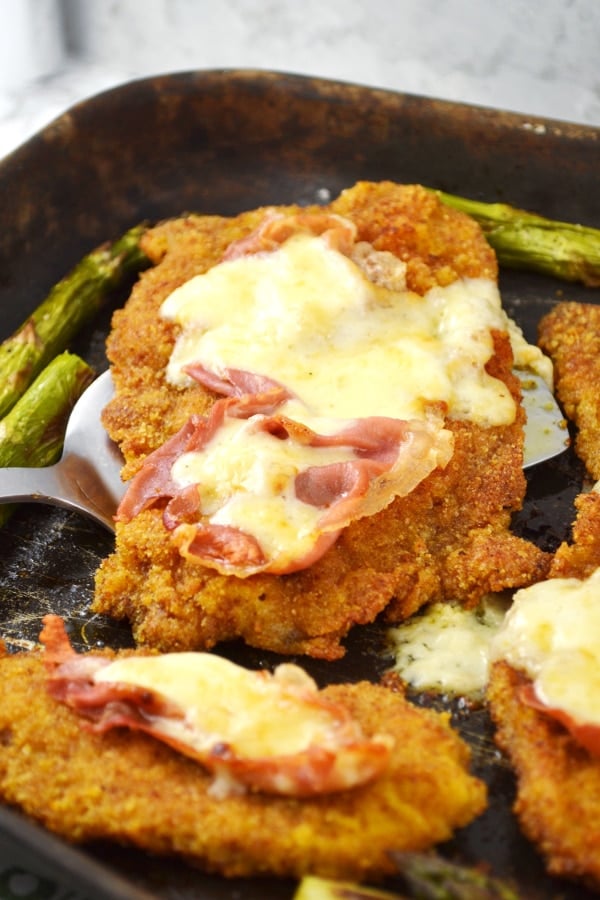 Ok so I have to talk about the parmesan cream. It is by far one of my absolute favourite things on this earth, ever. Yup, I seriously love it that much and yes it's all cream and cheese (that's why I love it) but when something tastes this good it's hard not to eat it by the spoon, which I do from time to time I'll happily admit it.
I use this parmesan cream on so many recipes that Nathan even suggested I create a Parmesan Cream E-book and I have to say I'm actually considering it because every single recipe I make with this liquid gold is seriously amazing! I mean those kinda meals that you just don't want to end and you could almost cry as you're munching on your last mouthful because it's all gone, that's what I mean by amazing. I feel a new book coming on...
So I think we've established my love affair with parmesan cream, and how do I make it I hear you say? Well, it takes all of about 5 minutes. Yup, I think now we've established you so need this in your life, right?
I'm going to give you the basic recipe that I use all the time but really you can add as much or as little parmesan into the sauce as you want. I sometimes add a ton more than what this recipe calls for to make it extra cheesy or sometimes a little less for a more delicate flavour. No matter what you do, this is going to taste so delicious.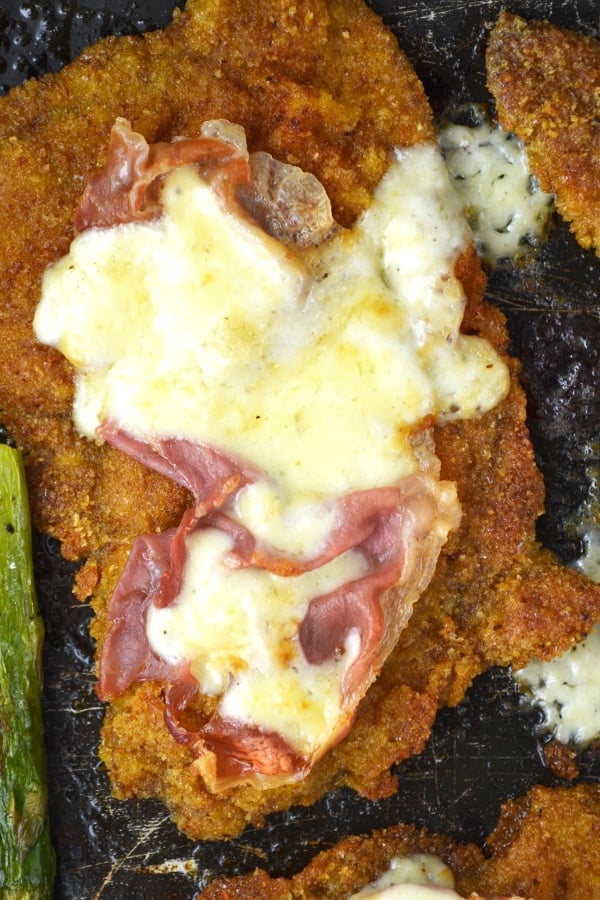 To make the parmesan cream I fry some chopped garlic for a minute (don't let it brown) then add the cream. I bring it up to a boil and let it boil for about a minute then turn the heat right down low. I add salt, pepper, nutmeg and lots of parmesan. I then turn the heat up just a little so it starts to simmer again and stir the sauce until it has thickened slightly, about another minute or two. Taste, and go to heaven.
How to prepare veal cutlets; you need breadcrumbs, flour and whisked eggs in separate bowls then simply dip each slice of veal (escallops pounded out thin) in the flour then egg then breadcrumbs until they are all evenly coated. Fry the cutlets on each side until brown and crisp. Because the veal cutlets are pounded thin you want about 2 cutlets per person.
For the assembly, place the veal cutlets on a baking tray and top each one with a slice of prosciutto. Spoon over some parmesan cream directly over the layer of prosciutto then bake in the oven for 10 minutes until the prosciutto is starting to crisp and the cutlets are hot and cooked all the way through. These veal cutlets go perfectly with some roasted or grilled asparagus and some lemon crushed potatoes (see recipe notes).
If you've tried this or any other recipe on the blog please let me know how you got on in the comments below, I love hearing from you! You can also FOLLOW ME on FACEBOOK, TWITTER, INSTAGRAM and PINTERESTto see more delicious food and what I'm getting up to.
Step By Step Photos Above
Most of our recipes come with step by step photos, helpful tips and tricks to make it perfectly first time and even video!
Veal Cutlets with Prosciutto and Parmesan Cream
Breaded Veal Cutlets topped with a layer of delicious prosciutto crudo and cheesy parmesan cream. This tastes incredible and is sure to be your new favourite meal!
Ingredients
Instructions
Preheat the oven to 180°/350F/gas mark 4. Place the bread crumbs and flour on two separate plates and the eggs in a bowl, whisk the eggs.

Add a pinch of salt and pepper to the bread crumbs and flour then in batches dip each escallope in flour then egg then bread crumbs, press the veal in the breadcrumbs until it's completely covered.

Put 2 tbsp of olive oil in a medium pan and fry the veal cutlets on both sides until browned and crispy (you may need to add a little more oil as you go) Place the cutlets on a baking tray and set aside.

To make the parmesan cream, finely chop the garlic and fry in a small pan with a tsp of olive oil for a few seconds to a minute (don't let it brown). Add the cream and bring to a boil for 1 minute. Turn the heat down low and add the parmesan and a pinch of salt, pepper, and nutmeg, stir. Turn up the heat slightly until the sauce is simmering and stir for another minute until the sauce has thickened slightly.

Add a slice of prosciutto to each veal cutlet and spoon over a little parmesan cream (around 1-2 tbsp on each) bake in the oven for 10 minutes until the prosciutto is starting to crisp and the veal is hot and cooked through. Serve with asparagus and mashed potatoes.
Notes
To make lemon crushed potatoes, roughly chop and boil potatoes with their skins until cooked through. Drain then add back to the pot and add a big glug of olive oil and a squeeze of lemon, salt and pepper. Use the back of a fork to crush the potatoes and serve.
*Please note this recipe was tested and developed using metric measurements all imperial measurements are approximate.
Nutrition
Helpful Info for All Recipes