Zucchini and roasted tomato focaccia, simple, delicious and perfect for sharing. A great way to use up Summer veggies.
This homemade zucchini and tomato focaccia is made with a soft light and fluffy dough, fresh cherry tomatoes and zucchini rounds.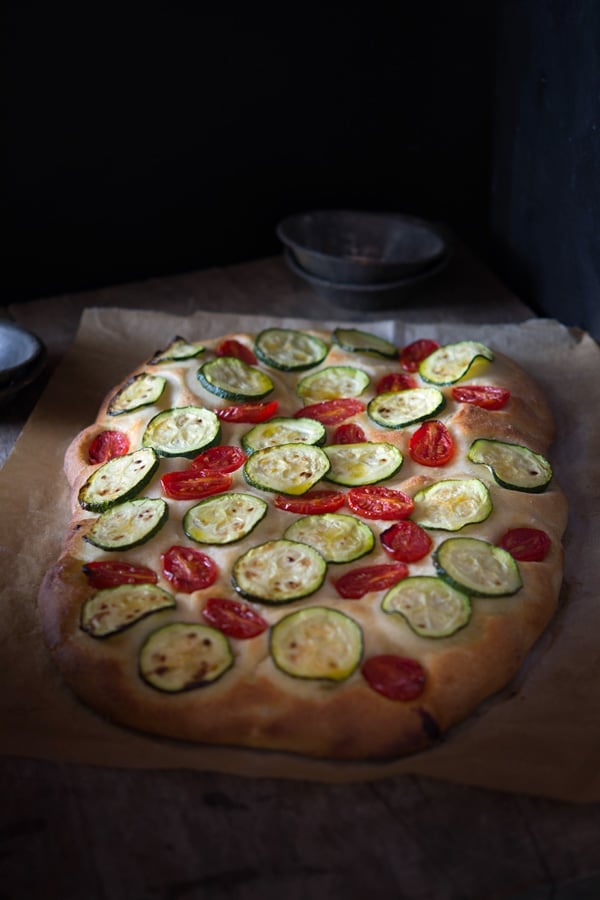 Focaccia is a great thing to know how to make. You can leave the dough for as little as one hour (longer if possible) and top it with whatever you like or have in your fridge. It makes a great snack, appetizer or side.
I often make a focaccia to have along side a bowl of pasta (my boyfriend needs a lot of food) or when I'm making an antipasto platter to go with drinks.
I see a lot of vegetable focaccia in bars, delis and bakeries around Italy. Bell peppers, aubergine (eggplant), zucchini, onions and tomatoes are the popular choices. For this focaccia I chose a simple combo of zucchini and sweet cherry tomatoes.
After the focaccia has been baked there's a delicious, salty, crispy crust around the edges and a soft, light and fluffy middle. You can choose the thickness of your focaccia according to your preference, I like quite a thick focaccia that's about 3-4mm before going in the oven.
You might also like my rosemary focaccia with mozzarella it's simple, cheesy and delicious.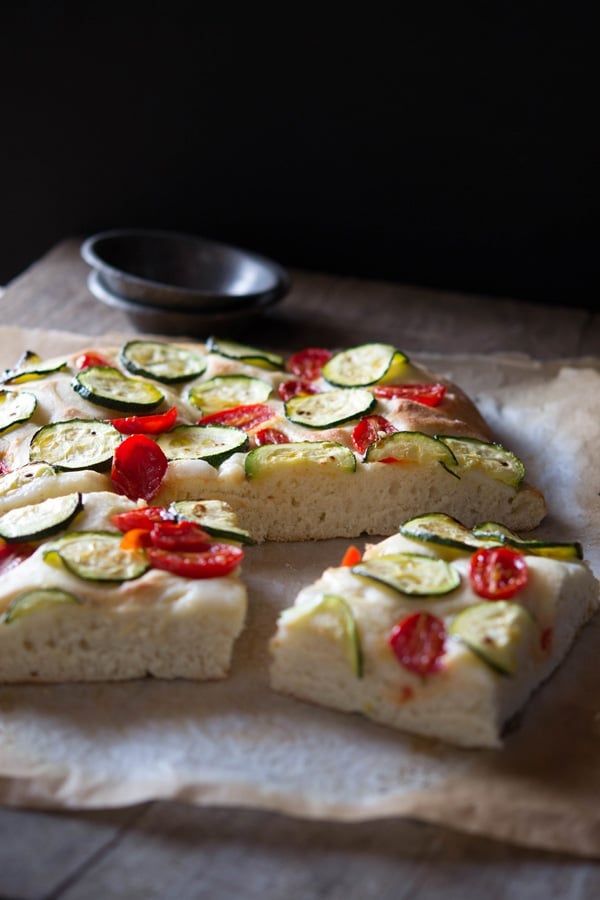 If you've tried this or any other recipe on the blog please let me know how you got on in the comments below, I love hearing from you! You can also FOLLOW ME on FACEBOOK, TWITTER, INSTAGRAM and PINTEREST to see more delicious food and what I'm getting up to.
📖 Full Recipe
Step By Step Photos Above
Most of our recipes come with step by step photos, helpful tips and tricks to make it perfectly first time and even video!
Zucchini Tomato Focaccia
Zucchini and roasted tomato focaccia, simple, delicious and perfect for sharing. A great way to use up Summer veggies.
Ingredients
Instructions
Add the yeast and sugar to the warm water and set aside for 5 minutes. Add the flour and teaspoon of salt to a large bowl and make a well in the middle.

Pour the yeasty water with ½ tablespoon of olive oil to the flour and mix until it starts to form a dough. Lightly dust a clean work surface with flour and knead the dough for 10 minutes. When you lightly press your finger on the dough it should spring back up, that's when you know it's ready. It should be smooth and soft.

Shape the dough into a ball then place in a large bowl that's lightly oiled in olive oil. Rub the top of the dough very lightly with olive oil and then cover the bowl with clingfilm or a damp tea towel. Store in a warm place for 1 hour or preferably for around 3 hours until it's doubled in size.

Preheat the oven to 220°C/425F/gas mark 7. Very thinly slice the zucchini and cut the tomatoes in half. Knock back the dough and place on a lined baking tray. Press the foccacia with your fingers to flatten it out onto the tray creating small dimples as you go. drizzle with ½ tablespoon olive oil and rub all over.

Arrange the slices of zucchini and tomatoes all over the focaccia, pressing the tomatoes in slightly. drizzle again with a little olive oil and rub over the vegetables.

Bake for 10-15 minutes until golden brown around the edges, sprinkle with a little salt and pepper and let it rest for 5 minutes before cutting into slices.
Notes
Please note this recipe was tested and developed using metric measurements all imperial measurements are approximate.
Nutrition
Helpful Info for All Recipes
I always use extra virgin olive oil in all of my recipes unless stated otherwise
When I use canned or jarred tomatoes of any kind I always use Cirio or Mutti brands for the best results and flavour.
All vegetables are medium sized unless stated otherwise
All recipes are tested and developed using a fan (convection) oven
Find out more about how nutrition is calculated.
Check out our must have Italian Pantry Staples.
You can also find all our Essential Kitchen Tools for Italian Cooking.