Bucatini pasta is tossed through a delicious tomato and roasted red pepper cream sauce made with garlic, red onion, oregano, and mascarpone then topped with shavings of ricotta salata.
This roasted red pepper cream sauce has many uses, I love it with chicken meatballs and polenta or with gnocchi. Today's recipe uses this thick, rich and delicious sauce to coat bucatini pasta and it's insanely good! Bucatini is very similar to spaghetti except it's much thicker and is hollow, they're like thick spaghetti tubes and they such up all the delicious pasta sauce.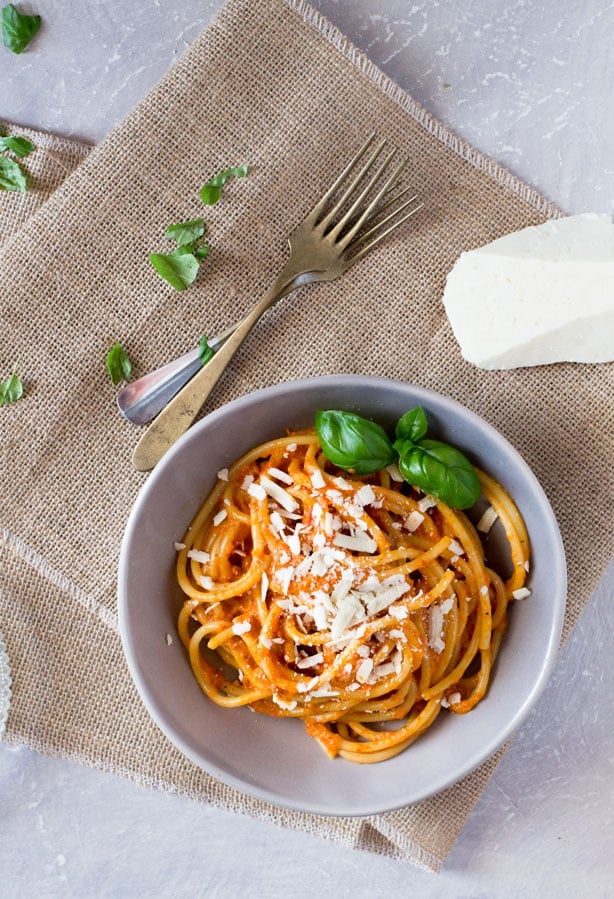 If you know me, you'll know I love a big bowl of pasta...I mean why else would I have moved to Italy? Sure, I can't complain about the weather, although I do sometimes 'oh it's soo hot, I can't go anywhere without turning into a puddle and my makeup melting off my face'. I'm then quickly reminded that I'm from Scotland and to be quiet.
But the real reason I'm here is, of course, the FOOD. I'm completely and utterly obsessed with Italian food and living in this beautiful country is such a dream for me. I get to eat my big bowls of pasta al fresco in my garden, staring at the beautiful vineyards and olive trees.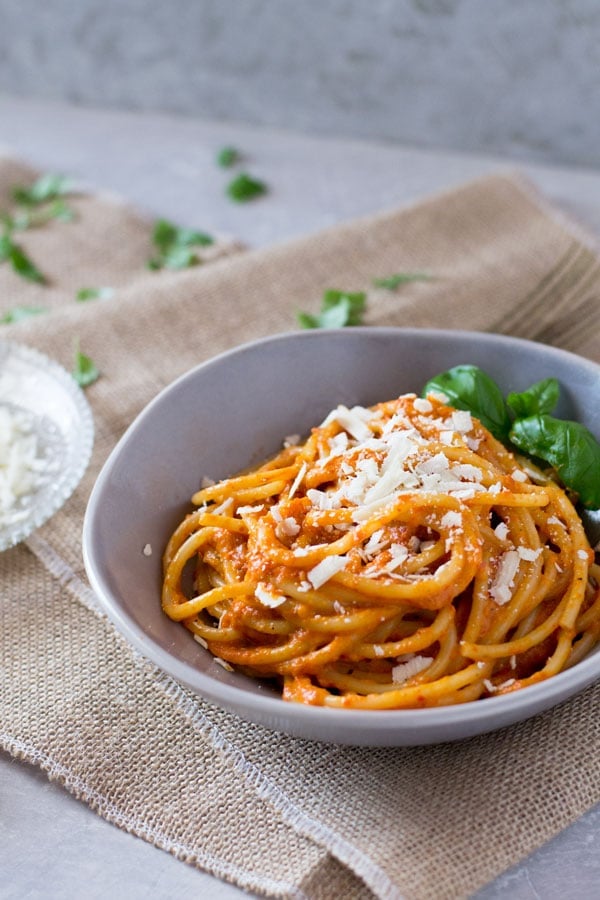 So let talk about the yummy details, this is sauce is quite sweet from the roasted peppers which is why I love to add ricotta salata on top to balance the flavours.
Ricotta salata is salted and dried ricotta cheese, it's a hard cheese that's shaved or grated and it's so perfect over many pasta dishes, you should be able to find it in an Italian specialty food store. It goes so well with this bucatini with roasted red pepper cream sauce because of it's sweet flavours, the salty ricotta adds a punch of flavour.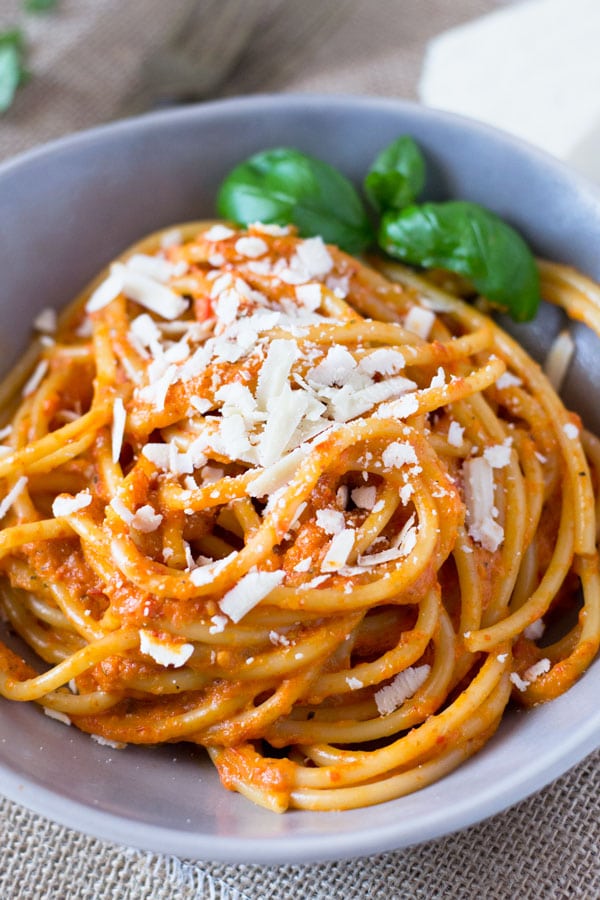 The sauce is incredibly simple to make, red peppers, cherry tomatoes, red onion and garlic are roasted with some oregano, salt and pepper until soft and juicy.
It's then all blended in a food processor with a tablespoon of mascarpone to add a cheesy, creaminess. Once the bucatini is cooked al dente the sauce is then poured over and it's tossed until completely coated. Serve in bowls and grate over the ricotta salata. Delish!
For more easy pasta recipes try;
If you've tried this or any other recipe on the blog please let me know how you got on in the comments below, I love hearing from you! You can also FOLLOW ME on FACEBOOK, TWITTER, INSTAGRAM and PINTERESTto see more delicious food and what I'm getting up to.
📖 Full Recipe
Step By Step Photos Above
Most of our recipes come with step by step photos, helpful tips and tricks to make it perfectly first time and even video!
Bucatini with Roasted Red Pepper Cream Sauce
Bucatini pasta is tossed through a delicious tomato and roasted red pepper cream sauce made with garlic, red onion, oregano, and mascarpone then topped with shavings of ricotta salata.
Ingredients
2

red peppers

14

oz (400g)

cherry tomatoes

1

red onion

1

tablespoon

dried oregano

3

garlic cloves

skins on

1

tablespoon

olive oil

1

tablespoon

mascarpone

12.6

oz (360g)

bucatini pasta

ricotta salata

for grating
Instructions
Preheat the oven to 180°C/350F/gas mark 4. Quarter the red peppers removing the seeds and stalk, roughly chop the onion and slice the tomatoes in half. Add to a large baking tray and sprinkle over the oregano, salt, and pepper. Add the garlic cloves, skins still on and drizzle with olive oil, toss so everything is coated in oil. Roast for 25-30 minutes until cooked through, juicy and blackened ever so slightly.

Bring a pot of salted water to a boil and cook the bucatini pasta until al dente. Once the veg is cooked, remove from the oven. Remove the garlic from their skins and discard the skins. Add everything to food processor with a tablespoon of mascarpone and blitz to a smooth sauce. Taste for seasoning and add more salt if needed.

Pour the sauce over the cooked and drained pasta and toss until thoroughly coated. Serve in bowls and top with some grated ricotta salata.
Notes
Please note this recipe has been tested and developed using metric measurements all imperial measurements are approximate.
Nutrition
Helpful Info for All Recipes
I always use extra virgin olive oil in all of my recipes unless stated otherwise
When I use canned or jarred tomatoes of any kind I always use Cirio or Mutti brands for the best results and flavour.
All vegetables are medium sized unless stated otherwise
All recipes are tested and developed using a fan (convection) oven
Find out more about how nutrition is calculated.
Check out our must have Italian Pantry Staples.
You can also find all our Essential Kitchen Tools for Italian Cooking.