This post may contain affiliate links. Please read my disclosure.
La Cecina Toscana is a Tuscan chickpea flatbread made with only chickpea flour, water, olive oil and salt. It has unbelievable flavour, a crispy top and slightly creamy middle.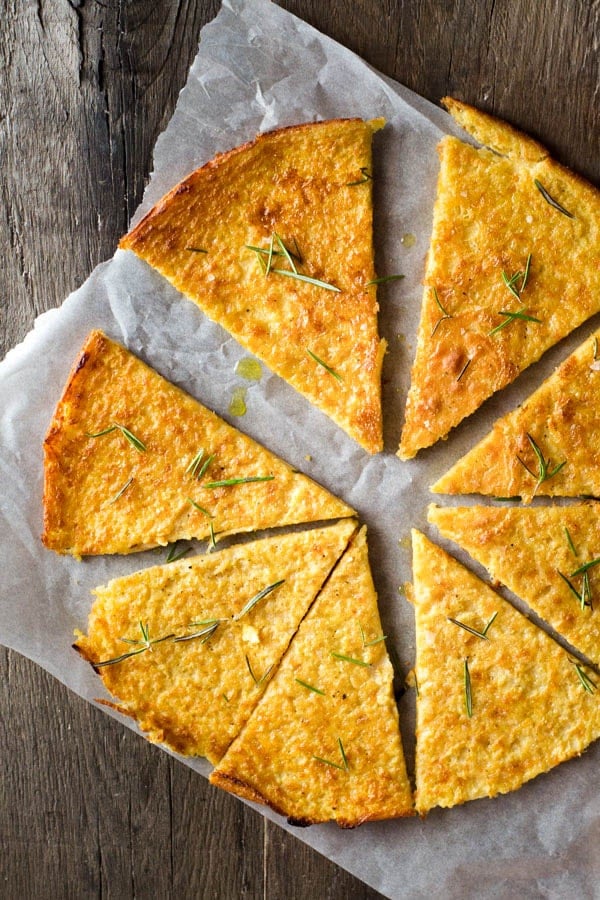 This chickpea flatbread is incredibly simple and consists of only four simple ingredients yet is packed full of flavour.
The liquid batter is baked in a hot oven in a very thin pizza tray around 3-5mm thick.
The end result is a cross between a thin, crispy pizza, flatbread and a pancake and you have to try it!
When I first moved to Tuscany to saw signs for cecina or farinata di ceci outside nearly every bakery I passed.
I understood then that ceci were chickpeas but I had no idea what this chickpea flatbread was.
All I knew was that it was extremely popular and I had to try it.
Let me tell you, there is a reason it is so popular in Tuscany….it is addictively delicious.
The texture of the crispy outside and the slightly creamy middle is to die for and the chickpea flavour with salt and often rosemary is just the best!
I knew I had to make this at home and after searching for recipes I couldn't believe how simple this was to make.
It literally consists of only chickpea flour, water, olive oil and salt.
It's crazy simple, there's just no excuse to make it at least once.
How to make cecina – Italian chickpea flatbread
Whisk together the chickpea flour, salt and water (add the water gradually to avoid any lumps) when the batter is nice and smooth add the olive oil and stir together.
Leave the batter to rest for 2 hours.
Preheat the oven to 225°C. Pour the flatbread batter into a well oiled, thin pizza tray or baking tray no more than 0.5mm thick.
Bake the cecina in the oven for 15 minutes until it's nice and golden on top.
Sprinkle over some coarse salt and some rosemary sprigs (optional) followed by a drizzle of olive oil. Cut into slices and serve hot.
Make sure you eat serve it immediately as it drys out quite fast and isn't nearly as good cold.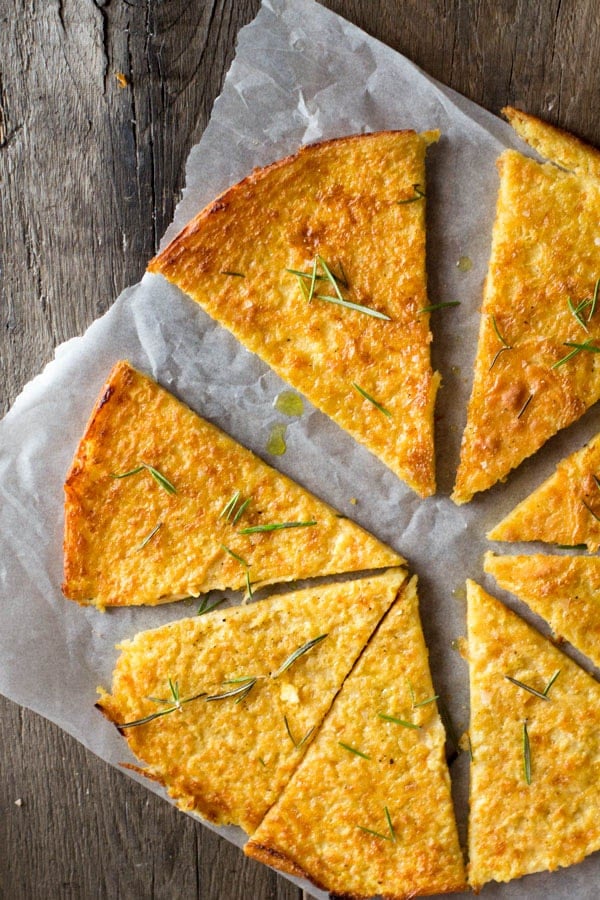 Pro tip: Make sure your tray (even if it's non stick) is well oiled. I use around 1 tbsp of olive oil, that way it doesn't stick to the tray and it can be removed easily.
You might also like;
If you've tried this or any other recipe on the blog please let me know how you got on in the comments below, I love hearing from you! You can also FOLLOW ME on FACEBOOK, TWITTER, INSTAGRAM and PINTERESTto see more delicious food and what I'm getting up to.
Step By Step Photos Above
Most of our recipes come with step by step photos, helpful tips and tricks to make it perfectly first time and even video!
La Cecina - Chickpea Flatbread
La cecina toscana - Italian chickpea flatbread recipe made with chickpea flour, water, olive oil and salt. A traditional authentic Italian recipe that makes a perfect snack. It's so simple to make and incredibly delicious.
Ingredients
2

cups

chickpea flour (besan or gram flour)

(250g)

3

cups

water

(665ml)

5

tbsp

olive oil

1/2

tsp

sea salt flakes or kosher salt
Instructions
Put the chickpea flour in a large bowl with a pinch of salt (about 1/2 tsp).

Gradually add in the water whislt whisking to avoid any lumps (there may be an odd few). Add olive oil and stir.

Cover the bowl with plastic wrap and let rest for 2 hours (no need to refridgerate.)

Once rested pre-heat the oven to 230C/450F.

Oil an oven safe skillet, pizza pan or baking tray with olive oil (be generous it should be well oiled). I used a 10 inch round pan (there's enough batter to make two this size).

Pour the batter into the skillet until 5mm or 1/4 inch thick (it shouldn't be any higher) and bake in the oven for 20 minutes or until golden on top and crispy around the edges.

Remove from the oven and let rest for 5 minutes before removing to a cutting board. Sprinkle with a little pinch of sea salt flakes and cut into slices. Eat while hot!
Notes
You can use any shape pan or baking tray you just need to make sure that the batter is 5mm 1/4 inch thick.
If using a baking tray make sure that it isn't too thin or has any ridges. Thin baking trays buckle with the heat of the oven and ridges will give an uneven flatbread.
Make sure to oil the skillet or tray with olive oil to stop the cecina sticking.
The batter is very liquidy it shouldn't be thick at all.
Nutrition
Calories:
253
kcal
|
Carbohydrates:
28
g
|
Protein:
11
g
|
Fat:
10
g
|
Saturated Fat:
1
g
|
Sodium:
39
mg
|
Potassium:
419
mg
|
Fiber:
5
g
|
Sugar:
5
g
|
Vitamin A:
20
IU
|
Calcium:
27
mg
|
Iron:
2.4
mg
Helpful Info for All Recipes
I always use extra virgin olive oil in all of my recipes unless stated otherwise
When I use canned or jarred tomatoes of any kind I always use this brand for the best results and flavour
All vegetables are medium sized unless stated otherwise
All recipes are tested and developed using a fan (convection) oven
Find out more about how nutrition is calculated here
Check out our must have Italian Pantry Staples here
You can also find all our Essential Kitchen Tools for Italian Cooking here