These Crispy Fried Sage Leaves are sandwiched together with anchovy fillets and dipped in a super simple batter. They're the perfect mix of crispy, savoury and salty and make a simple yet elegant appetizer or snack that goes perfectly with a cocktail or glass of bubbly.
Anchovy lovers rejoice...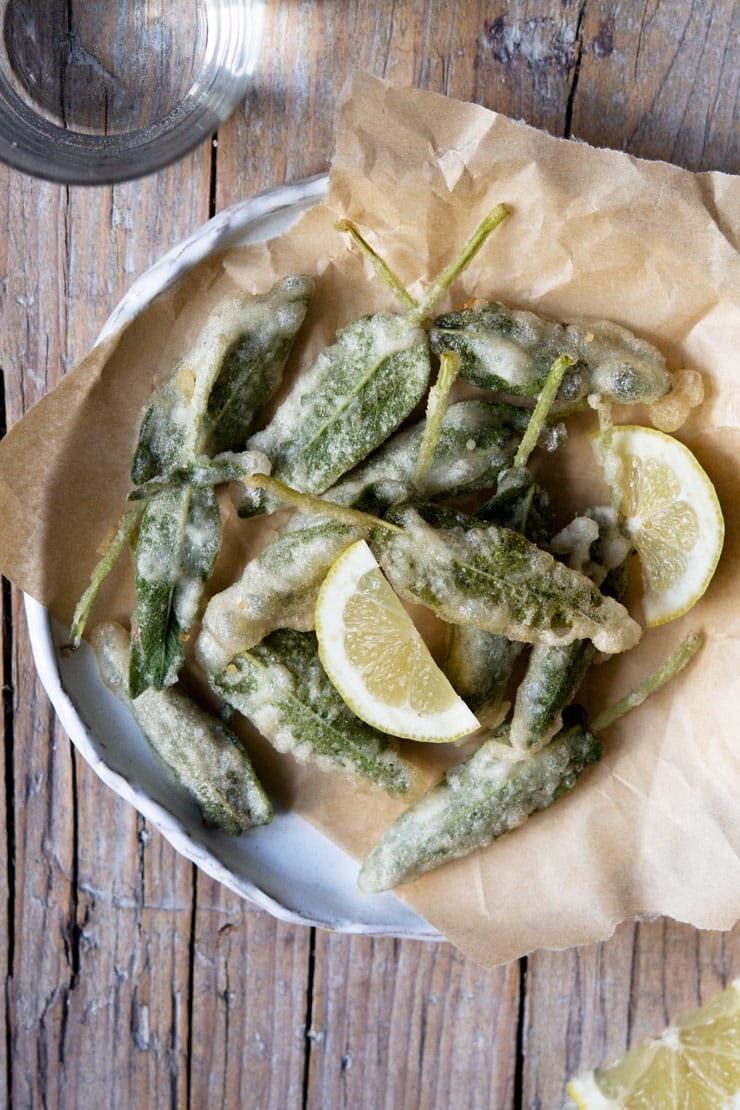 Aaand if you really can't stand anchovies, don't turn away just yet! You can fry sage leaves using this batter without the anchovies and they are still soo delicious and worth the teeny effort.
I've been making these fried sage leaves for years now and every time I do I love them even more. I mean, they may be tiny but woah they pack a hell of a flavour punch!
Better yet they are made with the simplest ingredients and take no time at all to make, now that's the kinda snack I love. Especially when a glass of bubbly is calling my name.
Fried sage is often served during the summer months in Italy but I especially love the flavour of this fragrant herb during the Autumn months. Whether it's drowned in butter and poured over ravioli or scattered on top of my butternut squash lasagna it just screams Fall to me and makes me feel all cosy inside.
How To Make Fried Sage Leaves - Step By Step
First step is to rinse the anchovies in cold water. Don't skip this part, the anchovies will be too salty to eat this way and let's just say you'll be reaching for a glass of water all night.
Make sure to pat the anchovies dry in two paper towels (photos 2) if you don't dry them properly they'll splutter in the oil.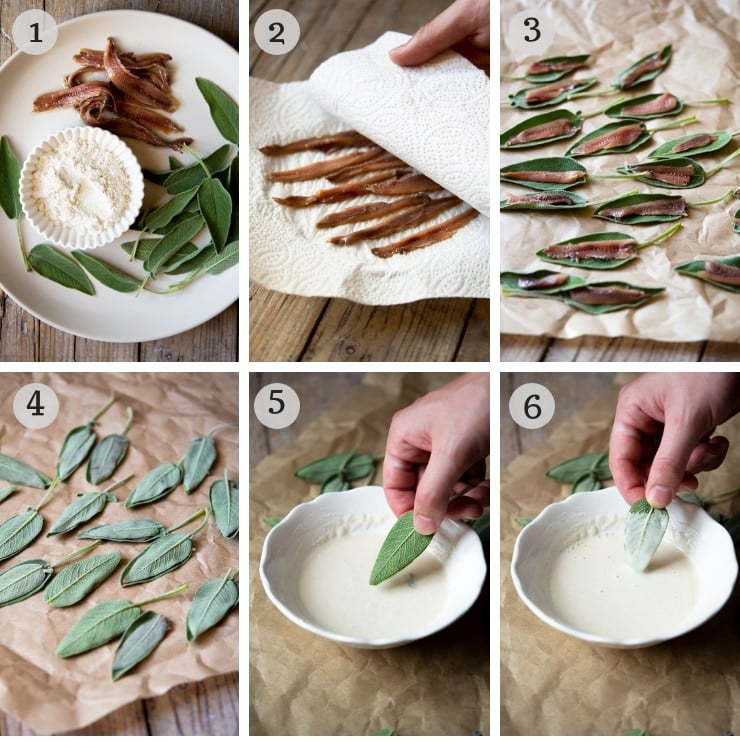 Next, pick the sage leaves from their stalk or the bunch that you have and flatten them out. Place an anchovy in the middle of the sage leave, cut the anchovy fillet if it's too long (photo 3).
Sandwich the anchovy together with another sage leave and press firmly so they stick toegther, make sure to choose a sage leaf that's the similar size (photo 4).
Making The Batter
To make the batter simply whisk together the water and flour in a small bowl until there are no lumps. The sparkling water helps create a lighter batter but you can use regular water if you don't have it.
Dip the sage leaves in the batter one by one as you drop them into a pan of hot oil. Fry on each side for a few seconds then drain them on kitchen paper.
Serve on a plate with lemon wedges and a sprinkling of salt, serve hot with you're favourite tiple.
The Taste
Heaven. If you've tried sage you'll know that sage is an intense flavour, it truly is like no other herb. Pair it with the salty anchovies and savoury, crunchy batter and it truly is the MOST delicious savoury snack. If you find the taste of sage too strong then this probably isn't for you.
Top Tips For Making Fried Sage Leaves
Try to pick out the largest leaves if you're filling them with anchovies
Make sure to rinse the anchovies as they will be overly salty to eat this way
Pat them dry to avoid them spluttering in the oil
Make sure the batter isn't too thin and is able to cling to the leaves
Shake off any excess batter from the leaves before frying
P.S These go perfectly with an Aperol Spritz and if you haven't made one before you're missing out!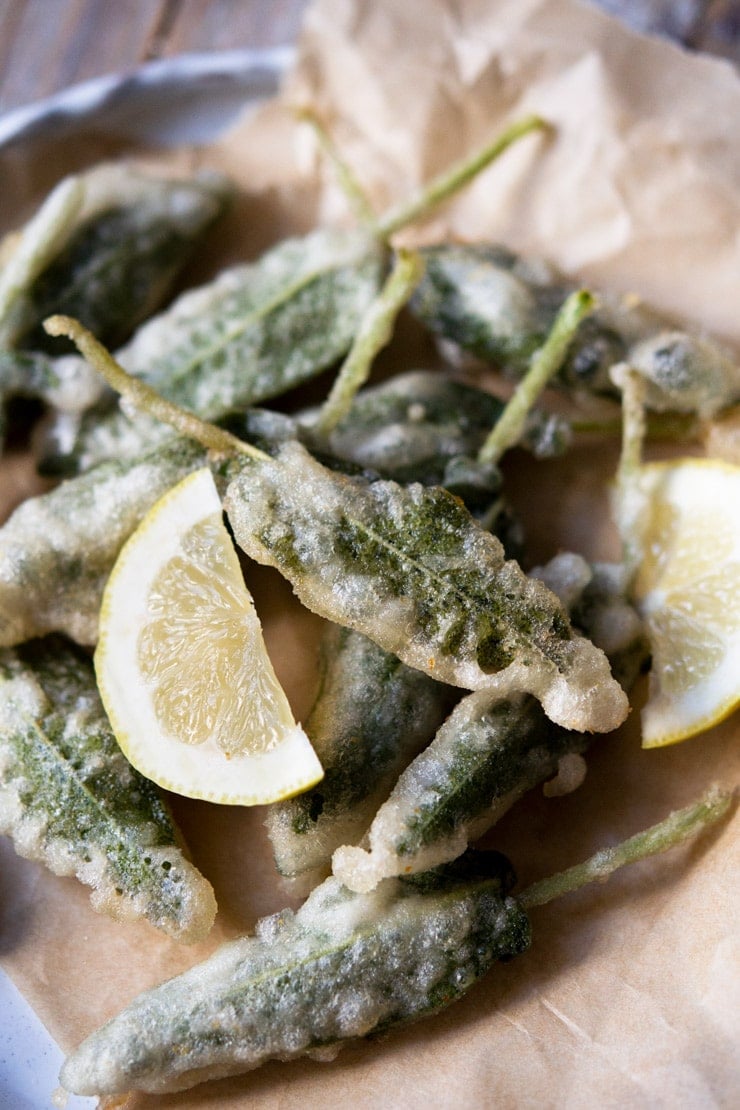 More Appetizers To Enojy With Drinks;
If you've tried these Fried Sage Leaves With Anchovies or any other recipe on the blog please let me know how you got on in the comments below, I love hearing from you! You can also FOLLOW ME on FACEBOOK, TWITTER, INSTAGRAM and PINTEREST to see more delicious food and what I'm getting up to.
Step By Step Photos Above
Most of our recipes come with step by step photos, helpful tips and tricks to make it perfectly first time and even video!
Fried sage and anchovies
Crispy Fried Sage with Anchovies, this is a super delicious appetizer or snack that goes perfectly with a cocktail or glass of bubbly.
Ingredients
24

sage leaves

10-12

anchovy fillets

in olive oil

4

tablespoon

plain flour

heaped

⅓

cup + 1 tablespoon (90ml)

sparkling water

olive oil or sunflower oil

for frying

lemon wedges

for serving
Instructions
Rinse the anchovies under cold water and pat dry with a paper towel. Cut the anchovies to the sizes of the sage leaves (you might not need them all depending on the size of the sage leaves). Sandwich one anchovy between two sage leaves.

Put 1.5 inches of oil in a pan and turn on to a medium heat. Mix the flour and water in a mixing bowl and whisk until combined.

One at a time dip the sage leave sandwiches into the batter so it is completely coated then place carefully in the hot oil. Fry until slightly golden on each side.

Serve immediately with wedges of lemon and a sprinkling of salt.
Notes
Top Tips For Making Fried Sage Leaves
Try to pick out the largest leaves if you're filling them with anchovies
Make sure to rinse the anchovies as they will be overly salty to eat this way
Pat them dry to avoid them spluttering in the oil
Make sure the batter isn't too thin and is able to cling to the leaves
Shake off any excess batter from the leaves before frying
Nutrition
Calories:
40
kcal
|
Carbohydrates:
5
g
|
Protein:
2
g
|
Cholesterol:
6
mg
|
Sodium:
15
mg
|
Potassium:
38
mg
|
Calcium:
15
mg
|
Iron:
0.7
mg
Helpful Info for All Recipes