These delicious Chicken Croquettes are made with ricotta cheese, lemon and thyme making them lovely and light on the inside and nice and crispy on the outside.

Jump to Recipe
I was craving a nice roast chicken dinner the other night and I have to say I was kinda laughing at myself bringing this big roast chicken out the oven accompanied by roast potatoes, honeyed carrots and luscious gravy because I'm still on my lonesome!
Yes I made a big roast dinner for just for me, ha!
SO as you can imagine I had a lot of left over chicken that needed to be used up and what better way to do that than make these delicious chicken croquettes with ricotta and thyme.
This is probably my favourite way of using up left over chicken, the croquettes make a perfect snack, side and are even absolutely delicious in a salad. I love making a salad with fresh tomatoes, balsamic vinegar, olive oil and a couple croquettes on top, just delicious!
Unlike the well known potato croquettes there is no potato in these at all only good quality ricotta cheese, leftover roast chicken, lemon zest, onion, thyme and a little flour, it couldn't be simpler. That's what I love about Italian cooking there's always very few ingredients, all good quality that give maximum flavour.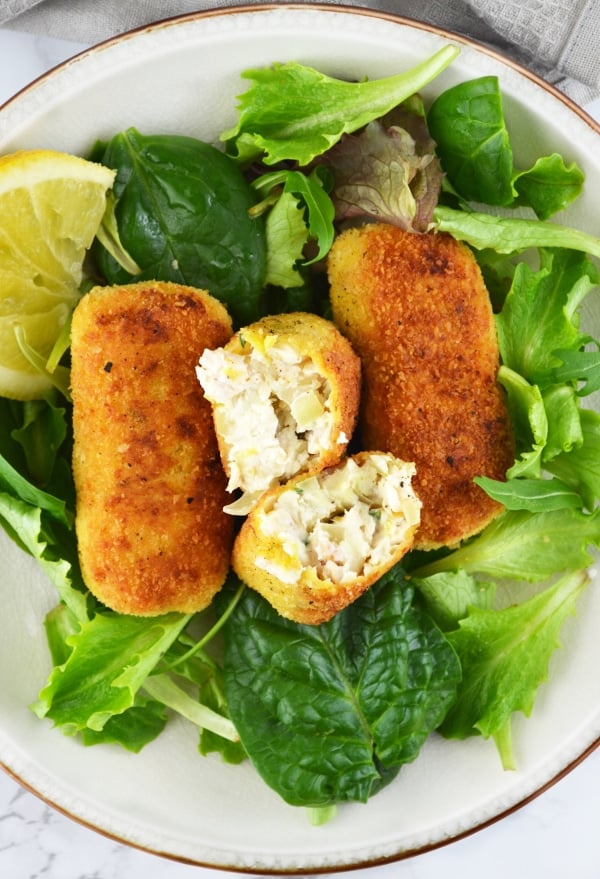 I happily munched on these for the next couple of days it certainly helped distract me from missing Nathan so much (it's been almost 2 weeks!) but I'm SO excited he's coming home tomorrow! Woohoo!!
I've also been so good since he's been away, I've had zero vino so a glass of bubbly prosecco will go down very nicely this Saturday evening.
I hope you all have a lovely weekend, let me know what you'll be getting up to in the comments below!
If you've tried this or any other recipe on the blog please let me know how you got on, I love hearing from you! You can also FOLLOW ME on FACEBOOK, TWITTER, INSTAGRAM and PINTERESTto see more delicious food and what I'm getting up to.
📖 Full Recipe
Step By Step Photos Above
Most of our recipes come with step by step photos, helpful tips and tricks to make it perfectly first time and even video!
Chicken Croquettes with ricotta and thyme
These delicious Chicken Croquettes are made with ricotta cheese, lemon and thyme making them lovely and light on the inside and nice and crispy on the outside.
Ingredients
8.8

oz (250g)

shredded roast chicken

½

white onion

finely chopped

8.5

oz (250g)

ricotta cheese

1

tablespoon

fresh thyme

Zest ½ lemon

2

heaped tbsp

flour plus extra if necessary

5.5

oz (150g)

breadcrumbs

1

free range egg

1

tablespoon

parmesan grated

Salt and pepper

Olive oil

for frying
Instructions
Add the chopped onion to a pan with 1 teaspoon of olive oil and sauté until soft but not browned. set aside to cool.

Finely chop the chicken and add to a bowl with the ricotta, thyme, onion and lemon zest. Mix to combine and season with salt and pepper. If the mixture is very sticky add half a tablespoon of flour at a time until you have a thicker consistency (normally no more than 2 tablespoon is needed).

Add the breadcrumbs to a plate and add the parmesan and a pinch of salt and pepper, mix through. Add the egg to a bowl and whisk and add 2 heaped tablespoon to another plate.

Using a tablespoon of ricotta and chicken at a time, shape the croquettes. Roll them in flour then dip in the egg and roll in the breadcrumbs. Place in the fridge for 30 minutes or until needed.

Put an inch of olive oil in a frying pan and fry the croquettes until golden on each side, drain on kitchen paper and serve.
Nutrition
Helpful Info for All Recipes
I always use extra virgin olive oil in all of my recipes unless stated otherwise
When I use canned or jarred tomatoes of any kind I always use Cirio or Mutti brands for the best results and flavour.
All vegetables are medium sized unless stated otherwise
All recipes are tested and developed using a fan (convection) oven
Find out more about how nutrition is calculated.
Check out our must have Italian Pantry Staples.
You can also find all our Essential Kitchen Tools for Italian Cooking.