Beef Carpaccio is a classic Italian dish made with beef fillet, arugula, parmesan, lemon and olive oil. Made with only five ingredients, it makes for a beautiful and elegant spring/summer lunch.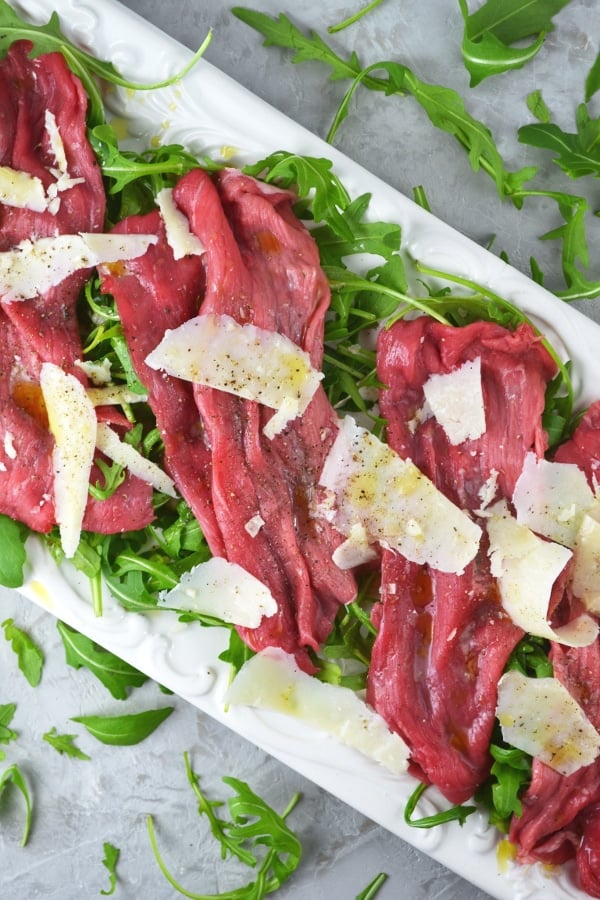 Heyyy,
Today's post - Classic Beef Carpaccio may scare you a little seeing as it's served raw but don't run away, it is so delicate and absolutely delicious. I'm 100% certain you'll love it just as much as I do.
Carpaccio is the name of a dish made from raw meat or fish such as beef, venison, salmon or tuna and beef carpaccio is one of my favourite classic Italian dishes. It's usually served as an appetiser although I love it with lots of arugula/rocket and enjoy it as a lunchtime salad.
It was invented in 1950 by Giuseppe Cipriani from Harry's Bar in Venice and has since then become a very popular, classic Italian dish.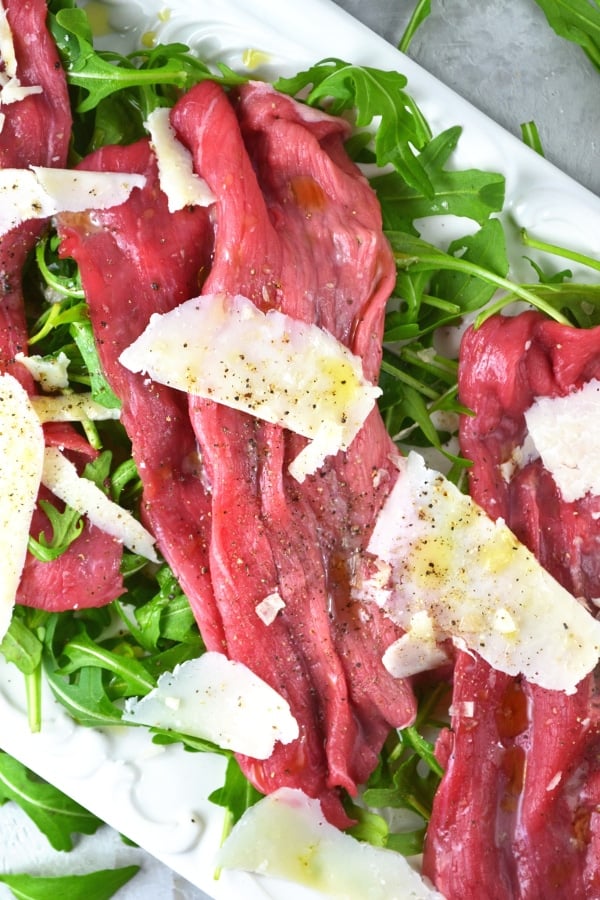 Beef carpaccio is made using high-quality beef fillet that's finely sliced and pounded thin. Luckily for me, all the supermarkets in Italy already sell the beef fillet in thin slices so all that's left to do is assemble the salad. It makes for a super quick, tasty and healthy spring/summer lunch or appetiser.
If you can't get the beef fillet in thin carpaccio slices then you can cut the beef fillet into thin slices and pound them thin in between some baking parchment.
You don't need a lot of beef for this dish, only a couple slices per person so even although it requires a high-quality cut of beef it's not going to cost you a bomb. You can also add different dressings such a pesto, thyme and lemon or even homemade mayonnaise which goes really well.
The beef carpaccio is topped with thin slices of Parmesan cheese (so yum), a squeeze of lemon juice, olive oil and a sprinkling of salt and pepper. I used smoked sea salt flakes in this recipe and it really gives the carpaccio a beautiful flavour but of course regular salt will also do.
Looking for other salad ideas? Check out my simple melon, prosciutto and zucchini salad.
If you've tried this or any other recipe on the blog please let me know how you got on in the comments below, I love hearing from you! You can also FOLLOW ME on FACEBOOK, TWITTER, INSTAGRAM and PINTERESTto see more delicious food and what I'm getting up to.
📖 Full Recipe
Step By Step Photos Above
Most of our recipes come with step by step photos, helpful tips and tricks to make it perfectly first time and even video!
Beef carpaccio
Beef Carpaccio is a classic Italian salad made with beef fillet, arugula, Parmesan, lemon and olive oil. Its simplicity is perfection and makes for a beautiful and elegant spring/summer lunch.
Ingredients
Instructions
Cut the beef fillet into thin slices. Place one slice of beef in between two sheets of baking parchment and pound thin using a meat mallet or rolling pin. Continue with the rest of the beef slices.

Arrange handfuls of rocket on serving plates or on one large plate and arrange the beef carpaccio slices on top.

Squeeze lemon juice over the the beef slices and then drizzle with olive oil. Finally top with shavings of Parmesan and a sprinkle of salt and pepper.
Nutrition
Helpful Info for All Recipes
I always use extra virgin olive oil in all of my recipes unless stated otherwise
When I use canned or jarred tomatoes of any kind I always use Cirio or Mutti brands for the best results and flavour.
All vegetables are medium sized unless stated otherwise
All recipes are tested and developed using a fan (convection) oven
Find out more about how nutrition is calculated.
Check out our must have Italian Pantry Staples.
You can also find all our Essential Kitchen Tools for Italian Cooking.