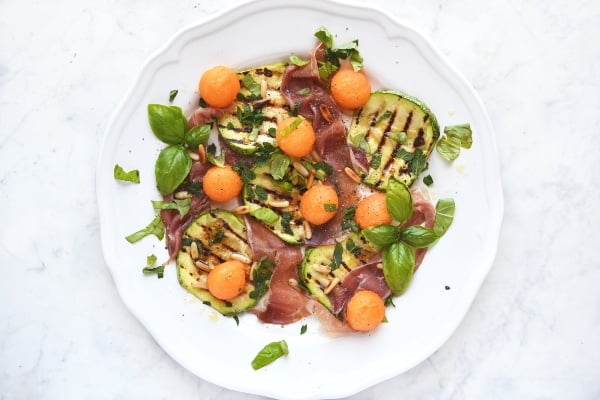 Light, refreshing and delicious are three words I love to hear in the hot summer months and this salad is just that. Melon and prosciutto are one of those classic combos that are just destined to be together. I love it, fresh juicy melon and salty delicious prosciutto crudo.
In Italy whenever you go to a bar for a drink or aperitivo they always bring you a little something to eat too. Depending on where you go it could be some crisps and nuts or a little bruchetta and sometimes they go all out with pizza, pasta, meats and cheeses.
There's nothing better than delicious free food right? So I starting thinking back to a holiday in Lake Como me and Nathan went on a couple years ago. We stayed in a beautiful town called Argegno and we were so fortunate to have an apartment with the most perfect view of the lake. There was a bar we went to in the very small centre of Argegno and that is where we had the most amazing aperitivo ever.
Big platters of meats and cheese, bruschetta and a beautiful plate of melon and prosciutto. It was all FREE as long as you bought a drink, can you believe it? At first we hesitated to wolf down the amazing looking food that was sat down in front of us thinking maybe we got someone's order by mistake but ohh no it was for us and after that became apparent we made sure to go there everyday as any normal food loving (or greedy) person would do.
So as I was thinking back I was thinking about that big plate of melon and prosciutto and how delicious and refreshing it was then I started to crave it, as you do (I was also dying to use my melon ball scoop I recently bought). I came up with this salad which is a cross between the classic melon and prosciutto combo and a courgette salad my mum and dad used to make me when I was younger. The two salads mixed together are so utterly delicious and I have to say I'm addicted to making this for lunch. I've been having it at least two times a week, it really is that good!
Step By Step Photos Above
Most of our recipes come with step by step photos, helpful tips and tricks to make it perfectly first time and even video!
Melon, prosciutto and courgette salad
Light, easy and delicious melon, prosciutto and courgette salad with pine nuts, basil, mint and a simple rustic dressing.
Ingredients
1

small cantaloupe melon

,scooped with melon ball scoop or cut into medium sized chunks

200

g

Prosciutto Crudo Dolce

2

Round courgettes

,thinly sliced (normal courgettes/zucchini will do)

2

tbsp

Pine nuts

1

small handful

Basil

1

small handful

Mint

1-2

tbsp

olive oil
For the dressing
3

tsp

Red wine vinegar

1

tsp

Honey

1

squeeze

Lemon

4

tbsp

Olive oil

salt and pepper

to season
Instructions
Heat a griddle pan on a medium to high heat. Drizzle the sliced courgettes with 1-2 tbsp of olive oil then griddle for 1-2 minutes on each side until cooked through and nice and charred. Drain and cool on kitchen paper.

In a small dry pan toast the pine nuts for around 30 seconds until browned and set aside.To make the dressing put the vinegar, lemon and honey in a bowl and season with a little salt and pepper. Add the olive oil a little at a time whilst mixing. Taste and add more honey if required and set aside.

On serving plates place a few slices of courgette followed by strips of prosciutto crudo and melon. Drizzle with the dressing and toss over the pine nuts. Finley chop the mint and basil then scatter over the plates. Add a sprinkle of pepper and enjoy!
Nutrition
Nutrition Facts
Melon, prosciutto and courgette salad
Amount Per Serving
Calories 394
* Percent Daily Values are based on a 2000 calorie diet.
Helpful Info for All Recipes
I always use extra virgin olive oil in all of my recipes unless stated otherwise
When I use canned or jarred tomatoes of any kind I always use this brand for the best results and flavour
All vegetables are medium sized unless stated otherwise
All recipes are tested and developed using a fan oven
Read more about how the nutritional information is calculated here