Apple Olive Oil Cake made with cinnamon, apples, and sultanas it's moist, soft and delicious. This cake is perfect after a meal with some cream or ice cream or for breakfast with a cup of coffee.
Isn't the world a better place when there's cake? To celebrate the end of summer (sort of) I've been baking with all things Autumn. Opening that spice jar filled with cinnamon just brings me so much joy and so does this easy apple olive oil cake.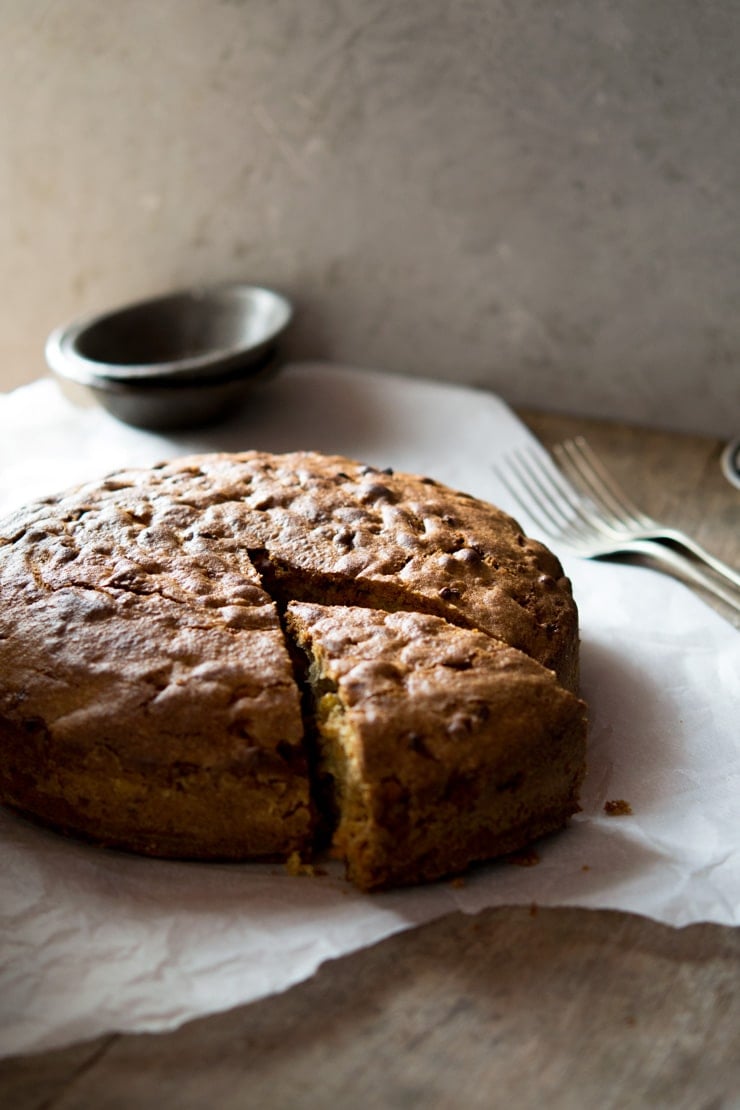 I love that this cake is made with olive oil instead of butter, it makes the cake so moist and soft and gives it a wonderful depth of flavour. It has no icing or frosting on top making it great for breakfast and there really isn't any better motivation for getting out of bed than a cinnamon scented apple olive oil cake and a cup of coffee, right?
Not your average cake batter...
Although this cake is extremely easy to make don't be fooled by its very thick almost cookie dough like batter. Also don't be tempted to add water to loosen it, it's exactly how it should be. When you add the chopped apple and sultanas just keep folding the batter with a metal spoon until it's all thoroughly combined.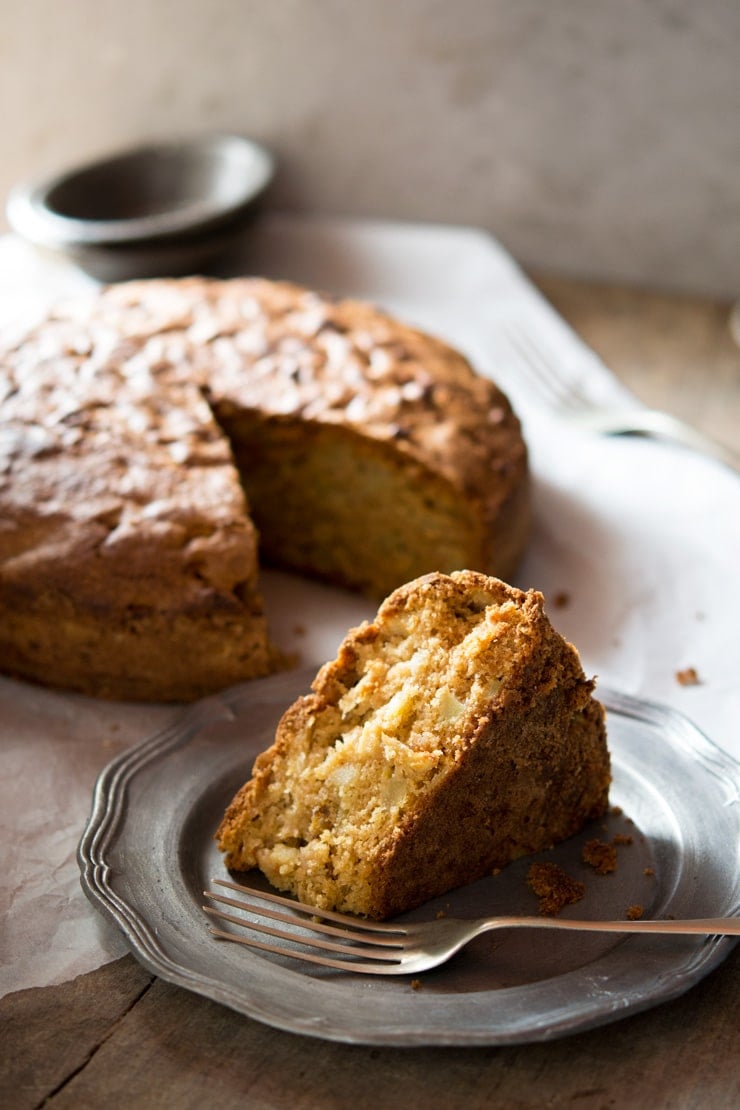 Tip: The golden sultanas give a wonderful sweetness and bursts of flavour to the cake, make sure to soak them in warm water 10-15 minutes before adding them to the batter to soften them.
Ok, so the hardest part about this cake is waiting for it to cool down. I have been known to cut into it while it's still warm from time to time and although it's so delicious whilst warm it can dry the cake out if it's cut too early. So if you're not planning on devouring the whole thing whilst it's still warm then wait, patience is a virtue and all that!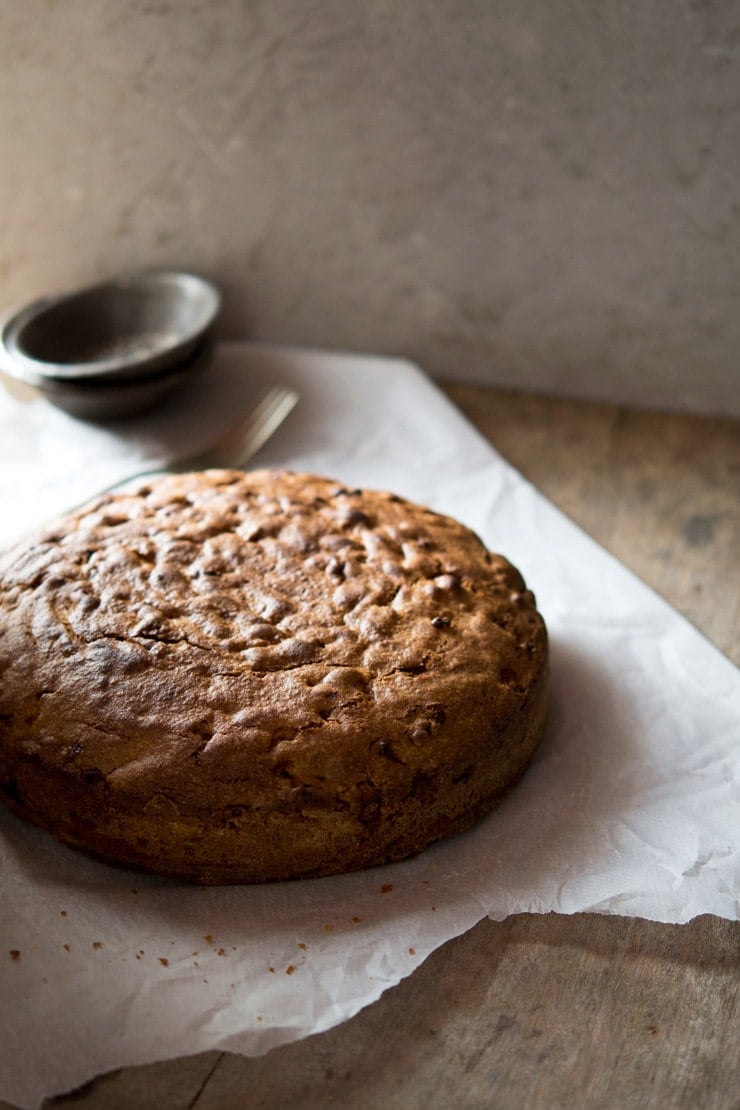 If you don't have a sweet tooth in the mornings then this is also great after dinner with a splash of cream or a dollop of vanilla ice cream. You might already know that I'm totally a cheese over chocolate kinda girl but for some reason, occasionally after dinner I get an insane sweet tooth, if there's something sweet in the house then I'm coming for it.
This apple olive oil cake has been so perfect for me recently because I can have a small slice after dinner and a large slice in the morning, happy days! Luckily for me, I have a boyfriend with a large appetite or I would eat the whole thing by myself in about 2 days.
Oh and just in case you're not as glutinous as me it also keeps well for a couple of days wrapped in cling film or stored in an air tight container.
If you've tried this or any other recipe on the blog then don't forget to rate the recipe and let me know how you got on in the comments below, I love hearing from you! You can also FOLLOW ME on FACEBOOK, TWITTER, INSTAGRAM and PINTEREST to see more delicious food and what I'm getting up to.
You might also like;
📖 Full Recipe
Step By Step Photos Above
Most of our recipes come with step by step photos, helpful tips and tricks to make it perfectly first time and even video!
Apple Olive Oil Cake Recipe
Apple Olive Oil Cake made with cinnamon, apples, and sultanas it's moist, soft and delicious. This cake is perfect after a meal with some cream or ice cream or for breakfast with a cup of coffee.
Ingredients
3

cups (12 oz/350g)

00' flour

, plus extra for dusting

1

cup (220g)

light brown sugar

, fine

7

fl oz (200ml)

olive oil

2

large sweet green apples (around 500g/1 lb)

, peeled and finely chopped

⅔

cup (100g)

sultanas

golden

zest of 1 lemon

2

large eggs

½

teaspoon

cinnamon

1

teaspoon

baking powder

1

teaspoon

bicarbonate of soda

butter

, for greasing
Instructions
Preheat the oven to 180°C/350F/gas mark 4. Grease an 8inch/20cm cake tin with butter then dust with flour making sure all the edges are covered, remove any excess flour.

Soak the sultanas in warm water for 10-15 minutes.

Put the olive oil and sugar in a bowl and using a stand mixer or electric whisk mix together for 2 minutes until thoroughly combined. Add the eggs one at a time and continue to whisk until the mixture increases in volume and becomes thick but still runny (around 1-2 minutes).

Add the flour, cinnamon, baking powder, bicarbonate of soda to a bowl. Gradually sift the dry ingredients into the wet whilst folding the mixture with a metal spoon.

Once combined (it will be a thick, stiff batter) add the sultanas, apple and lemon zest to the batter and mix with a metal spoon until thoroughly combined.

Spoon the mixture into the cake tin and level the top with the back of a spoon. Bake in the oven for 45 minutes or until an inserted skewer comes out clean.

Cool on a wire rack, serve.
Notes
Please note this recipe has been tested and developed using metric measurements all imperial measurements are approximate. 
Store the cake in an air tight container or tightly wrap in cling film for up to 2-3  days. Store in a cool dry place.
Nutrition
Helpful Info for All Recipes
I always use extra virgin olive oil in all of my recipes unless stated otherwise
When I use canned or jarred tomatoes of any kind I always use Cirio or Mutti brands for the best results and flavour.
All vegetables are medium sized unless stated otherwise
All recipes are tested and developed using a fan (convection) oven
Find out more about how nutrition is calculated.
Check out our must have Italian Pantry Staples.
You can also find all our Essential Kitchen Tools for Italian Cooking.