This post may contain affiliate links. Please read my disclosure.
Chicken Pesto Ciabatta. Perfectly cooked juicy chicken drenched in a creamy pesto dressing on a fresh and crunchy ciabatta with mozzarella and tomato.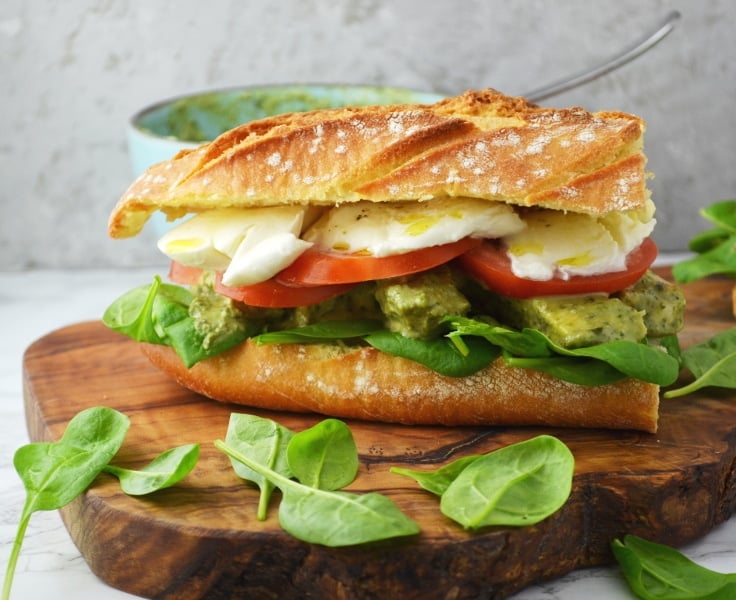 Pesto is one of the best sauces in the world. It's made from few, simple ingredients yet is so powerful in flavour and can make anything taste good, or so I think so. For this chicken pesto ciabatta recipe I added a heaped tablespoon of sour cream which gives it such a delicious, creamy and tangy flavour that works beautifully with the juicy strips of chicken.
This is one of my favourite ciabatta sandwich recipes that I make quite frequently and it's just as delicious every time! It's one of those meals that you can have as a lunch (a very filling lunch) or dinner or even take on a picnic and you're always satisfied. It's so simple and easy to put together with very few ingredients just all good quality and packed full of flavour.
Now how do we make this chicken pesto ciabatta sandwih? Well, I'll tell you….
I start by frying (you can also grill it) the chicken in very little oil until it's browned, juicy and cooked all the way through, then it's set aside to rest. I place the ciabatta in a pre-heated oven to warm up for a couple minutes whilst making the yummy green pesto.
HAVE YOU TRIED MY AUBERGINE BRUSCHETTA WITH CHILI AND FENNEL?
To make the pesto it's very simple, I add basil, garlic, pine nuts, parmesan, olive oil and a squeeze of lemon juice to a bowl and blitz it together with a hand held blender until it's formed a paste. I then add the sour cream, salt and pepper and mix it all together until it's smooth and delicious.
Now it's time to assemble this thing of beauty. The ciabatta is cut in half, layered with a bed of fresh baby spinach then topped with the chicken and pesto. I then make a layer of juicy red tomatoes and good quality mozzarella before spreading a thin layer of mayo on the top side of the ciabatta. Dee-licious!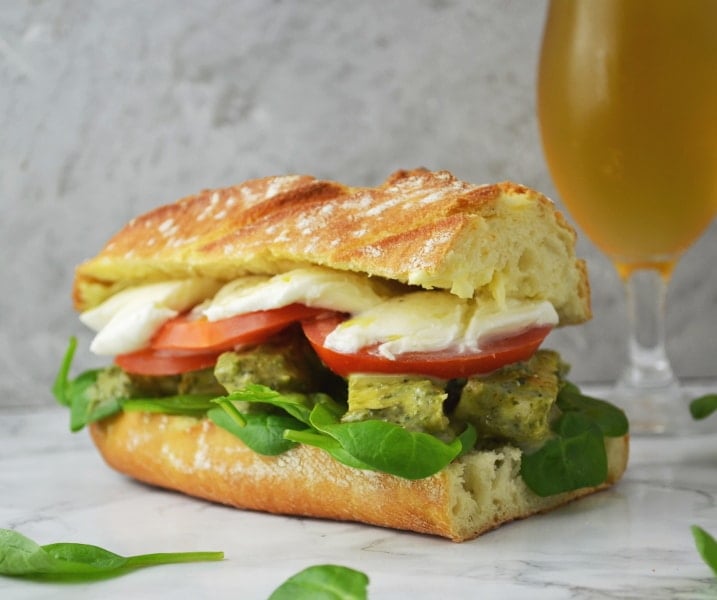 Remember if you make any of my recipes be sure to let me know how you got on in the comments below. In the next few weeks I'll be working on a new FREE E-cookbook that I'm hoping will be available very soon. *Edit – ebook is available on the homepage.
SAVE FOR LATER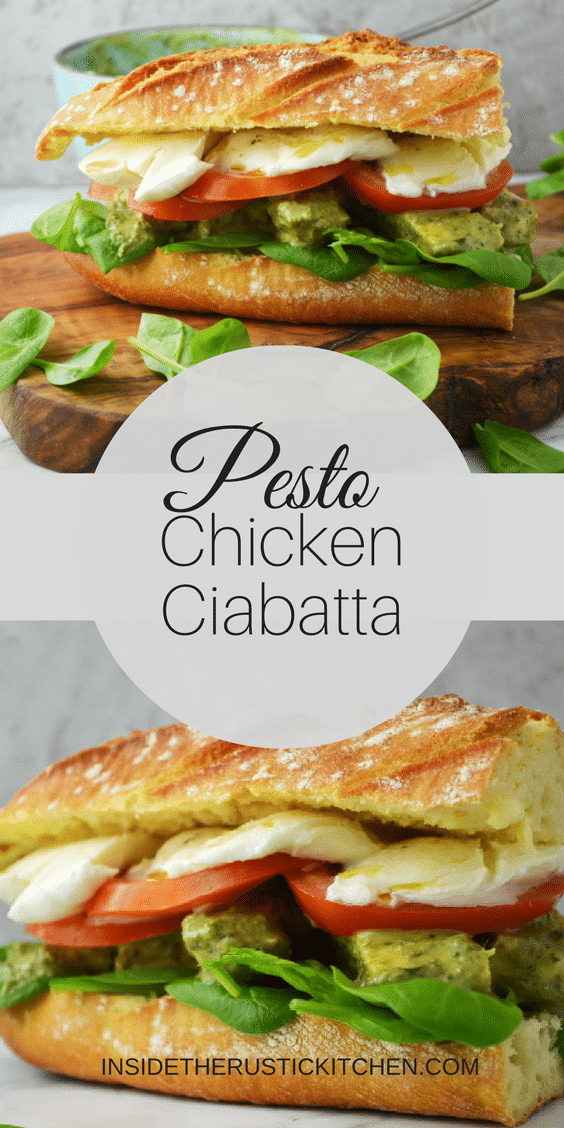 Step By Step Photos Above
Most of our recipes come with step by step photos, helpful tips and tricks to make it perfectly first time and even video!
Chicken Pesto Ciabatta
Chicken Pesto Ciabatta. Perfectly cooked juicy chicken drenched in a creamy pesto dressing on a fresh and crunchy ciabatta with mozzarella and tomato.
Servings
2
large sandwiches
Ingredients
30

g

basil

20

g

pine nuts

60

g

freshly grated parmesan

55

g

sour cream

squeeze of lemon juice

1

clove

garlic

350

g

chicken fillets

1

tbsp

mayonnaise

1

ciabatta

1

large handful of baby spinach

1

large tomato

sliced

1

ball mozzarella

sliced, good quality

50

ml

olive oil plus one tbsp

salt and pepper

to season
Instructions
Pre-heat the oven to 180°Place one tablespoon of olive oil in a medium frying pan under a medium heat. Season the chicken fillets with salt and pepper then fry for around 3 minutes on each side until cooked through and juicy. Set aside on a cutting board to rest.

Place the ciabatta in the oven for 3 minutes until warmed through, set aside. To make the pesto place the basil, pine nuts, parmesan, garlic, lemon juice and oil in a bowl and blitz together using a hand held blender (you can also use a small food processor attachment or mortar and pestle). Blitz until you have a thick paste then add the sour cream, season and mix until combined.

Cut the chicken into strips and add to the pesto, mix together. cut the ciabatta in half then cut each half through the middle. Layer each bottom half with baby spinach then top with the chicken and pesto mixture. Top with slices of tomato and mozzarella. Spread each top layer with the mayonnaise and serve.
Nutrition
Helpful Info for All Recipes
I always use extra virgin olive oil in all of my recipes unless stated otherwise
When I use canned or jarred tomatoes of any kind I always use this brand for the best results and flavour
All vegetables are medium sized unless stated otherwise
All recipes are tested and developed using a fan (convection) oven
Find out more about how nutrition is calculated here
Check out our must have Italian Pantry Staples here
You can also find all our Essential Kitchen Tools for Italian Cooking here