Quattro stagioni pizza or four seasons pizza is one of the best Italian pizzas out there, with artichokes, mushrooms, olives and ham. This authentic Italian pizza is incredibly delicious and fun to make.
This quattro stagioni pizza is traditionally divided into four sections, each with their own toppings to represent four seasons. It's a fun way to change up your pizza although you can mix up all the topping if you're sharing with a few people so everyone gets a taste of everything.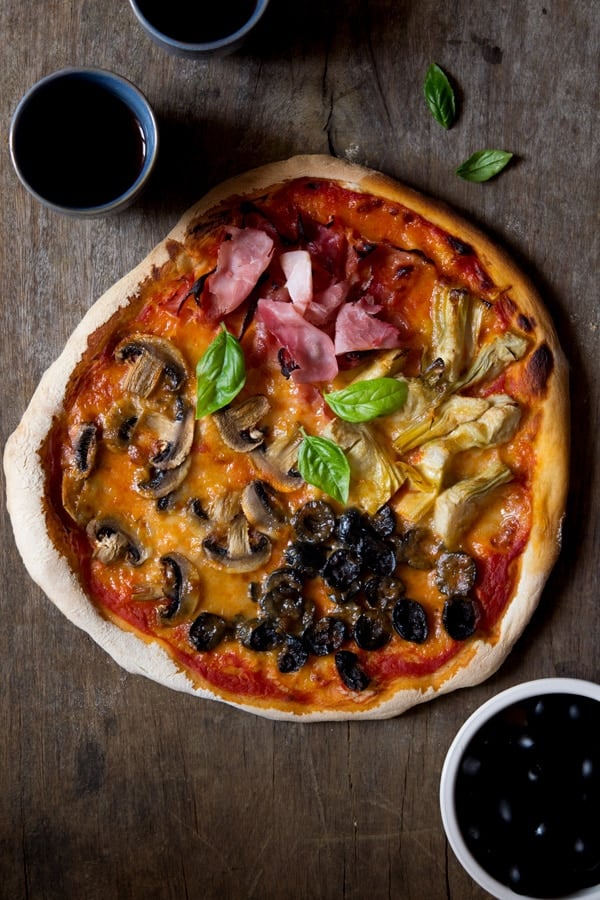 How delicious does that pizza look?
Artichoke hearts, mushrooms, black olives and prosciutto cotto (ham) scattered over tomato sauce and mozzarella then baked to bubbling, crispy, pizza perfection. If you're looking for some weekend dinner inspiration then I've got you covered.
You may know I'm partial to a slice of pizza or two (pfft who has only 2 slices?), it's a tradition almost every Friday. Friday nights are made for pizza, don't you think?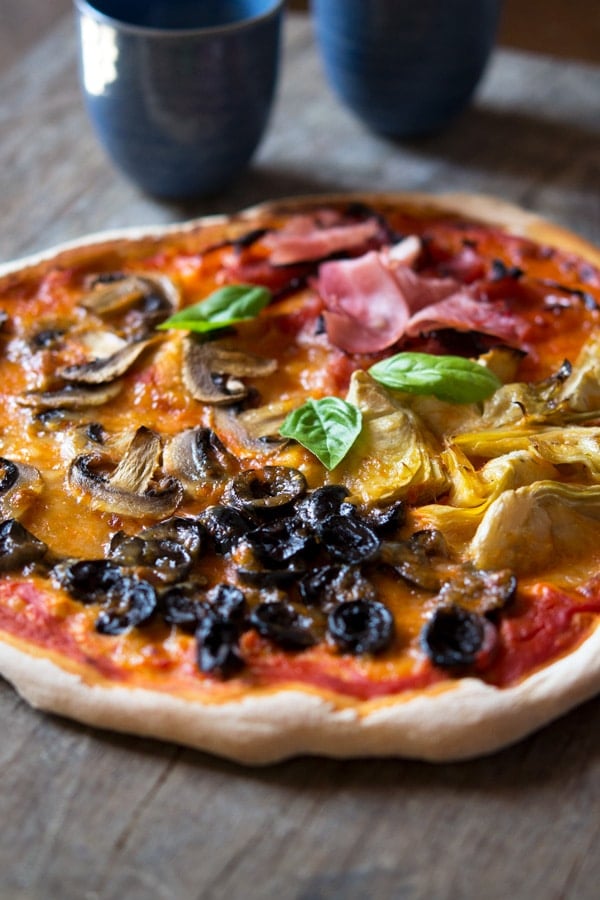 There's nothing better after a long week of work than pouring yourself a large glass of red wine and stuffing your face with the best pizza ever aaaaand knowing you can have a long lie in the morning. I mean it really doesn't get any better, right?
This quattro stagioni pizza is so much fun to make, for Friday pizza night preparations I always make the dough in the morning or early afternoon and let it rise all day. If you don't have time for that or just decided you want this, like right now then don't worry. My Instant No Rise No Yeast Pizza Dough is perfect for those pizza emergencies.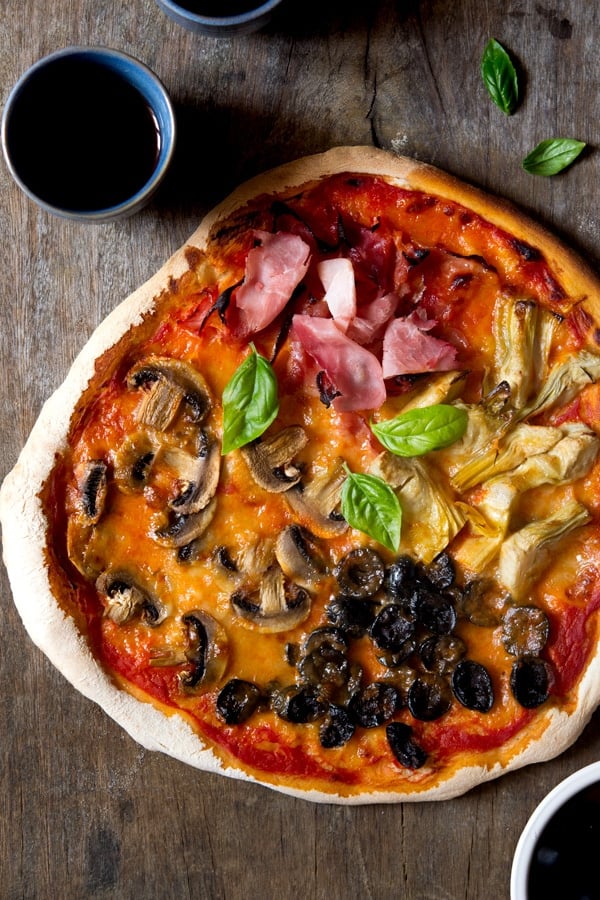 How to make quattro stagioni - four seasons pizza
First off you need the perfect pizza dough. Most recipes use 00 flour and I was using type 00 flour for so long until I was told by an Italian that the best flour to use for making pizzas is type 0.
Type 0 flour is a soft wheat flour, richer in gluten than type 00 it creates a more elastic and robust dough making it perfect for pizzas. Type 00 is a great alternative although will result in a softer dough.
If you can get you hands on type 0 always use it, if not the second option would be type 00 and if you're unlucky enough to not find any of them then normal all purpose flour will have to do. It's not the end of the world, you'll still have great pizzas.
Follow my directions below to make the dough.
Quattro stagioni pizza toppings
Ok, now it's time for the fun part, topping the pizza. Traditionally, artichokes, mushrooms, ham and olives are used to make this pizza but you can use whatever you want to represent the seasons. A lot of restaurants in Italy choose different toppings from sun dried tomatoes, anchovies, zucchini flowers, have some fun with it and represent the seasons your way.
The base is spread with tomato passata/pureed tomatoes then sprinkled with mozzarella before adding the toppings. Place the toppings in four sections of the pizza or alternatively mix them all up (my boyfriend always prefers it this way) that way everyone can enjoy a bite of everything.
If you've tried this or any other recipe on the blog please let me know how you got on in the comments below, I love hearing from you! You can also FOLLOW ME on FACEBOOK, TWITTER, INSTAGRAM and PINTERESTto see more delicious food and what I'm getting up to.
📖 Full Recipe
Step By Step Photos Above
Most of our recipes come with step by step photos, helpful tips and tricks to make it perfectly first time and even video!
Quattro Stagioni Pizza - Four Seasons Pizza
Quattro stagioni pizza or four seasons pizza is one of the best Italian pizzas out there, with artichokes, mushrooms, olives and ham. This authentic Italian pizza is incredibly delicious and fun to make.
Ingredients
For the dough
4

cups (1.1 lb/500g) 

0' flour

2

tsp (7g)

fast action dried yeast

1 ⅓

cups (320ml) 

lukewarm water

1 

tbsp 

olive oil

½ 

tsp 

sugar

1

pinch

salt 

Semolina flour for dusting
For the topping
6

tablespoon

passata/pureed tomatoes

8.8

oz (250g)

mozzarella

5.6

oz (160g)

mushrooms

,finely sliced

6.3

oz (180g)

artichoke hearts

,jarred and cut in half

2.4

(70g)

pitted black olives

,cut in half

4

large slices

Italian ham
Instructions
Add the yeast to the lukewarm water with ½ teaspoon sugar for 5 minutes. Combine the flour and salt in a large mixing bowl. Make a well in the centre and add the water/yeast mixture whilst mixing the dough together with a spoon until you have obtained a dough. If it's too sticky you can gradually add a little more flour.

Dust a clean work surface with a little flour and knead the dough for around 5-10 minutes until it's silky smooth and soft. If you lightly press your finger on the ball of dough it should spring back up easily. Add 1 tablespoon of olive oil to a large clean bowl and rub all over until the bowl is coated. Shape the dough into a ball and place in the bowl, rub the top of the dough with a tiny amount of olive oil. Cover with cling film and leave in a warm place for at least 3 hours until doubled in size.

When you are ready to make the pizzas place your pizza trays in the oven and preheat the oven to 220°C/425F/gas mark 7.

Divide your dough in half roughly with your hands and place on a lightly floured work surface. Press lightly in the dough to shape it into a rough circle or rectangle then using a rolling pin dusted with flour roll the dough out to fit your tray. The dough should be rolled out as thin as possible without tearing.

Remove the pizza tray from the oven and dust lightly with semolina flour. Transfer your dough to the tray and spread with 3 tablespoon of passata, you don't want to much or your pizza will go soggy. Tear up half the mozzarella with your hands and dot it over the base.

Finally, add your toppings over four sections of the pizza. Repeat with the second pizza and bake in the oven for 10-15 minutes until the cheese has melted and the crust is crispy.
Notes
This recipe used 2 13x15 inch trays. (33x28cm)
Serve 4-6 people
Nutrition
Helpful Info for All Recipes
I always use extra virgin olive oil in all of my recipes unless stated otherwise
When I use canned or jarred tomatoes of any kind I always use Cirio or Mutti brands for the best results and flavour.
All vegetables are medium sized unless stated otherwise
All recipes are tested and developed using a fan (convection) oven
Find out more about how nutrition is calculated.
Check out our must have Italian Pantry Staples.
You can also find all our Essential Kitchen Tools for Italian Cooking.