Crispy, deep fried ricotta stuffed zucchini flowers with lemon and chili flakes. An easy, elegant and fun appetizer that's hard to resist.
It's the simple pleasures in life that put a smile on my face and these ricotta stuffed zucchini flowers are one of the best. Crispy and crunchy on the outside and stuffed with soft and light ricotta cheese, chili flakes and lemon zest these are the ultimate appetizer or aperitivo with a cold glass of bubbly.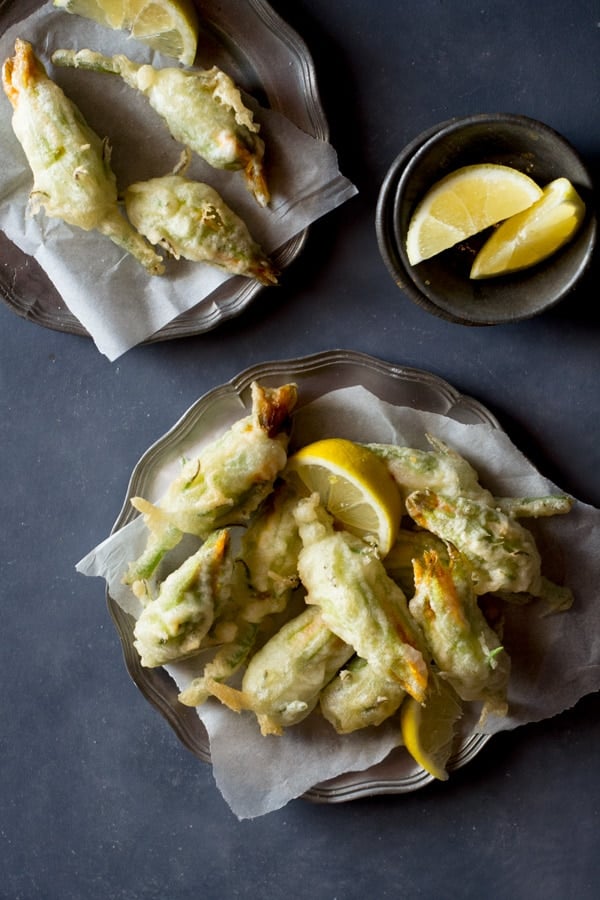 When I lived in Scotland I was always desperately trying to find zucchini or courgette flowers. We grew our own courgettes and we were able to enjoy the crispy cheesy treat at least once or twice a year. Now that I live in Italy I am so lucky to be able to walk into a supermarket any day throughout summer and pick up a large packet of these babies whenever I want.
I've been stuffing zucchini flowers all summer long and honestly, I couldn't be happier. Obviously, they have to be stuffed with cheese, there's no debating here. If you're gonna stuff them then you need cheese!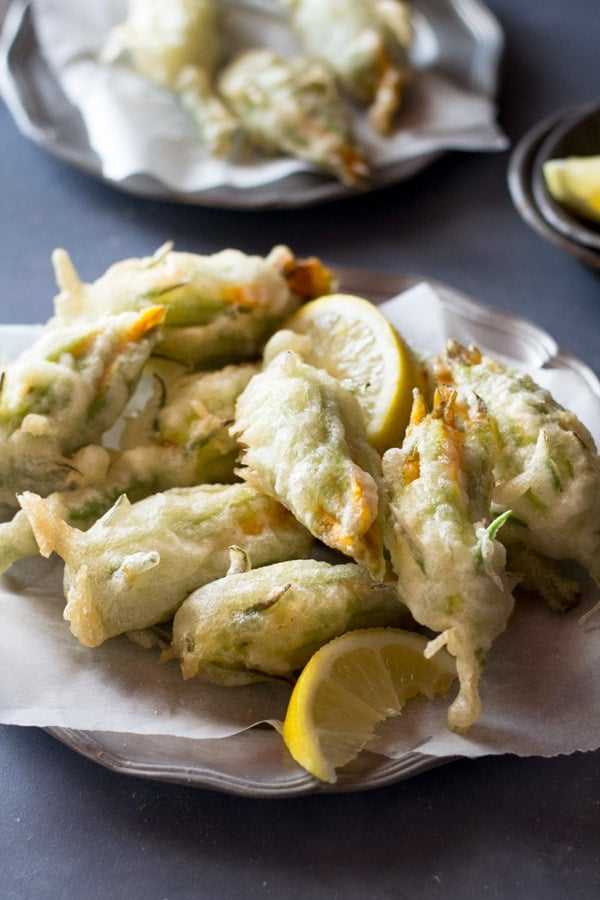 Mozzarella, gorgonzola, taleggio and ricotta are my favourites (yeah I can't choose). Whilst a stronger cheese is perfect with a glass of red wine the more mild mozzarella and ricotta variety are the ultimate snack or aperitivo with a nice cold glass of bubbly.
Right now I've been loving ricotta stuffed zucchini flowers and the cold glass of prosecco has been much needed in this unbearable heat we've been experiencing. Let me tell you, there's nothing better at the end of the day.
Using ricotta was also my first ever experience of stuffed zucchini flowers with a little hint of chili flakes and lemon zest they are out of this world delicious. Also because ricotta doesn't melt and holds together perfectly after frying they are the easiest ones to make, no runny cheese managing to escape just one great cheesy, crispy mouthful.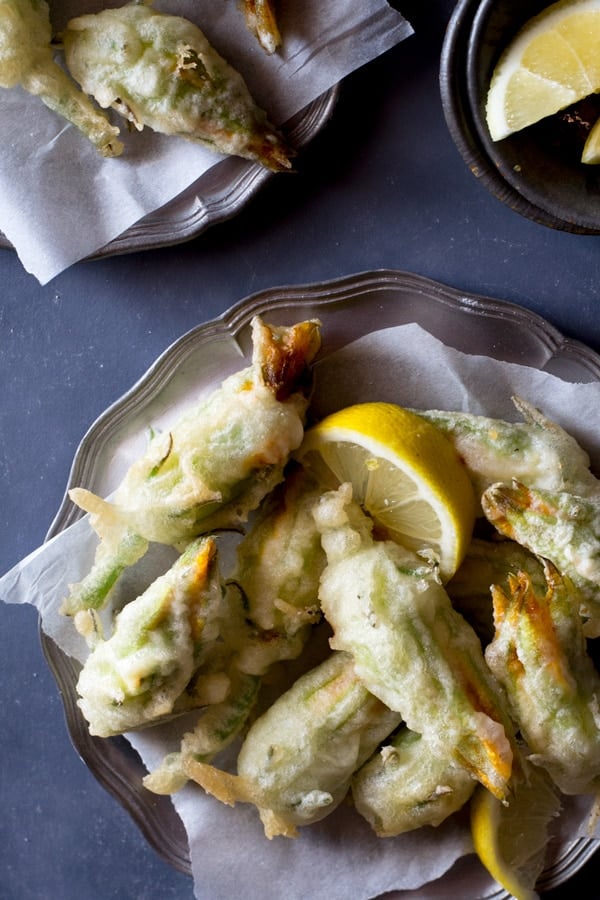 How to prepare zucchini flowers
The preparation is very simple. If there is any dirt on the flowers carefully wipe if off with a damp piece of kitchen paper. Remove the yellow stem from the inside of the flowers and discard. Do this carefully, trying as best as you can not to split open the petals, it will make it slightly harder to seal them.
How to fry zucchini flowers
Heat the oil in a large heavy based saucepan. You'll be able to tell the oil is ready by testing a small piece of bread or cut off a small piece of stem from one of the zucchini flowers, dip it in batter and place it in the oil. If it floats and fries, turning slightly golden and crispy it's ready. If instead, it turns dark brown or burns straight away it's too hot and you need to turn down the heat.
Once the oil is ready, dip the flowers in the batter holding the top petals together. Place the flower in the oil very carefully away from yourself. Lower the stem or bottom of the flower into the oil first and let go. Make sure to fry the zucchini flowers in batches of around 3 or 4. Adding too many at once will cool down the oil too much and will result in not so crispy soggy flowers.
Remove the fried zucchini flowers with a slotted spoon and drain on kitchen paper before serving.
If you've tried this or any other recipe on the blog please let me know how you got on in the comments below, I love hearing from you! You can also FOLLOW ME on FACEBOOK, TWITTER, INSTAGRAM and PINTERESTto see more delicious food and what I'm getting up to.
You might also like;
📖 Full Recipe
Step By Step Photos Above
Most of our recipes come with step by step photos, helpful tips and tricks to make it perfectly first time and even video!
Ricotta stuffed zucchini flowers
Crispy, deep fried ricotta stuffed zucchini flowers with lemon and chili flakes. An easy, elegant and fun appetizer that's hard to resist.
Ingredients
3.5

oz (100g)

zucchini flowers

(around 18)

8.8

oz (250g)

ricotta cheese

1

teaspoon

chili flakes

½

lemon zest

pinch

of salt and pepper

4

(heaped) tablespoon flour

1

cup (240ml)

cold sparkling water

4

cups (1 litre)

sunflower oil
Instructions
Remove the inner stem inside the zucchini flowers and discard, wipe any dirt off carefully with a damp paper towel. In a bowl mix together the ricotta, lemon zest, chili flakes and a pinch of salt and pepper.

Using a teaspoon stuff the flowers with around 1 teaspoon to 1 ½ teaspoon of ricotta mixture. Add a little more to larger flowers or a little less to extra small ones. Twist the tops very slightly and delicately to help seal them shut.

Add the oil to a large heavy based saucepan over a medium/low heat. Test the oil is ready with a small piece of bread. If it floats and turns a light golden colour it's ready. To make the batter add the flour to a large bowl and gradually add the sparkling water whilst whisking to avoid any lumps.

Holding the top of the zucchini flower, dip it into the batter until completely covered then carefully place in the hot oil (always place the flowers in the oil away from yourself). Fry the flowers in batches of 3 or 4 to avoid cooling down the oil too much. Fry for a minute or two until crispy then remove with a slotted spoon onto some kitchen paper to drain.

Sprinkle over a little salt and squeeze over a wedge of lemon juice, serve.
Notes
Please note this recipe was tested and developed using metric measurements all imperial measurements are approximate.
Nutrition
Helpful Info for All Recipes
I always use extra virgin olive oil in all of my recipes unless stated otherwise
When I use canned or jarred tomatoes of any kind I always use Cirio or Mutti brands for the best results and flavour.
All vegetables are medium sized unless stated otherwise
All recipes are tested and developed using a fan (convection) oven
Find out more about how nutrition is calculated.
Check out our must have Italian Pantry Staples.
You can also find all our Essential Kitchen Tools for Italian Cooking.