This post may contain affiliate links. Please read my disclosure.
A thin and crispy instant pizza dough recipe that has no yeast and requires zero rising time – oh yes that's right. Make this super easy pizza dough in around 5 minutes for perfect pizzas in a hurry.
I think I've said this before…yep definitely. I could honestly eat pizza every day and be extremely happy! I mean what kind of strange people are there in the world that don't like pizza? I find myself craving pizza all the time, and quite rightly so I live in Italy, it's allowed. BUT what do you do when you'd really love pizza for dinner but you can't wait 5 hours for the dough to rise?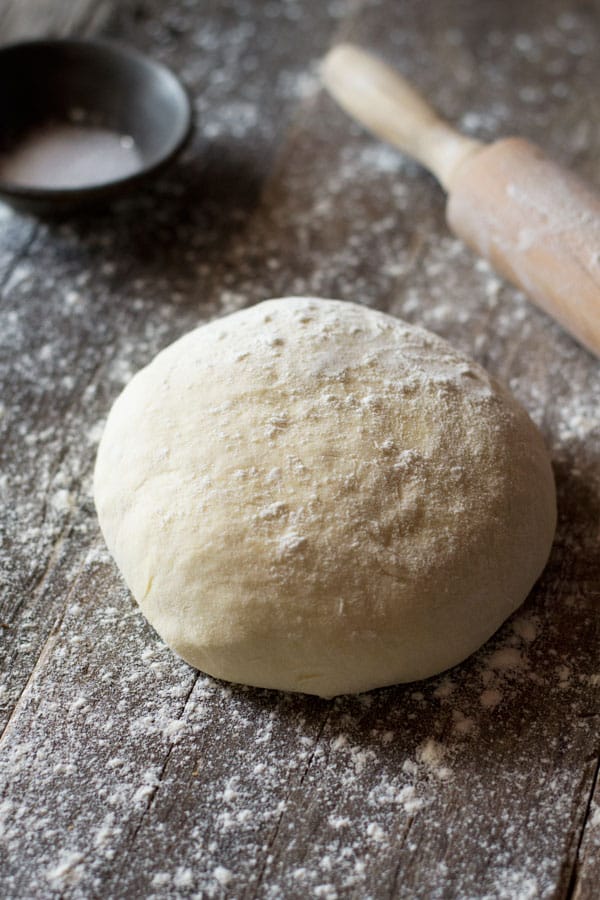 You make instant pizza dough!
This instant pizza dough has been a life saver so many times, you know for the times when you're having heavy withdrawal symptoms and you need a thin and crispy ASAP!
This dough has no yeast and requires no rising time at all so it's perfect for last minute pizza fixes or for a quick weeknight dinner.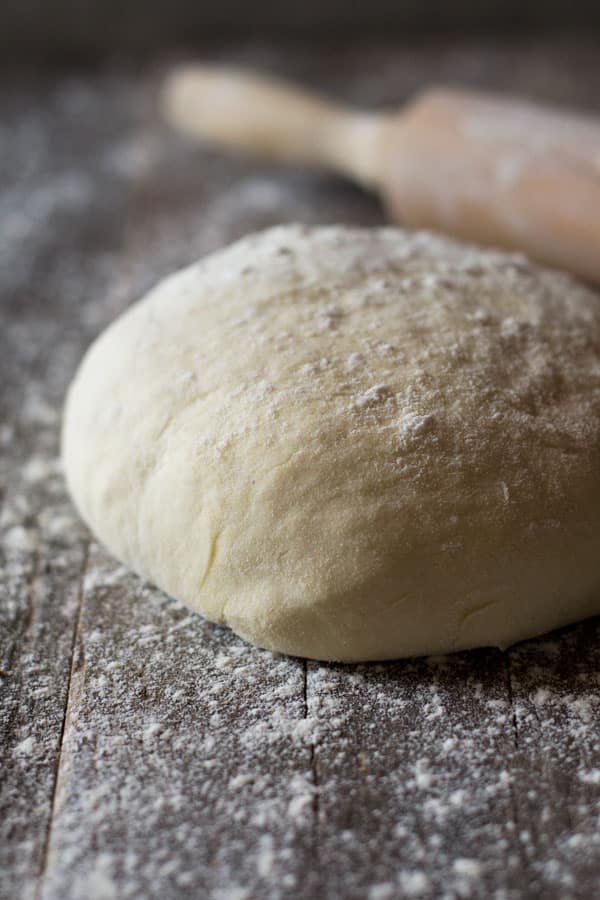 Instant pizza dough Vs traditional pizza dough
Ok so let's talk about the differences between this instant pizza dough and regular traditional dough. Because this pizza dough has no yeast or no rising time it's not as light and airy as traditional pizza dough is (don't think this means it's a brick hard dense dough because it's absolutely not it's still pretty light and delicious).
We don't have time for the dough to rise for 5 hours, we need pizza now and we need pizza fast, right? I think that's a pretty good compromise.
It may not be as light and airy as the regular stuff but there is absolutely no compromise in flavour with this dough. I use this recipe to make pizzas all the time and I never feel like I'm missing out on something.
It makes killer pizzas every time and I'm always fully satisfied afterwards unless you put pineapple on it, ok now it's ruined.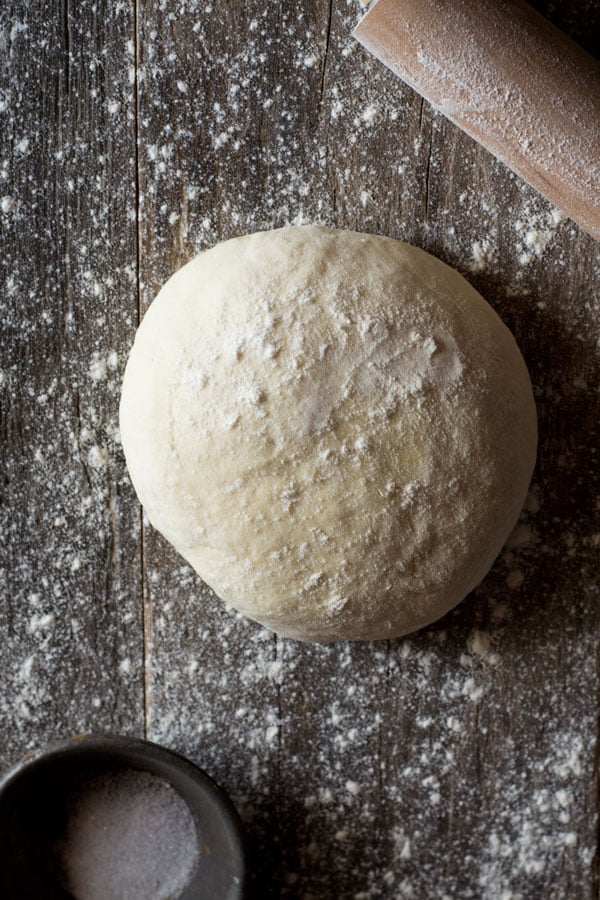 How to make no rise instant pizza dough
There are only four simple ingredients needed to make this instant pizza dough, flour, water, olive oil and a pinch of salt.
Put the flour and salt in a large bowl and make a small well in the middle. Add the warm water and mix together with a spoon. Once the dough starts to come together add the olive oil.
Knead the dough on a lightly floured work surface to form a ball, don't over knead it doesn't take long at all and it's done!
I like to cut the dough in half and make two large pizzas. Sprinkle a little semolina flour on a baking tray, roll out the dough to a large pizza base, place on the tray and add what ever toppings you want. Right now I'm loving artichoke and prosciutto cotto.
If you've tried this or any other recipe on the blog please let me know how you got on in the comments below, I love hearing from you! You can also FOLLOW ME on FACEBOOK, TWITTER, INSTAGRAM and PINTERESTto see more delicious food and what I'm getting up to.
Step By Step Photos Above
Most of our recipes come with step by step photos, helpful tips and tricks to make it perfectly first time and even video!
Instant Pizza Dough - No Rise No Yeast
A thin and crispy instant pizza dough recipe that has no yeast and no rising time. An easy and delicious no rise dough for super quick pizzas.
Instructions
Pre-heat the oven to the highest setting or at least 450F/230C and place clean baking trays/sheets inside.

Add the flour to a bowl. Make a small well in the middle and add the salt and warm water.

Mix together with a spoon for a few seconds, when the dough starts to come together add the olive oil.

Using your hands bring the dough together then tip it on to a lightly floured work surface. Knead for a few seconds to form a ball, the dough should be soft and smooth.

Divide the dough into two balls, roll out into large pizza bases until around 1/4 inch (1/2cm) thick.

Carefully transfer the pizza bases to the trays and top with sauce and desired toppings. Bake for 15 minutes or until the cheese is golden, bubbling and melted and the base is crispy.
Notes
*When measuring out the flour with cups make sure to spoon it into the cups and not pack it too tightly.
Don't over knead the dough, do it just long enough to shape it into a smooth ball.
Pre-heat your baking tray/sheets in the oven while making the dough so they are hot when placing the pizza on top.
Make sure to lightly dust your baking tray with semolina or flour before adding the pizza dough. This stops the pizza from sticking, makes it easy to remove and helps with a crisp base.
Don't over-fill your pizza with toppings and sauce.
I find that shredded mozzarella works best as fresh balls of mozzarella have a lot of moisture and excess water.
Leftover pizza dough can be wrapped in plastic wrap and foil then frozen.
Try out our Authentic Italian Tomato Sauce for a great pizza sauce.
We also have a recipe for traditional pizza dough with yeast!
Nutrition
Calories:
396
kcal
|
Carbohydrates:
76
g
|
Protein:
10
g
|
Fat:
4
g
|
Sodium:
14
mg
|
Potassium:
107
mg
|
Fiber:
2
g
|
Calcium:
15
mg
|
Iron:
4.6
mg
Helpful Info for All Recipes
I always use extra virgin olive oil in all of my recipes unless stated otherwise
When I use canned or jarred tomatoes of any kind I always use this brand for the best results and flavour
All vegetables are medium sized unless stated otherwise
All recipes are tested and developed using a fan (convection) oven
Find out more about how nutrition is calculated here
Check out our must have Italian Pantry Staples here
You can also find all our Essential Kitchen Tools for Italian Cooking here