Black Pudding Stuffed Chicken With Cheesy Leeks, a mouthwatering, comforting and simple supper that you're guaranteed to love!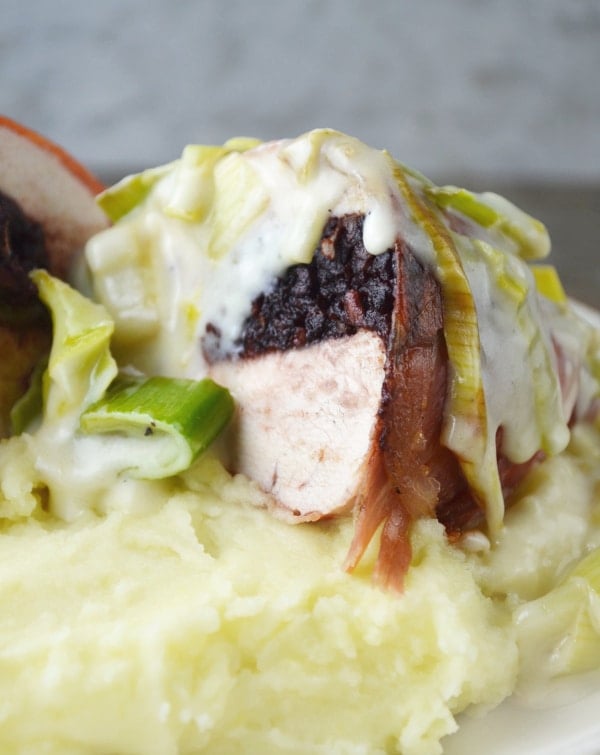 How are you all this week? Sorry this post is a few days late, it's been a very hectic, busy and stressful last week but it's here and it's a good one 🙂
Today's recipe, Black Pudding Stuffed Chicken With Cheesy Leeks is one of my favourite meals at the moment, I mean I've made this three times in the last week and a half, I just can't get enough.
Whenever I have family visiting from Scotland they always bring me at least two things; cheddar cheese (extra mature) and black pudding. Two things that I can't get over here in Italy although proper cheddar cheese (processed cheese slices calling itself cheddar doesn't count) is starting to make an appearance.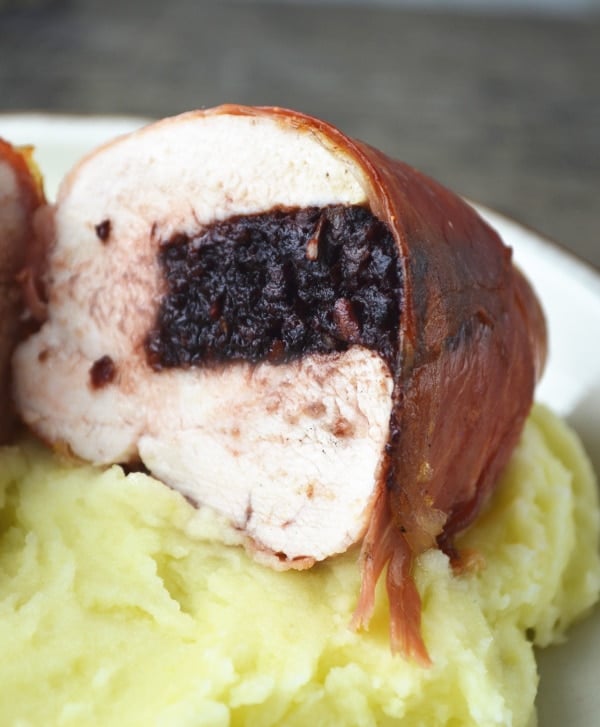 Black pudding however is still a no no, so I'm always very happy to get my hands on some when I can. In Scotland black pudding is normally used as a breakfast food, included as one of the many ingredients in a traditional fry up lathered in HP Sauce, not eaten everyday I might add.
However there are also many more "gourmet" ways of using black pudding that you can experience in a lot of the great restaurants in Scotland like serving it with scallops (delish) in stews, made into sauces and stuffing various meat and fish like I have with this recipe. It's so rich and delicious and packed full of warming spices.
The black pudding stuffed chicken breasts are then wrapped in beautiful strips of Prosciutto Crudo giving the chicken an even more mouth watering flavour and lovely saltiness.
And the cheesy leeks....oh those cheesy leeks 🙂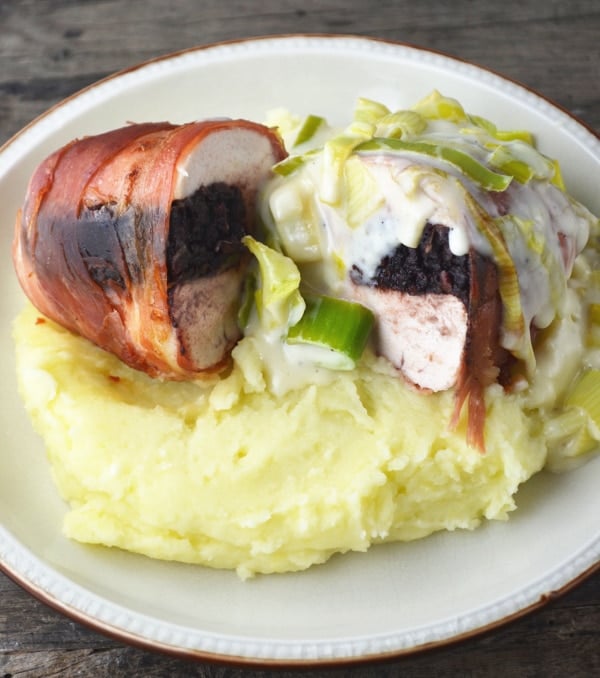 I make a cheesy bechamel sauce using fontal cheese and nutmeg (you can also use gruyere) then lightly fry the leeks until soft. They are added to the silky smooth cheesy goodness and they're ready to go. Poured over the juicy, delicious chicken breasts and served with creamy, fluffy mashed potatoes.
Now that is one AMAZING meal right there!
Have you tried this recipe? Then let me know how you got on in the comments below, I love hearing from you. You can also follow me on FACEBOOK, TWITTER, INSTAGRAM and PINTEREST to see more delicious food and what I'm getting up to 🙂
SAVE FOR LATER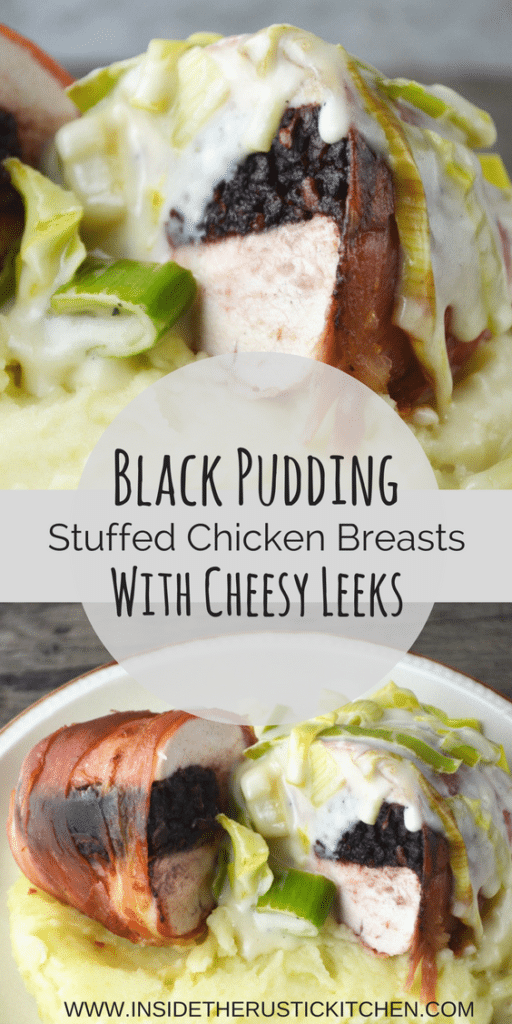 📖 Full Recipe
Step By Step Photos Above
Most of our recipes come with step by step photos, helpful tips and tricks to make it perfectly first time and even video!
Black Pudding Stuffed Chicken with Cheesy Leeks
Black Pudding Stuffed Chicken With Cheesy Leeks, a mouthwatering, comforting and simple supper that you're guaranteed to love!
Ingredients
Instructions
Pre heat the oven to 180°C.

Cut a slice in the side of each chicken breast and stuff with equal amounts of black pudding.

Lay about 3 slices of prosciutto out on a board. Place one chicken breast upside down in the middle of the prosciutto slices and wrap them around the chicken breast tightly. Repeat with the rest of the chicken breasts.

Place 1 tablespoon of olive oil in a pan and brown the chicken breasts on each side for 1-2 minutes until the proscuitto is sealed.

Place the chicken on a baking tray and cover with tin foil. Bake for 20 minutes then remove the foil and bake for a further 10-15 minutes until the chicken is cooked all the way through.

Once the chicken breasts are in the oven start preparing the leeks. Roughly chop the leek and add to a frying pan with 1 tablespoon of olive oil, sauté the leeks until soft then set aside.

When the chicken is almost done start preparing the cheesy sauce. Add the butter to a medium sized saucepan until melted then add the flour. Stir the flour/butter mixture for about 30 seconds (it should be a thick paste).

Add the milk a little at a time until it has thickened then add the cheese, nutmeg, salt and pepper. Take off the heat and stir until the cheese has melted. If it's too thick add a little more milk and return to the heat for a second until warmed through. Add the cooked leeks to the sauce and stir.

Serve the chicken breasts with mashed or roast potatoes and pour over the cheesy leek sauce.
Notes
serve with mashed potatoes
Nutrition
Helpful Info for All Recipes
I always use extra virgin olive oil in all of my recipes unless stated otherwise
When I use canned or jarred tomatoes of any kind I always use Cirio or Mutti brands for the best results and flavour.
All vegetables are medium sized unless stated otherwise
All recipes are tested and developed using a fan (convection) oven
Find out more about how nutrition is calculated.
Check out our must have Italian Pantry Staples.
You can also find all our Essential Kitchen Tools for Italian Cooking.