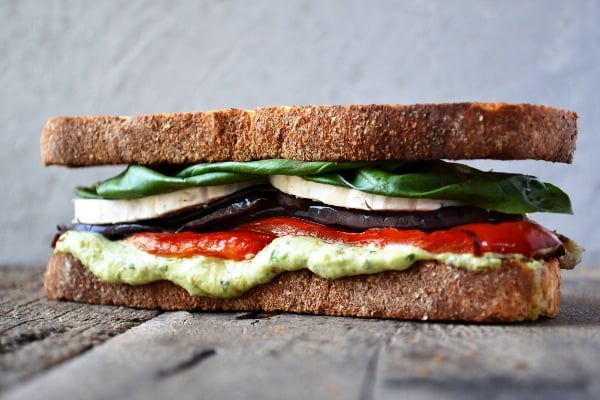 Today is a good day because I get to eat this beaut right here. Roasted red pepper and aubergine on soft delicious crunchy thick sliced bread spread with the most AMAZING garlicky lemony avocado mayo and CHEESE! Who doesn't love cheese? I have a serious love for the stuff. There's nothing better than a warm, oozing Camembert or thick slices of extra mature cheddar on crackers, Taleggio with...just TALEGGIO or bubbling melting mozzarella sitting on top of a delicious rich lasagne. The stronger the better I say.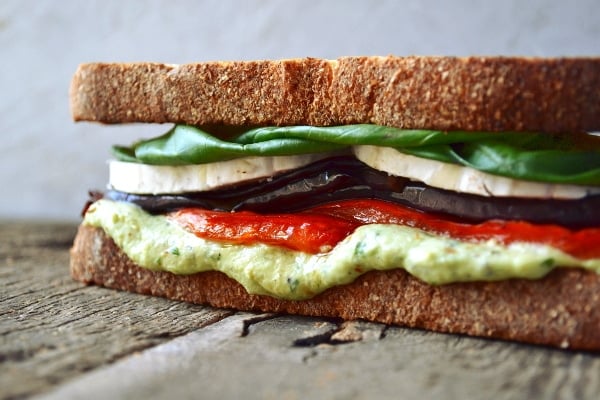 For this glorious sarnie I opted for goat's cheese. I love it, the goat's cheese I used is quite firm and crumbly and nice and strong just the way I like it. It goes so well with the charred, roasted veg and avocado mayo. Goat's cheese does have a very distinct flavour and I know it's not everyone's cup of tea, my boyfriends mum would be happy to not see it again..EVER and my mum doesn't really care for it either. There are so many different kinds and some are stronger than others so pick the one that you like best or if you are also not a fan of goat's cheese then I recommend using a soft Pecorino cheese such as Pecorino Rosso. Both cheeses work perfectly and are SO delicious!
As for the veggies, I love a veg sandwich. I like to roast the red pepper and griddle the aubergine because I like the charring the griddle pan gives the aubergine and you can do it whilst the red pepper is roasting in the oven. Roasted veggies are so yummy, one of my favorite dishes when I was younger was just a big tray bake of roasted veg, chorizo and feta YUM-EEE! I really need to do a blog post on that one because it's so simple yet so delicious.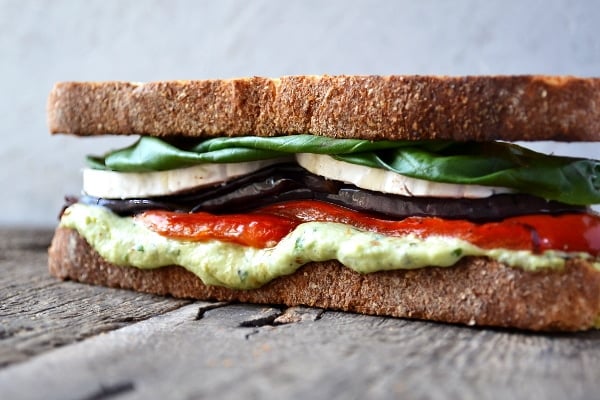 And what about this avocado mayo....it's amazing. I could quite happily substitute it for real mayo (real mayo? I mean mayonnaise you buy in jars) any day it tastes so much better and it's so much healthier for you too. Avocado is one of my all time favorite ingredients. I think I'm as equally addicted to avocado as I am cheese. Sliced, crushed, blended whatever way it's incredible.
Wait is it lunch time yet?? Let's get making these asap.
📖 Full Recipe
Step By Step Photos Above
Most of our recipes come with step by step photos, helpful tips and tricks to make it perfectly first time and even video!
Roasted veg sandwich with avocado mayo and goats cheese
Incredibly delicious roasted vegetable sandwich with creamy avocado mayo and goats cheese.
Ingredients
1

large red pepper

1

small aubergine

4

slices

of firm goat's cheese

4

slices

thick crusty bread

2-3

tablespoon

olive oil
For the avocado mayo
half

Avocado

(very ripe)

half

Lemon juice

1

tablespoon

Sour cream

½

clove

Garlic

large handful

Basil
Instructions
Preheat the oven to 180°C. Cut the red pepper into wide slices and place on a baking tray. Drizzle with 1 tablespoon of olive oil and rub all over the pepper to make sure it's all coated then season with salt and pepper. Roast for 10 minutes then turn the pepper slices over and bake for another 3-5 minutes until soft and slightly charred.Let cool.

Meanwhile heat a griddle pan on a medium heat. Cut the aubergine into thin slices and brush each slice with the remaining olive oil. Place the slices on the griddle pan (you'll probably need to do this in batches) and griddle each side for around 1-2 minutes until cooked through and nicely charred.Let cool.

To make the avocado mayo place the avocado, lemon, garlic, a pinch of salt and pepper and a small handful of basil in a bowl. Using an immersion/hand blender blitz until smooth ( you can also use the small bowl attachment of a food processor). Add the tablespoon of sour cream and mix until combined. Taste and add more seasoning or lemon juice if required.

Toast the slices of bread on each side by brushing with olive oil and placing on the griddle pan or use a grill. Once toasted thickly spread one slice of bread with the avocado mayo, top with a few slices of red pepper and aubergine. Add a layer of goat's cheese or whatever cheese you prefer then layer a few large basil leaves.
Nutrition
Helpful Info for All Recipes
I always use extra virgin olive oil in all of my recipes unless stated otherwise
When I use canned or jarred tomatoes of any kind I always use Cirio or Mutti brands for the best results and flavour.
All vegetables are medium sized unless stated otherwise
All recipes are tested and developed using a fan (convection) oven
Find out more about how nutrition is calculated.
Check out our must have Italian Pantry Staples.
You can also find all our Essential Kitchen Tools for Italian Cooking.