The only resource you'll need for making the very best homemade pizzas. Including finding the perfect crust, the best sauces and toppings all from the very best and most trusted food bloggers!
You'll know by now that I love pizza, I mean pizza is literally my life so it made complete sense to share the ultimate guide to making perfect homemade pizzas. Making homemade pizzas is so easy and fun, it's the perfect way to get the whole family involved and you won't believe how much more delicious they taste than any store bought pizzas.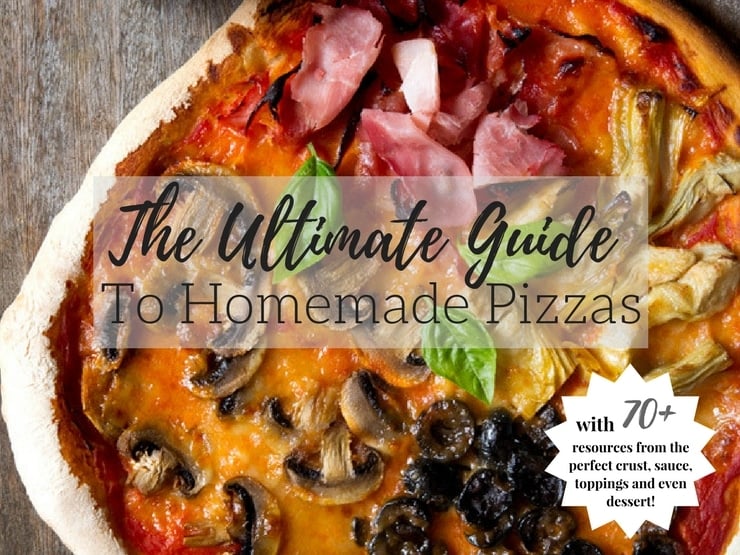 Using this ultimate guide to homemade pizzas you'll be able to easily select the right dough or pizza crust your looking for be it traditional dough or a quick fix when you've not got much time or even unique crusts made from various vegetables.
You can then decided if you want to go with traditional tomato sauce or a white base pizza and then select your toppings from a variety of meat, fish, vegetables, vegan, extra cheesy and even gourmet toppings.
And when you think you've not got any room left except that little space you were saving for dessert I have a list of fantastic, fun dessert pizzas that you really need to try.
P.S I've added a little bonus of pizza-themed party food that are perfect for the holiday season or for when you're entertaining.

First up is traditional basic pizza dough, this is what I choose 95% of the time when I'm making pizzas at home. These doughs are so easy and pretty foolproof whether you choose to do it by hand (my prefered method) or use a stand mixer here is a list of the best basic pizza dough recipes followed by yeast free, gluten free and vegetable crusts.
You can also read about the best type of flour to use for making homemade pizzas here.
Traditional Pizza Dough Recipes
Yeast Free Pizza Dough
Gluten Free Pizza Crusts
Vegetable Crusts
Zucchini Crust Pizza with Beet Hummus Spread - Stacey Homemaker
Cauliflower Pizza Crust Egg Free - Mommy's Home Cooking
Low Carb Spinach Pizza Crust - A Fork's Tale
Squash Pizza Crust with Pesto - Rainbow in My Kitchen
Vegan Sweet Potato Pizza Crust - Food Fitness Fresh Air

Traditional Red Pizza Sauce
When I'm in a rush I use passata/pureed tomatoes (a good brand like Cirio) straight out of the jar, spread onto pizza bases and then sprinkled with a tiny amount of salt and pepper and sometimes a little dried oregano, it works great! If you're not in a rush however and have a little extra time to make a great pizza sauce then here is a list of some of the best ones to try!
Red Wine Oregano Pizza Sauce - Three Olive Branches
5 Ingredient 3 Minute Pizza Sauce - Happy Foods Tube
Roasted Tomato Blender Marinara Sauce - Fresh Fit Kitchen
Easy Pizza Sauce - The Life Jolie (photo above)
Homemade Pizza Sauce (5 min) - Valerie's Keepers
White Bases
White Pizza with Pancetta, Cambozola and Pear - Slow The Cook Down
Rustic Pizza with Garlic, Parmesan, Oregano Cream Sauce - Nicole Branan
Cheesy Speck and Mushroom Pizza - Inside The Rustic Kitchen
Spinach and Artichoke Pizza Bianca Recipe - Ciao Florentina
White Pizza with Herbs and Nasturtium Leaves - Healthfully Ever After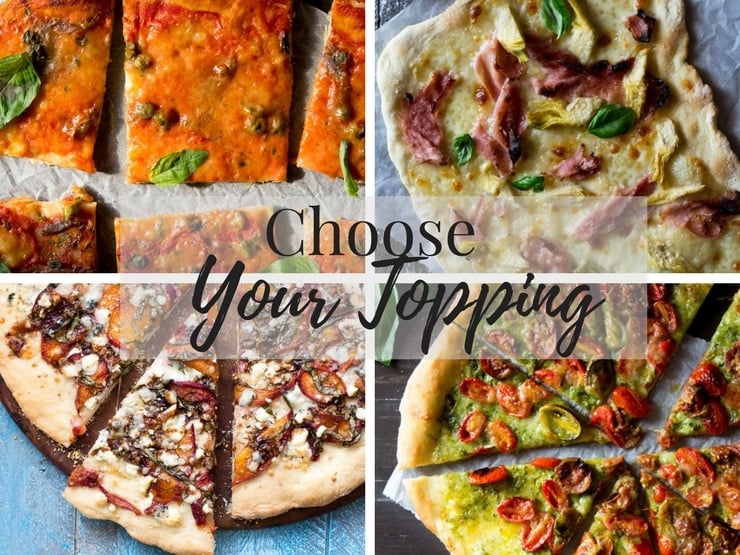 Now it's time for the best part, choosing your toppings for your homemade pizzas. Here you'll find a mix of meat, fish, extra cheesy, vegetarian, vegan and even some gourmet pizza toppings. There are so many great topping ideas here the hardest part is deciding what one!
Meat
Fish
Anchovy Pizza with Capers (Pizza Napoli) - Inside The Rustic Kitchen
Salmon, Asparagus & Baby Spinach White Pizza - The Cooking Spoon
Shrimp Scampi Pizza - The Blond Cook
Garlic Prawn Pizza - My Sugar-Free Kitchen
Grilled Pizza with Clams Arugula and Peppers - The Framed Table
Cheese
Vegetarian
Vegan
Gourmet Pizzas Toppings
Fig, Bacon and Blue Cheese Pizza - Pinch Me I'm Eating
Just Peachy Pizza with Goats Cheese, Gorgonzola and Balsamic Drizzle - Meg is Well (photo bottom right)
Spicy Lamb Keema Pizza - Super Golden Bakes
The Ultimate Mexican Pizza - Vegetarian Gastronomy
Turkey Stuffing Pizza with Caramelised Onions and Brie - Inside The Rustic Kitchen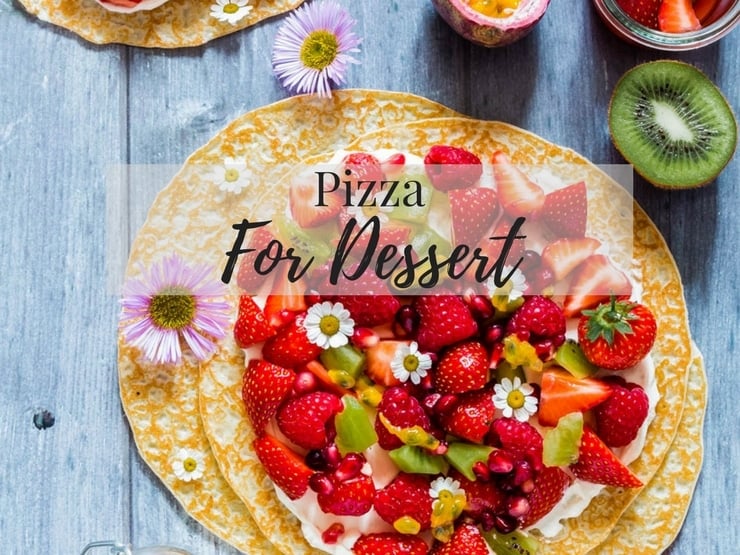 Who says you can't have pizza for dessert? Here's a fun list of fruity and chocolatey pizza to enjoy after dinner plus some fun pizza themed party food from crackers to pull apart rolls these delicious little bites are perfect for parties and entertaining.
Dessert Pizza
Fun Pizza Themed Party Food
I hope you enjoy this ultimate guide to making homemade pizzas, it's a great resource full of fantastic recipe. If you've tried any of these recipes be sure to let me know how you got on in the comments below, I love hearing from you! You can also FOLLOW ME on FACEBOOK, TWITTER, INSTAGRAM and PINTEREST to see more delicious food and what I'm getting up to.